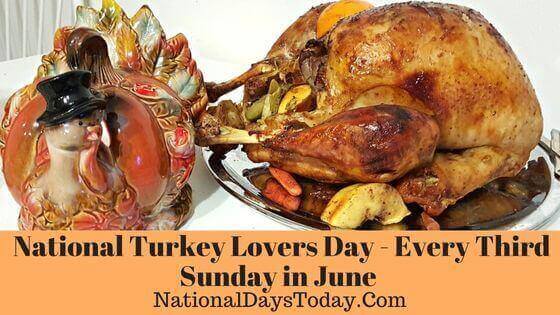 National Turkey Lovers Day:
National Turkey Lovers day is celebrated every year on the third Sunday of June to make room in our stomachs for some turkey without being civilized! 
| | | | |
| --- | --- | --- | --- |
| Year | Date | Day | Where |
| 2023 | 18th June | Sunday | United States |
| 2024 | 16th June | Sunday | United States |
| 2025 | 15th June | Sunday | United States |
Twitter Hashtags:
#NationalTurkeyLoversDay
 #TurkeyLoversDay 
Why National Turkey Lovers Day?
Think about Thanksgiving, and the first thought that comes to our mind is that of the delicious turkey. Some of us love turkey so much that Thanksgiving seems too far away to get a taste of this delicacy. This is exactly why the National Turkey Lovers Day is observed annually across the world. 
Turkey comes in a variety of flavors and recipes, and in the year 2016, it was finally decided to officially celebrate and appreciate the savory it offers. A guilty pleasure for many, the versatility of turkey cannot be contained in one single seating. Therefore, the day gives a chance to all the turkey lovers to embrace their taste buds, take them on a heavenly ride, and enjoy it in all its forms. The North American dish is appreciated by natives especially in the Spring and Summer and the day encourages turkey lovers to break the mold and set themselves free to relish turkey in their favorite style. 
The day is a boon for those who cannot wait till the next thanksgiving to engulf in the tastes of turkey- in any form. It is the classic example of encouraging meat lovers to not just relegate tasting turkey to Thanksgiving! 
How can we observe National Turkey Lovers Day?
This day can be observed in a lot of ways. Here are some of the popular ways to delve into the tastes of this delicious meat: 
Cook up turkey in the form you love the most.

Try creative and easy DIY turkey recipes and post them on social media platforms with hashtags like #NationalTurkeyLoversDay and #TurkeyLoversDay

Invite some friends and cook turkey dogs

Host interesting turkey cookoff challenges and witness your friends coming up with interest and tasty turkey recipes. 

Share your celebration pictures on Instagram with the hashtags

#TurkeyisLove.

Order up the delicacy from a famous place and enjoy the flavor from the comfort of your home
Here is one of the traditional ways of observing the National Turkey Day. Put the turkey in your oven and cook till it is done. Now, you can use the parts of it in other dishes and make it a wholesome Turkey lovers Day. For example, the breast can be evenly sliced up and used as sandwich fixings, the dark meat attached to the bones can be used to make a soup, or add some boiled vegetables to the leftover turkey skin to make a delicious and healthy turkey stock for your soup. 
Turkey Soup:
A simple Soup recipe,
Take some 10 small pieces of Turkey. Add water-1.5 cups, Take a pan, pour some little oil, add one teaspoon of black pepper powder then add these pieces. Need not to saute the black pepper. let it boil for 10 minutes in low flame.
 switch of the flame, You can add herbs and spices of your choice. serve hot.
Interesting facts about National Turkey Lovers Day:
National Turkey Lovers Day is surrounded by a number of interesting facts around it. Let us look at some of them:  
Data from 2015 shows that Americans consumed 16 pounds of turkey on an average.

All thanks to Ben Franklin, turkey was on the verge of becoming the national bird of the U.S

The U.S is also home to over 25000 employees who engage in the turkey business annually. 

Contrary to popular belief, we were not the pioneers for the name of turkey birds, rather the Turkish merchants were the first to call them Turkey Fowl.

This uniquely remarkable day was founded by the National Turkey Federation. 

Turkey was introduced to the English heraldry as it sat on the coat arms of  William Strickland.

Turkey is an international bird and is not only native to America. Norfolk Turkey is a unique breed belonging to Europe. 
History of National Turkey Lovers Day:
Although the precise origin of this day is unknown, we do know that The history of the National Turkey Day dates back to the month of April in 2016 when it was submitted by the National Turkey Federation. The day was created to appreciate and celebrate the variety of flavors and recipes that turkey provides, thus allowing us to enjoy it in one of its many forms. 
It is believed that there is nothing better than the aroma of this quintessentially American native in the oven, but on this day, turkey is made and enjoyed in many other forms throughout the world, and mainly in the USA.