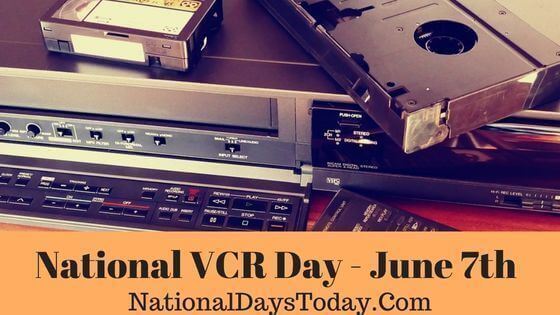 National VCR Day
June 7th is celebrated as National VCR Day every year to acknowledge the revolution of VCRs.
| | | | |
| --- | --- | --- | --- |
| Year | Date | Day | Where |
| 2023 | 7th June | Wednesday | United States |
| 2024 | 7th June | Friday | United States |
| 2025 | 7th June | Saturday | United States |
Twitter Hashtags:
#NationalVCRDay
#VCRDay
Related: Other National Days Celebrated on June 7th:
Why National VCR Day?
Even though there are various platforms available for movie streaming, VCR makes us nostalgic. There was a time when everyone used to rent or purchase VHS tape from a local video store. Well, this is a perfect opportunity to revive the retro-style movie-watching. Moreover, you can dedicate a whole day to doing different activities. So, let's find out how to take advantage of Video Cassette Recorder Day
How Can We Observe National VCR Day?
As we noted before, there are many ways to observe VCR Day. The best thing is you can implement unique things to celebrate this special day. We will share the top ways to celebrate this special day in the following list. Let's find out:
Rent Your Favorite Movies
You have to do something special. It'll be more special if you still have a VCR. In this case, you can rent your favorite movie or TV show. Now, if it's hard to find VHS, you can go with DVDs. Moreover, you can even rent or purchase movies in digital format. 
Well, if you are not a movie person, you can still observe this day with a bang. In this case, watching old recorded videos is the ideal solution. No matter if it's about your kids or old friends, you can have a great time watching these recorded videos. 
Post Old Recorded Videos on Social Media
Besides watching videos, you can share them with your friends. Social media plays a crucial role in this case. It's the best way to celebrate this special day if you don't own a VCR. On the other hand, you can tell your audience about Video Cassette Recorder by posting old videos. It's a good way to spread the word. 
Highlight The Evolution of Technology
If you are neither a movie buff nor a social media junkie, you can still enjoy this fun day in a unique way. In this case, you can highlight the evolution of technology and the history of VCRs. It seems boring but you can have a great experience by learning new things. Moreover, you can also do some internet searches. 
If you love watching videos, movies, and TV shows, you should observe this day by visiting a video store. Well, the effect of video stores is slowing down nowadays. So, it's a good idea to explore something new. Besides exploring the local video store, you can learn a lot of things about VCRs and DVDs. 
To make this special day more fun, you can record something from TV. Well, it's a good idea if you want to observe this day with your kids. Moreover, you can also share recorded videos with your friends.
Finally, don't forget to share your #NationalVCRDay or #VCRDay experience on social media.
Interesting Facts About National VCR Day:
You see, VCR is a legendary innovation in the history of technology. If it's your first time celebrating this special day, you can learn some cool facts about VCRs.
Interesting Facts About VCR
'The Young Teacher' was the first-ever VCR movie. It was a South Korean movie.
The all-time best-selling VCR is 'The Lion King'. It sold 35 million copies.
Norikazu Sawazaki invented the first VCR machine in 1953. However, it was around 1956 when the public got an introduction to VCRs.
There are more than 10 billion recorded video taps throughout the country.
After the invention of the DVD, the craze for VCRs slowed down. Around the 90s, DVDs started replacing VCRs with advanced technology.
History of National VCR Day:
You might know that VCR (video cassette recorder) is one of the best technical inventions in history. There was a time when every household used to own a VCR in the US. Even though the first video recorder device was created in 1953, the home use VCR was launched in 1970.
There was a tough competition between JVC and Sony Betamax during that time. However, JVC became very popular throughout the US. According to a study, JVC captured 90% of the market at that time.
The craze for VCRs increased in the 80s when people used to have their own collection of TV shows and movies. The National VCR Day started to acknowledge the love and impact of VCRs.