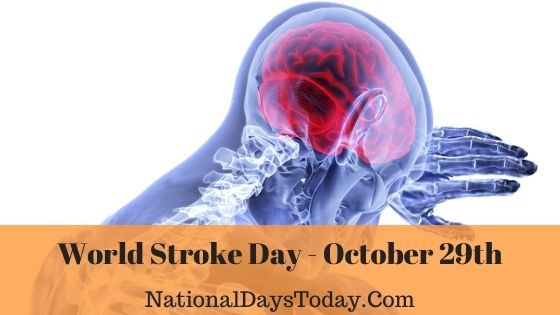 World Stroke Day: 
World Stroke Day is being celebrated on the 29th of October every year. This day points out the increase in the number of strokes every day and by emphasizing that fact this day makes people more conscious about their health.
| | | | |
| --- | --- | --- | --- |
| Year | Date | Day | Where |
| 2023 | 29th October | Sunday | United States |
| 2024 | 29th October | Tuesday | United States |
| 2025 | 29th October | Wednesday | United States |
Twitter Hashtags:
#WorldStrokeDay
#StrokeDay
Related: Other National Days Celebrated on October 29th:
Why World Stroke Day?
Based on the previous statistics, Jasmine calculated that 1 in every six people are expected to suffer from a stroke during his or her lifetime. Every year around 15 million people have strokes, and sometimes it leads to a cause of disability. The side effects are very severe, like sensory disturbances, paralysis, emotional disturbances, and aphasia. Sometimes strokes can turn into a fatal blow. Every year more than 6 million people die due to having a severe stroke. Therefore stroke has become the second leading cause of death in the world. As per the recent studies, it has been observed that the number of people expected to suffer from stroke has already increased. That is why the doctors and health workers obey this particular day to spread awareness to the people regarding the severity of stroke.
On world stroke day, doctors and health workers usually share information about the warning signs of having a severe stroke. On any disease, early symptoms can be found in the body. If you pay attention to the symptom at that time, then you may get rid of the severity of that disease. The signs and symptoms or early warnings of having a stroke are:
Suddenly you will feel some weakness or numbness on particularly one side of your body. In that case, you must go to a doctor and consult with him regarding your symptoms because that might indicate having a stroke.
You can also feel that you are having trouble talking all of a sudden. Do not waste a single minute. Consult with your doctor regarding the symptoms.
The early symptoms of stroke sometimes create a problem in seeing correctly. So if you are feeling that you are having trouble seeing, don't take it casually. It might be an indication of having a stroke. So consulting with your doctor will be the best choice for you.
Dizziness or problem in walking
Severe headache.
The early symptoms and warnings of having a stroke may not stay for a long time. There is a high chance that it might disappear after a few minutes. But you need to understand these symptoms quickly and consult with the doctor. If you take proper precautions in the beginning stage, in most cases, strokes can be prevented. On meaning, occasions become normal even after having a severe Stroke, but those are rare cases. In most cases, people suffer from different side effects due to a severe stroke. And if the other organs of your body are not vital enough to fight against this brutal attack, it sometimes becomes a fatal blow.
Therefore it is always important to know about the symptoms of a stroke. The doctors and health centers organize public awareness programs on this particular day to let people know about how to prevent the severity of stroke.  The doctors say that up to 90% of all strokes can be prevented by addressing certain risk factors. There can be different risk factors like diet, hypertension, excessive exercise, and smoking.
On this day, doctors throughout the world arrange awareness programs for the treatment and prevention of strokes.
How Can We Observe World Stroke Day? 
World smoke day can be observed in different ways, like you can learn lots of new information regarding the symptoms and the side effects of stroke.
You can also acknowledge the Doctors and the health workers for their spontaneous job that saves the lives of people who are having a severe stroke.
You can also organize an awareness program in your locality to educate the people regarding the severity of stroke. You should let them know about the disease's symptoms and what to do in that kind of situation.
You must take photos of the initiatives that you have already taken to celebrate this important day. Post dost photos on social media so that the other people in your friend list get the inspiration from your work. 
History of World Stroke Day: 
During the 1990s, ESI or the European stroke initiative invented this awareness day as a global stroke day. But due to some financial restrictions, this day was limited within the European countries. 2004 World stroke Congress in Vancouver established world stroke day. The world stroke organization has selected that date 29th of October as the world Stroke Day in the year 2006. The motive of every health organization is to spread awareness regarding the severity of stroke. Hence, everyone should know the symptoms and severity of this disease. Since 2006, World Stroke Day has been celebrated on the 29th of October every year.