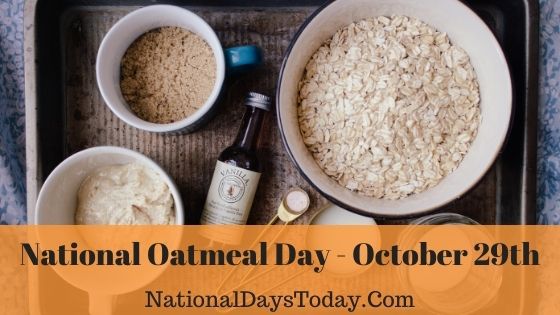 National Oatmeal Day:
National Oatmeal day is celebrated annually on the 29th day of October. It is known to all that oatmeal keeps your heart healthy.
| | | | |
| --- | --- | --- | --- |
| Year | Date | Day | Where |
| 2023 | 29th October | Sunday | United States |
| 2024 | 29th October | Tuesday | United States |
| 2025 | 29th October | Wednesday | United States |
Twitter Hashtags:
#NationalOatmealDay
#OatmealDay
Related: Other National Days Celebrated on October 29th:
Why National Oatmeal Day?
In the United States, people usually make heavy and healthy breakfast. That is why this day is not for enjoying the oatmeal but all the favorite breakfast foods of America.
This day is celebrated to stay healthy in life. Fast foods have become so popular in today's world. But at the same time, it is very harmful to your body. The extra spicy food uses pressure on your digestion systems, resulting in many health issues for the people. Having one bowl of oatmeal for breakfast is always very healthy. If you have some fruit and nuts on it, then it will become more delicious. Adding oatmeal with baked goods creates a delicious crumble.
Oatmeals also come in various forms. For instance, rolled oats are whole grain oats that are rolled into oat flakes. You need to add some nutty flavor to enjoy the deliciousness of the food. Another one that has become very popular is quick oats. All know that oats are very easy to cook. For most of the packages, the odds are already precooked. Hence you do not need to do anything special but do some quick and initial cooking. And the food is ready to eat. The most flavored oats available in the market are Steel-cut oats.
Here are some health benefits of the oatmeals:
Many people in the United States are suffering from high cholesterol problems. Suppose the cholesterol level of your body stays higher when it will create lots of other issues in your body. Having a bowl of oatmeal regularly can reduce the cholesterol level in your body.
In the past few years, the United States people have witnessed thousands of heart attacks and other heart diseases. Eating junk foods and spicy foods causes different kinds of heart diseases. It also increases the probability of sudden cardiac arrest for human beings. Therefore, everyone must take care of the heart. If you eat a bowl of oats every morning, it will be beneficial for you because oats reduce heart diseases by keeping your body healthy.
We all know about the deadly disease called cancer. As per the American Cancer Society, the risk of cancer can be reduced by having foods with high fiber. Oatmeals can reduce the risk of cancer as oats contain high fiber.
The oats are low in fat. That is why when people are going through that process, they generally eat oats.
Eating high calorie food is not very good for health. Continuous calorie intake can cause lots of problems in the body. That is why the doctors prescribe low-calorie food daily to stay healthy. What means allow you to have low-calorie intake in the body.
Oats are good sources of iron and fiber. Therefore, if you are on a diet, eating oatmeals regularly will help you to increase the iron and fiber level of your body. And that we reduce the fat and help you to lose your weight. Doctors generally prescribe what it means for the weight loss programs.
The traditional food for the state of Vermont is oatmeal. But the origin of this food is within the Scottish settlement. There are so many variations in oatmeals. Most of the oatmeal recipes are being prepared with steel-cut oats. The process for making Steel-cut oats is to soak the oats in salt maple syrup and cold water. It would help if you kept this mixture overnight. Next morning, take the mix, add some nutmeg, ground ginger, and ground cinnamon into it. Mix it properly and cook it in medium to high flame for more than an hour, preferably for 90 minutes. Once it is steaming hot, you can serve it by adding some butter, milk, or cream to it.
So, following this process, you can enjoy National Oatmeal Day by having delicious oatmeal for breakfast. But remember this day is not just for the oatmeals it is a celebration to enjoy with all kinds of healthy breakfast foods.
How We Observe National Oatmeal Day:
The national oatmeal day can be celebrated in different ways. You can cook other pot meals, put some toppings and enjoy breakfast with your family. If you need to go to the office early in the morning, then you can order some delicious oatmeal from the nearby restaurant or breakfast center and enjoy it during your breakfast time at the office. Use the hashtag #NationalOatmealDay and #OatmealDay to Share Your Enjoyment.
Never forget some photos and post them on social media. Remember that your enjoyment will help others to know about the usefulness of this day. Hence they will start celebrating for the sake of their health.
The primary purpose of celebrating this day is to make people aware of staying healthy by eating healthy foods. That is the reason sharing the moments is very important to reach more people. We all know that, nowadays, people are suffering from different deadly diseases. And the main reason behind that is to have junk and spicy foods regularly. That is the reason National Oatmeal Day is celebrated to have some healthy food for breakfast.
History of National Oatmeal Day:
There is no such origin or the history of this day found in the previous records still now. Therefore the national day calendar is continuing the research to find the origins of this vital food staple holiday. The reason behind celebrating this food staple holiday is to eat healthy food to get rid of deadly diseases. Italy, in today's world, is very much affectionate on spicy fast foods, and that causes enormous problems inside the body. Keeping this important fact in mind, some people or organizations have started celebrating this day by asking everyone to eat healthy food for the sake of their health.