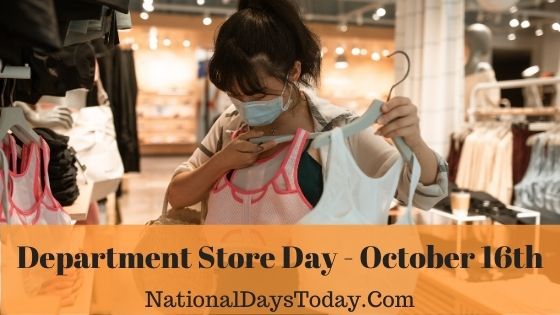 Department Store Day:
Celebrated annually on October 16th, the Department Store Day encourages us to appreciate the innovations and impact the department stores have offered since the 19th century! Having all that you need under one roof is an amazing achievement worthy of celebrations!
| | | | |
| --- | --- | --- | --- |
| Year | Date | Day | Where |
| 2023 | 16th October | Monday | United States |
| 2024 | 16th October | Wednesday | United States |
| 2025 | 16th October | Thursday | United States |
Twitter Hashtags:
#DepartmentStoreDay
Related: Other National Days Celebrated on October 16th:
Why Department Store Day?
We have all grown up and will grow to have department stores around us! They continue to surprise us with their ability to combine multiple resources into an easily navigable store!
The evolution of these stores since the nineteenth century has resulted in the amazing shopping culture that we enjoy today!
Earlier large clocks were mounted elaborately in front of the department stores as a tradition. And people would commonly meet here and share the day's news and happenings! Some of the early sources of department store culture can be traced back to household names such as the Woodward & Lothrop, Macy's, Pomeroy's, and much more!
Now we can find different shops offering different products, luxurious seating, dedicated vehicle parking, movies, food places offering different cuisine as well as elevators and escalators for a hassle-free commute across the department store! And the most essential part – washrooms on every floor!
You can easily shop for groceries, clothes, shoes, fancy accessories, kitchen utensils, travel accessories, gift shops, personal care products and some offer Spa services too! The courteous staff just take the shopping experience to the next best level!
Although online shopping has slightly reduced the number of walk-ins, people do still love visiting and exploring brick and mortar stores for all the unique and creative presentations and displays! Shopping at a department store is more of an enjoyable activity rather than just a necessity. That's why even in the era of online shopping we can see people visiting department stores with friends and family!
There are several reasons why people love department stores. It holds a special place in their life be it their childhood memories or pleasant memories that they cherish! Or visiting just for the love of watching the grand window displays and the retailers striving to outdo each other especially at Christmas!
The best part about Department stores is that they cater to all age groups! Everything needed for babies to old adults is easily available and accessible! It's a perfect place to spend time with family, friends, and your special one!
Parents of young children love these stores as they don't have to worry about finding different stores to keep their kids occupied while they can get their groceries and personal shopping done as well! Many stores offer games and rides that are children-friendly. Recent innovative ideas include children-friendly movie zones and feeding rooms as well! Isn't that just fantastic?!
Teens and Young Adults also love the department stores for their various budget-friendly food places, and movies! It's a great place to bond with their fellow peers, colleagues, or date!
Time just flies when you are in one of the department stores. There is so much to explore and experience for everyone! It is more of a social place than just shopping.
Now, don't you agree too that the department store deserves its day?!
How Can We Observe Department Store Day:
Celebrate at your favorite department store!
Celebrate Department Store Day by simply visiting your favorite department store! Plan to bring your family and friends for a good bonding time! Have a wonderful time enjoying the food, shopping, gaming, or the movies!
This Department Store Day increases your knowledge base by learning more about their history! You could either visit the local library or read online based on your convenience! Do share your learning with your peers and family!
Research the best department stores in the world!
Look up the internet for some of the best department stores across the world and what makes them the best in this sector?! Is it their royal theme or vintage look? Or did it get popular for their numerous stores?! Don't forget to share these interesting facts with everyone you know!
Take your appreciation online!
Take your Department Store Day celebrations online by sharing info, pictures, and videos of your favorite department stores! Use #DepartementStoreDay for all your posts today!
Interesting Facts About Department Store Day:
Here are some interesting facts surrounding department stores!
Department stores don't have clocks and windows!
It is unlikely for you to find a washroom on the first floor.
Your department stores want you to use the escalators to view other stores and products easily!
Women tend to shop more impulsively than men!
Music played in your department store changes with time, population, and seasons! – it's a psychological trick to increase or decrease the speed of your shopping!
History of Department Store Day:
The history of Department Store Day hasn't been discovered yet. It is celebrated as a fun retail holiday across the US!