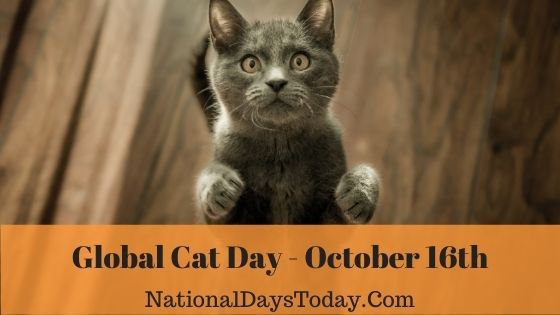 Global Cat Day:
Celebrated annually on October 16th, the Global Cat Day raises awareness concerning the non-lethal feline programs such as TNR across the US! Cats and kittens in shelters are more prone to euthanization than any other shelter animal. This day aims at helping them to live healthy and full lives. Have you taken the Global Cat Day pledge yet?!
| | | | |
| --- | --- | --- | --- |
| Year | Date | Day | Where |
| 2023 | 16th October | Monday | United States |
| 2024 | 16th October | Wednesday | United States |
| 2025 | 16th October | Thursday | United States |
Twitter Hashtags:
#GlobalCatDay
Related: Other National Days Celebrated on October 16th:
Why Global Cat Day?
People have loved and domesticated cats since ancient Egyptian times. They were initially employed to keep away vermin and other pests from their stores. Later they were known for their hunting skills and were worshipped as gods as well. Today the love for cats is no less and is a highly favorite pet option!
Lately, the country has witnessed a rise in feral, stray, and abandoned cats in the country. Many of these cats get killed due to various reasons – either in the neighborhood or at the shelter due to lack of funds and space to take care of them.
Thus in 2001, Alley Cat Allies, a cat advocacy organization founded the National Feral Cat Day, and since 2016 has been called the Global Cat Day. This Day originated to ensure humane and non-lethal cat programs to protect cats from being euthanized and to live their full healthier lives.
Feral cats are the ones that have never been associated with humans before. Adopting stray and abandoned cats or kittens under 12 weeks of age is a practical option to protect and provide for them. But the feral cats may not like it as they prefer the wild.
In both, the above cases the TNR – Trap, Neuter, and Release programs are beneficial as they help the Feline to live out healthy and fuller lives.
TNR programs are aimed at reducing feline shelters and overall colony populations by trapping stray and feral cats across the country. They are then suitably treated and released back into their neighborhood and the wild from where they were taken. The program ensures that the cats are ear-tipped to recognize that they are neutered, and vaccinated.
Long-term studies of these programs reveal healthy living cats and a decline in stray and feral populations across the country. Besides, they also save taxpayers money in the long run as there will be a reduced number of service calls, less burden on shelters, and quieter neighborhoods as the mating behavior decrease.
Alley Cat Allies supports the right to the life of cats and encourages everyone to join them in this movement to abolish cat killings and promote humane programs to ensure their safety and health.
Thus the Global Cat Day creates awareness and equips people to protect cats in their neighborhoods!
How Can We Observe Global Cat Day:
Know more about TNR programs
Visit AlleyCats.org to learn more about the TNR programs. This will help them to protect cats from nuisance behaviors, and diseases.
Become an Alley Cats Allies member to show your support, get equipped, and volunteer to help out with TNR programs in your locality!
Raise funds for Cat shelters & TNR programs!
Organize interesting events of your choice to raise funds for cat shelters & TNR programs in your neighborhood.
Use #GlobalCatDay to spread the word!
Take the Global Cat Day online pledge in support of cats and share it with everyone on your social channels! Spread the word about protecting cats and call out for volunteers to support the notion! Don't miss out to share your cat pics and videos using hashtags #GlobalCatDay!
Interesting Facts About Global Cat Day:
Here are some interesting facts surrounding Global Cat Day!
Global Cat Day was formerly known as National Feral Cat Day
Historical evidence shows the cats and human relationship dating back to 9,500 years ago.
The invention of clay litter in the 1950s made it easier to handle cats as indoor pets.
Alley Cat Allies was founded in 1990 when Becky and her friend found 56 feral cats in Washington DC.
By 2015, YouTube had over 2 million cat videos with average views of around 12,000
Cats take up 16% of YouTube's Pets & Animals category views
ASPCA reveals that 95.6 million cats are homed in the US as per its 2017 record
History of Global Cat Day:
The Global Cat Day was founded by Becky Robinson, founder, and president of Alley Cat Allies. This day was formerly known as Feral Cat Day founded in 2001. And in 2007 was rebranded to Global Cat Day by the same cat advocacy group.