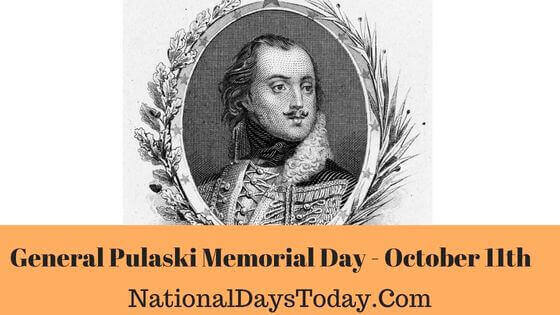 General Pulaski Memorial Day:
General Pulaski Memorial Day is celebrated every year on October 11 to showcase honor to General Kazimierz Pułaski, a Polish hero of the American Revolution.
| | | | |
| --- | --- | --- | --- |
| Year | Date | Day | Where |
| 2023 | 11th October | Wednesday | United States |
| 2024 | 11th October | Thursday | United States |
| 2025 | 11th October | Friday | United States |
Twitter Hashtags:
#GeneralPulaskiMemorialDay
Related: Other National Days Celebrated on October 11th:
Why General Pulaski Memorial Day?
It's amazing to know that a day like this exists and is celebrated throughout the US. But the real question is, why is a special day assigned to him? General Pulaski was a Polish nobleman, soldier, and military commander. He was born in Warsaw and became interested in politics at an early age.
Even though he was sent into exile due to his uprising's failure, he went to North America to help in the American Revolutionary War. One of the great ways he was famous was because he distinguished himself throughout the revolution and saved George Washington's life. After a while, Pulaski became a general in the Continental Army, and he and his friend, Michael Kovats, created the Pulaski Cavalry Legion, which ultimately reformed the American cavalry as a whole.
Pulaski's Cavalry Legion was a cavalry and infantry regiment that rose on March 28, 1778, at Baltimore, Maryland, and consisted of one troop of lancers, two troops of dragoons, and 200 light infantry soldiers. This was one of the few cavalry regiments in the Continental Army.
The Battle of Savannah was where Pulaski was fatally wounded by grapeshot. He couldn't see the end of the war, and due to the wounds suffered at the Siege of Savannah on October 9, 1779, he died a few days later, on October 11th.
Numerous places and events have been named in his honor, and many works of art commemorate him. He is also one of only eight people to be awarded honorary United States citizenship.
This day is not to celebrate his courage alone. This day also honors the Polish immigrants and their descendants across the country. There have been generations who contributed to the founding of the United States and also its continued growth. Whether through their service in the Armed Forces or as skilled labor, or the arts, their enduring heritages are something that lives on.
This is done to commemorate his death and also to honor the heritage of Polish Americans.
How Can We Observe General Pulaski Memorial Day:
To celebrate this day, we can do the following things –
Learn more about General Pulaski and the United States Cavalry:
One of the main things that we should know about before wanting to celebrate this day is General Pulaski and also the historical connection between him and the United States Cavalry. A few books relating to this day and the things associated are – The Pulaski Legion in the American Revolution by Francis C. Kajencki, Casimir Pulaski: Soldier on Horseback by David R. Collins.
Visiting the places celebrating this day
There are various places where this day is celebrated. Visiting a cavalry would be a great choice that day as you'll be able to perceive the historical artifacts yourself and learn about General Pulaski as well.
Observe on social media by sharing about it
You can share posts regarding this day on your Instagram, Whatsapp, Facebook, etc., to let others know about this day. Hashtags like #GeneralPulaskiMemorialDay , #GeneralPulaski , #GeneralPulaskiMemorial and #GeneralPulaskiParade
Interesting Facts About General Pulaski Memorial Day:
This day holds major significance in the hearts of Polish Americans and others as well. Here are a few interesting facts you should know about this day –
A Presidential Proclamation has been issued each year on this day in order to show honor to General Pulaski and his courage.
On this day, New York City has an annual Pulaski Day Parade, and Grand Rapids, Michigan, holds Pulaski Days.
General Pulaski's Day is a recognized holiday by the Commonwealth of Kentucky, United States.
A separate holiday is observed in the Chicago area, titled Casimir Pulaski Day, which commemorates Pulaski's birth on March 4, 1746.
It was the Public Resolution of 1929 that led to the celebration of this day every year.
He used to be known as the American cavalry father along with his counterpart Michael Kovats de Fabriczy.
History Of General Pulaski Memorial Day:
The Siege of Savannah was an encounter of the American Revolutionary War in 1779. General Pułaski, who was fighting on the American side, was wounded so badly that it led to his death.
In the year 1929, Congress passed a resolution and designated October 11th as General Pulaski Memorial Day, and hence, each year, a new presidential proclamation renews the resolution.
Due to this, President George W. Bush issued a presidential proclamation on October 10, 2002; President Barack Obama issued the observance on October 8, 2010; and President Donald Trump on October 10, 2017.