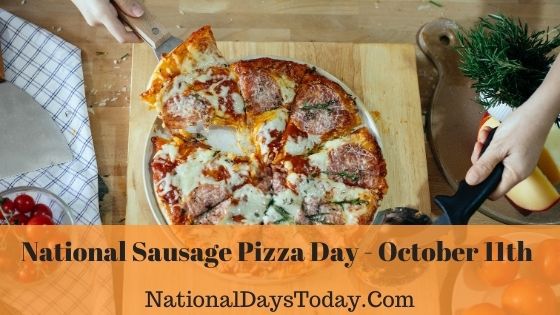 National Sausage Pizza Day:
National Sausage Pizza Day is celebrated every year on October 11th. This day is observed to celebrate the Sausage Pizza's deliciousness, which is the second most popular pizza in the world and loved by all pizza lovers around the world.
| | | | |
| --- | --- | --- | --- |
| Year | Date | Day | Where |
| 2023 | 11th October | Wednesday | United States |
| 2024 | 11th October | Thursday | United States |
| 2025 | 11th October | Friday | United States |
Twitter Hashtags:
#NationalSausagePizzaDay
#SausagePizzaDay
Related: Other National Days Celebrated on October 11th:
Why National Sausage Pizza Day?
Pizza is considered to be one of the most popular and beloved dishes around the world! Pepperoni pizza and Sausage Pizza are everyone's most favorite pizzas! Even though we can enjoy pizzas every day without any worry or complaints, National Sausage Pizza Day is a special celebration of the joy and tasty treat that Sausage Pizza provides!
Pizza is a very simple yet delicious dish that originated in Italy. It was considered to be a poor man's food because it consisted of flatbread and cheap and simple ingredients. It was a dish that anyone could afford, and it would fill everyone's stomach. With time the pizza gained popularity throughout Italy, and new inventions around it started to pop. The sauces and toppings were modified and grew in a variety. The options for toppings on pizzas now are endless, which ranges from olives, mushrooms, chicken, sun-dried tomatoes and even vegan plant-based proteins are available nowadays!
As Pizza grew even more in popularity, it spread across continents. Global Pizza chains are available even in small cities and running very successfully. Pizza entered the United States of America in the 1900s. During the second world war, the American troops discovered the Italian delicacy, and the demand for pizza in America increased! Since then, there are many modified "American pizzas" like the Chicago style and the New York style. These styles themselves are world-famous!
Sausage and Pepperoni are the most beloved toppings in the world! The tough competition between both the toppings makes it difficult for us to choose which one we want. National Sausage Pizza Day makes it a little bit easier! It is an opportunity for everyone to enjoy the Sausage pizza without any guilt! Every once in a while, we deserve to have a cheesy, spicy, and saucy, delicious cheat day. There is no better option out there than having a Sausage Pizza. It has all the elements that you need to curb your craving! The meaty sausages provide you protein, and the cheesy and saucy toppings are the answer to your hunger cravings. You can even create combination toppings and spice up your pizza even more! Get drinks and a dessert with your pizza, and you are all ready to celebrate this tasty holiday! 
How Can we celebrate Sausage Pizza Day:
The National Sausage Pizza Day is a  fun holiday and a great way to enjoy pizzas and have a good time with your friends! There are several ways to celebrate this amazing holiday!
The perfect way to celebrate National Sausage Pizza Day is to make a pizza at home yourself! You can ask your friends and family to accompany you to this cookout and have a little party yourself! Sharing a meal is even better when you and your loved ones make it. You can add all your favorite toppings to your pizza, but don't forget the most important one on this holiday is the sausage!
To honor the the Day, you can go out with your friends and family for a pizza night or order the pizza in and have a bonfire night! You can have other drinks, snacks, and sweets to get the night going. The sausage pizza is a must-have on this holiday as it is a celebration of the special delicious topping itself!
You can share the pictures of your Sausage Pizza on this fun day on all your social media accounts and let your loved ones know about this day! You can use the hashtags #NationalSausagePizzaDay and #TastySausagePizza so that all of your friends and family can also enjoy this day by having some Sausage Pizza themselves! 
Interesting facts About National Sausage Pizza Day:
There are records of Pizza being made by Persian soldiers even in the 6th century!
Pizza was also a popular dish in ancient Greek.
In popular times, pizza originated around the late eighteenth century in the city of Naples, which was not part of Italy during that time.
Pizza gained popularity in Italy only during the 1940s.
The original pizza only consisted of flatbread and few simple toppings; the innovations like pepperoni and sausage started in the 20th century. 
History of National Sausage Pizza Day:
Sausage Pizza is almost as old as the pizza itself, but the origins of the day or its founder are unknown. A Sausage Pizza lover must create the day, and it continues to make us love it even more!