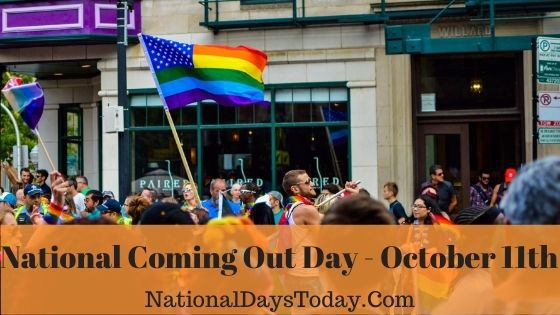 National Coming Out Day: 
The tremendous Annual celebration of the day is observed on October 11 every year in order to support LGBT.
| | | | |
| --- | --- | --- | --- |
| Year | Date | Day | Where |
| 2023 | 11th October | Wednesday | United States |
| 2024 | 11th October | Thursday | United States |
| 2025 | 11th October | Friday | United States |
Twitter Hashtags:
#NationalComingOutDay
#ComingOutDay
Related: Other National Days Celebrated on October 11th:
Why National Coming Out Day ? 
The annual celebration firstly took place in 1988 in the U.S.A intending to support LGBT, i.e., Lesbian, Gay, Bisexual, Transgender including resembling other community to participate and get involved with social life as other people without any fear of being isolated from the society and being mistreated by the majority ones. The purpose behind the celebration of this day is to eliminate sex discrimination from the community.
National Coming Out Day will continue to raise awareness for individuals within the community and perfect the idea that homophobia thrives in silence. On this day, many people who identify as LGBTQ+ will "come out" to friends or family about their sexuality, which is a massive moment! Beyond this, the history of the LGBTQ+ movement is a beacon of light — its champions are honored, and it underlines the personal being political. It is also an opportunity to celebrate the generous spirit of liberation.
Other than the United States of America, other countries like Ireland, Switzerland, the Netherlands, and the UK also celebrates National Coming Out Day. Some of the most prominent LGBTQ+ supporting organizations include various Human Rights Campaign, The Trevor Project, The National Center for Transgender Equality, and the It Gets Better Project — as well as many more! So there are enough reasons to celebrate this particular day. Let's pay attention to some of the common reasons for observing National Coming Out Day.
This day is the celebration of diversity. When different people come together, we are all stronger. According to the Human Rights Council, hate and homophobia thrive in silence, and this day serves to bring into the light and accept the differences we have.
NCOD, Commonly used for "NATIONAL COMING OUT DAY" initiated from the roots of liberating lesbians, gays, and other groups from the pathetic conditions and thoughts which were acting as a hurdle to providing them with secure and better-living options, to give them some space and respect in the society. NCOD also aimed at delivering LGBT+ community (which includes LESBIAN, GAY, BISEXUAL, TRANSGENDER, and others who can be grouped in the community)  with the right to participate in political affairs to as it would have a significant influence on the thought process or mindsets of people in the realization of common rights for every person who has taken birth in the world and to bring an end to every sort of discrimination for the human race (especially the LGBT community, who become the most unacceptable part of society for the people in the U.S.A in past few years.
The central idea behind NCOD was that fear, insecurity, violence and other such elements come out from ignorance. To eliminate such harmful components, NCOD is observed to identify their sexuality to their friends, family, and their closest as LGBT. Not every or mT'S come out, but those who come out are honored too for their dare and share their stories and experience. It enormously becomes an opportunity to celebrate the spirit of liberation.
How Can We Observe National Coming Out Day:
National Coming Out Day is a spectacular day that you can observe in celebration excellently and admirably. Every year, the day is celebrated as the coming out to identify LGBT sexuality to raise the community's awareness. Here are some of the glimpses of celebration given below,
The movement is a glimmer of light, and winners are honored.
The first ten years of the celebration can be seen by ordinary people coming for the LGBTies, specifically in the media, to raise a concern for them, create awareness, and take the initiative that at least one of the ordinary people knows one LGBT.
Since recent years and with the rise of awareness of this context, the atmosphere has become less likely to be hostile for the community of LGBT to and is less likely to be a risk for them to identify their sexuality and you can observe the day as a holiday in many western countries.
This fantastic day can also be observed by flag-waving; many people associated with the same flag-waving celebrate it to the fullest.
The success of the celebration of the day can be witnessed from the sight that participants have started to take pride in identifying their sexuality and can be observed wearing pride symbols like pink triangles, Rainbow colored flags, etc.
Finally, Use the Hashtags #NationalComingOutDay and #ComingOutDay to Express Your Thoughts!  
Interesting Facts About National Coming Out Day:
Here are some interesting facts on this particular day.
In 1988, the feminist and gay liberation spirit of the personal being political emphasized that the most basic form of activism is coming out to family, friends, and colleagues and living life as an openly lesbian, gay, bisexual, or transgender person. And so they founded the day as National Coming Out Day.
The central foundational belief is that homophobia thrives in an atmosphere of silence and ignorance. Once everyone knows that those people have loved ones who are lesbian or gay, they are far less likely to maintain homophobic or oppressive views.
The "coming out" means the voluntary self-disclosure of one's sexual orientation and gender identity in the LGBT community.
Robert Eichberg and Jean O'Leary founded National Coming Out Day in the year 1988. Eichberg died in 1995 of complications from AIDS. Robert was a psychologist from New Mexico and the founder of the personal growth workshop, The Experience.
O'Leary was a long-time activist and an openly lesbian political leader from New York. Jean was also the head of the National Gay Rights Advocates in Los Angeles.
They chose the date October 11 because it is the anniversary of the 1987 National March on Washington for Lesbian and Gay Rights.
Initially administered from the West Hollywood offices of the National Gay Rights Advocates. There was participation from eighteen states in the first National Coming Out Day, garnering national media coverage.
In the next year of commencement, NCOD headquarters moved to Santa Fe, New Mexico. The participation increased from 18 to 21 states.
In the year 1990, one of the media gave it a push and the participation count went from 21 to 50 states. This is how it has increased throughout the country.
In the same year, National Coming Out Day merged with the Human Rights Campaign. So the participation continued to increase throughout the country.
You can observe National Coming Out Day every year to celebrate coming out and raise awareness of the LGBT community and civil rights movement. Raising awareness, in this case, is very important.
The first decades of observances were marked by private and public people coming out, often in the media, to raise awareness and let the mainstream know that everyone knows at least one person who is lesbian or gay.
Nowadays, when coming out as a lesbian or gay man is far less risky in most Western countries; the day is more of a holiday. Participants often wear pride symbols such as pink triangles and rainbow flags.
The other countries like the United Kingdom and Switzerland also observe National Coming Out Day on October 11 annually. Hence people from different countries join this novel movement to make the LGBT community feel free and happy.
The Human Rights Campaign sponsors NCOD of the United States of America events under the auspices of their National Coming Out Project, offering resources to LGBT individuals, couples, parents and children, as well as straight friends and relatives, to promote awareness of LGBT families living honest and open lives.
This year (2021) Coming Out Day has its 33rd anniversary of National Coming Out Day. Nowadays, people throughout the country celebrate this special day.
In the past, spokespeople for NCOD include Betty DeGeneres (Ellen DeGeneres' mother), Jesse Tyler Ferguson, Sally Field, Lady Gaga, Whoopi Goldberg, Anne Hathaway, Cyndi Lauper, Don Lemon, Jennifer Lopez, Demi Lovato, Mo'Nique, Pink, Sarah Jessica Parker, Brad Pitt, Charlize Theron, Stanley Tucci, and Lana Wachowski.
These are some of the exciting facts that can be e kept in mind while celebrating this special day. The LGBT community Mars needs some acceptance in society. Highway people in today's world are not so bothered about transgender people. But there are still some kinds of people who give an annoying look to them as they are not a part of society. It is your job to make them feel a different way.
If you pay attention to National Coming out Day's timeline, you will see many things. In 1924, Henry Gerber founded The Society for Human Rights for the first time in Chicago. On June 28, 1969, The riot against police at the Stonewall Inn in Manhattan triggered the beginning of the LGBTQ+ movement. A national March to Washington happened on October 11, 1987. This impactful event is honored by National Coming Out Day is on the same day. In 2002 they released their CD featuring donated songs by artists who were either in the LGBTQ+ community or were allies — it included Cyndi Lauper and Queen. The first same-sex marriage took place on May 17, 2004, in Massachusetts. 
History of National Coming Out Day: 
National coming out day is related to the 1987 march of Washington in which over 5 lakh people took part for the Rights of Gays and Lesbians on  11th of October,1987. This movement soon gained acceleration, and a large number of LGBT put together in Washington, DC. The crowd outside Washington resolved to observe the day annually. Hence, National Coming Out Day was marked as an unforgettable date in history which further led to the formation of NCOD, and there began the affair of celebrating this day annually to empower The LBGT.
NCOD was introduced by a psychologist named Robert Eichberg and an activist named Jean O'Leary. Eichberg, who had also founded a  workshop for personal growth called " The Experience," died of AIDS. At that time, Jean O'Leary was a  lesbian activist and a Political leader from New York, and at the same time, She was the head of The National Gay Rights  Advocates. Why 11th October was selected to be celebrated annually as the National coming out day was based on The National March Of 1987, which took place at Washington.
Both the founders, i.e., Eichberg and Leary, didn't care for safe guarding themselves from Anti-LGBT actions, which ultimately led to the establishment of NCOD towards celebrating the day every year.
Each year NCOD achieves more partakers as well as popularity. A vast number of public figures, as well as countless big shots, reputed personalities. Even celebrities too revealed themselves as LBGT with pride in supporting transgender people, gays, bisexual and other hoping and wishing for their well-being and not disclosing their identity with dignity and not with shame and hiding in a closet.
So this is all about celebrating National coming out day by coming out from your thinking and love everyone equally. Organizing and programs are also essential for this purpose. Most of the people do not have enough knowledge regarding these kinds of people. There are about 1500 special days on the list of a year. It is not possible to celebrate every day for more than one reason. But National coming out day is a day that everyone must observe. As you read above, many things and emotions, and facts are associated with this day. Like the other people of the United States of America, you also need to know other people who still treat them separated from society. The time has come to change their thinking.
As per the opinions of socialists and experts, if people start understanding that transgender people are nothing but the same as other people, the community will breathe some relief. Although, it is necessary to treat them just like ordinary people. And that is what National Coming Out Day is aiming for. Nowadays, celebrating this particular day has spread throughout the different countries of the world.