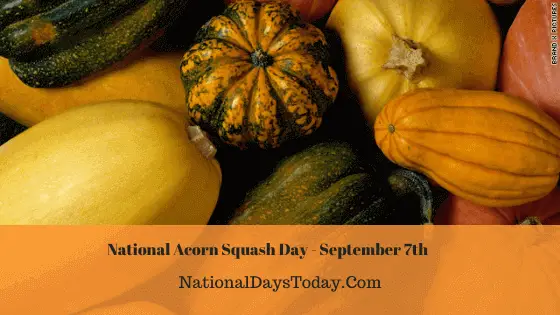 National Acorn Squash Day:
Celebrated on September 7th every year.
| | | | |
| --- | --- | --- | --- |
| Year | Date | Day | Where |
| 2023 | 7th September | Thursday | United States |
| 2024 | 7th September | Saturday | United States |
| 2025 | 7th September | Sunday | United States |
Twitter Hashtags:
#NationalAcornSquashDay
#AcornSquashDay
Related: Other National Days Celebrated on September 7th:
National Neither Rain Nor Snow Day
Why Acorn Squash Day?
Let us again thank the nature on this day for providing us an elixir, Acorn Squash, otherwise called as Des Moines squash or pepper squash, actually a Winter Squash in spite of belonging to the summer squash species.
Commonly in dark green color and with orange-yellow flesh inside, new varieties are also discovered. It weighs more than a pound and as per the name, the size and shape resembles an acorn. Like the size, it has huge health benefits .some of the benefits is cited in the "Interesting facts" section.
How we can Celebrate National Acorn Squash Day:
Try any recipe of acorn Squash and post it using this hashtag #AcornSquashDayRecipes on the social media. Explore more about the health benefits, origin and cultivation methods of Acorn Squash and post it using this hashtag #AllAboutAcornSquash.
Thank the nature for this awesome fruit.
Here is a simple recipe for you,
Step 1: Slice the Acorn Squash after removing the seeds. Add required amount of salt and mix gently. Leave it for 15 minutes.
Step 2: Take a baking sheet. Sprinkle little oil, sugar and pepper. The combination of sugar and pepper gives sweet and saucy taste.
Step 3: Place the slices. Sprinkle some more sugar, pepper and little honey. Bake it for half an hour or until the flesh is golden brown. It is done.
Interesting Facts About Acorn Squash Day:
The germination period is not more Than 85 days and curing process is carried out in order to prevent from spoiling. Thus, acorn squash is an easily cultivated type of fruit. Acorn Squash is usually baked. Microwaving, saucing or steaming can also be done for preparing different varieties of recipes.
Acorn Squash has abundant of Nutrition. Acorn is rich in vitamin C and therefore it uplifts the immune system. Further, the presence of ascorbic acid in the vitamin c improves the police force of the body, which is the white blood corpuscle that tends to prevent us from any foreign germs.
The presence of Vitamin C promotes body development and the antioxidant prevents from cardio-vascular disease and malign tumors. The high proportion of beta-carotene, an antioxidant present in the Acorn Squash reduces pressure in the eyes that eventually prevents cataracts problems.
The presence of Vitamin A makes the skin to glow. It prevents skin prone diseases and skin looks young and impeccable.
The considerable amount of dietary fiber present in the Acorn Squash regulates digestion by depleting cramping, and bloating, constipation, diarrhea. It also regulates blood sugar level and prevents diabetes. Moreover, it expels excess cholesterol and prevents heart attacks.
The high content of potassium and magnesium present in the Acorn Squash helps to maintain blood pressure, blood circulation and make the cells to function properly.
Acorn Squash consist of enormous amount of minerals like magnesium, copper, phosphorous, calcium, manganese and iron while mainly involves in bone development.
However, Acorn Squash is rich in Carbohydrates and though not full of sugar, it certainly fills the body with carbohydrates.
History of Acorn Squash Day:
While the origin and creator of this day is unknown, Acorn Squash itself is reported to be originated from North America and it reaches through Americans to other continents.