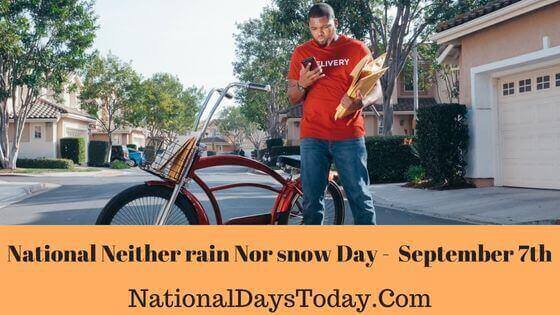 National Neither rain Nor snow Day:
Every 7th of September is "National Never Rain or Snow day" On this date; we honor those who carry our most precious possessions to our doorsteps no matter how cold or wet out there.
| | | | |
| --- | --- | --- | --- |
| Year | Date | Day | Where |
| 2023 | 7th September | Thursday | United States |
| 2024 | 7th September | Saturday | United States |
| 2025 | 7th September | Sunday | United States |
Twitter Hashtags:
#NationalNeitherainNorSnowDay
#NeitherrainNorSnowDay
Related: Other National Days Celebrated on September 7th:
Why National Neither rain Nor snow Day is celebrated?
As one can discern by the name of the celebration, is an annual holiday to celebrate post office workers from the U.S postal service. In particular, it is a celebration of the opening of a specific post office, the New York Post Office. The post office was inaugurated on September 7th and 14th, 1914. On the post office's exterior is an arcade written the following sentence: "Neither snow, nor rain, nor heat nor night's darkness can hinder these couriers from the speedy conclusion of their scheduled rounds." This is a motto used by postal workers throughout the U.S.
How can we observe National Neither rain Nor snow Day:
·       Do something nice or thank the postal worker.
This is the day to contact your local postal worker to show them your appreciation. You can purchase an item that lets them know how grateful you are.
·       Explore the Smithsonian National Postal Museum
The Smithsonian National Postal Museum is committed to the conservation of, research, and display of the history of the postal service. Take a trip to the museum and discover everything you can about the postal service's timeline.
·       Watch or read a documentary.
Read about "Neither Rain Nor Snow," written by Devin Leonard, nor in "How the Post Office Created America" by Winifred Gallagher. You can also see documentaries about how mail gets delivered. Use hashtags #NationalNeitherRainnorSnowDay and #NeitherRainnorSnowDay to share links about documentaries on twitter.
Interesting facts about National Neither rain Nor snow Day:
Below is some fun information concerning this U.S post office that we learned about while writing on National Neither Snow Nor Rain Day? We believe that everyone will be entertained by these facts and will be entertained by them.
The First U.S postal office in the United States was founded in a Boston Tavern in 1639.
The 19th century saw newspapers comprised the most significant portion of what was sent out by the U.S postage.
In 1799 the penalty for mail theft was a whipping in public and ten years in prison.
The Postmaster General was used to be in succession order towards the U.S Presidency. However, the status was changed in 1971.
History of National Neither rain Nor snow Day:
U.S. Postal Service workers are one of the most committed and reliable service teams in existence. This impression is derived from their determination to deliver packages safely regardless of difficulties.
The day is an evocative and bizarrely constructed name. Still, its origins begin with the unofficial creed of the United States Postal Service, "Neither rain nor snow nor the gloom or heat of night prevents couriers from rapid completion of their scheduled tours." The phrase's association in the U.S. Mail originated with its inscribed on the New York's General Post Office Building, inaugurated in 1914. It is derived from an article in George Herbert Palmer's version of Herodotus' Histories, referring to the courier service that was part of the early Persian Empire.
The day is celebrated on the 7th of September, as it was the day that New York City opened its principal post office, which was located in the James A. Farley structure in 1914. The building is situated within Manhattan, New York, and was previously used as the city's principal United States Postal Service (USPS) branch. It was referred to as the Pennsylvania Terminal until 1918 when it was changed to the General Post Office Building. The building was designated a New York City designated landmark in 1966 and then placed on the National Register of Historic Places in 1973. The building was officially named in 1982 to honor James Farley, the 53rd Postmaster General.
Postal employees and post offices have long histories throughout the United States. In 1847, the first postage stamps were introduced 1863. In 1863 during the Civil War, free city delivery was introduced. 
There are thousands of holiday celebrations or special occasions and celebrations, plus many more each day. A lot of these holidays are brand new. New holidays are created every day. September holidays are not an exception. Here at Holiday Insights, we take immense care to research and write down the details of each holiday in the most precise and complete manner feasible.