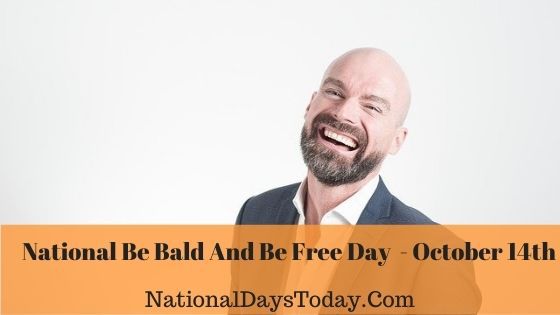 National Be Bald And Be Free Day:
The National Be Bald and Be Free Day are celebrated on the 14th of October every year. On this day, all the bald people let go of their insecurities regarding their hair and proudly show their shiny, glowing bald off to the whole world. There is no need to wear any wig or artificial hair on this day.
| | | | |
| --- | --- | --- | --- |
| Year | Date | Day | Where |
| 2023 | 14th October | Saturday | United States |
| 2024 | 14th October | Monday | United States |
| 2025 | 14th October | Tuesday | United States |
Twitter Hashtags:
#NationalBeBaldAndBeFreeDay
#BeBaldAndBeFreeDay
Related: Other National Days Celebrated on October 14th:
Why National Be Bald And Be Free Day?
Do you ever feel insecure about going outside without your wig just because of your bald head? Or do you want to proudly walk around the streets without attracting the eyes of every passerby just because of your bald? Or do you want to be bold and shave all your hair and go against the norms for one day without any criticism from your colleagues regarding the state of your head? If you have any such problems or desires, then the National Be Bald and Be Free Day is definitely the "that" day for you.
Being bald has always been considered a weakness of people for ages. But is the bald head really the epitome of weak people? Then, what about the legendary Mahatma Gandhiji who fought against British colonialism in India or the American actor-cum-producer Bruce Willis? Were they weak too?
No, they were not weak, so are not the countless bald people out there in the world. It is just our belief and the society that think of bald people as a weakling. To break this belief and deliver more strength and power to the bald people, the National Be Bald and Be Free Day has become a very significant day in the US's history. This day's nationwide spontaneous celebration is also delivering a positive message to the entire world to prevent the brutalities against the bald. This day is solely dedicated to the bald people to let them experience a day free of weird looks from citizens, criticisms, fears, and negative comments.
It does not matter if you are bald or not; the only thing that matters is your encouraging presence and positive vibes that would give the bald people more power. Read the article and understand the necessity, significance, importance of, and thoughts behind the Be Bald and Be Free Day. Be bold, take part in this celebration, and spread the positiveness in the world.
How Can we celebrate National Be Bald And Be Free Day:
Celebrating the Be Bald and Be Free Day is very easy and does not take much of your precious time. It just needs a few minutes for you to participate in this. You can even do it in the break time of your work or while eating or going on morning walks or doing your daily chores, whenever you have time. Just follow these 3 steps-
Step-1:
Just take your phone or camera out.
Step-2:
Click a good selfie of your bald self.
Step-3:
Upload the same on any social media platform from your account with the hashtag of BeBaldAndBeFree (#BeBaldAndBeFree).
Though the main social media platform to celebrate this day is Twitter, you can also use Facebook, Instagram, YouTube, WhatsApp, etc., to trend the hashtag and participate in the celebration.
You also do not need to be naturally bald to participate in this day. You can go and shave your hair and be a part of the event. Many famous people and celebrities also shave their heads to show their support to bald people.
Interesting facts About National Be Bald And Be Free Day.
There some very interesting facts regarding this day:
We have always heard about the beautiful hair or beauty of hair. But did you know that the celebration day's tagline is "the beauty of baring the scalp"? It is interesting and unique, right?
Did you know that Britney Spears went completely bald on this day during the turning point of her career went completely bald to show women power against the male-dominated music industry and break the rules and fantasy of thousands of people?
The bald day is celebrated by the completely bald people and part and half bald persons, and nearly half of the US population celebrates this day.
Baldrick's, the largest private funders of the Childhood Cancer Research Grants, raised $7000 on the 2019 installation of this day.
Hollywood celebrities are the ambassadors of this day.
Twitter is the most famous online platform for promoting this day, followed by Instagram and YouTube.
There is confusion between 7th and 14th October regarding which is the actual National Be Bald and Be Free Day.
No information was found on the actual motive behind the promotion of this day.
History of National Be Bald And Be Free Day
Though the actual origin and the main purpose of the foundation of this day were never unveiled, it is widely known that the day was first celebrated by the legendary Thomas and Ruth Roy of the Wellcat. Being bald is considered to be a stigma not only for women but also for men and being bald at a young age is even more of a shameful thing according to societal norms. On this day, the bravery of all those people who dared to go bald, breaking every rule, and going against society is celebrated. The day is solely dedicated to making those bald people feel free who feel inferior every day.