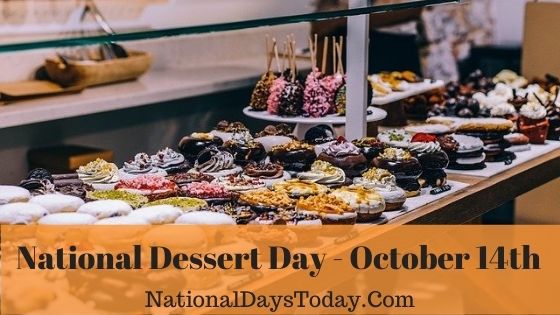 National Dessert Day:
National Dessert Day is a popular day in the United States in America celebrating on the 14th of October every year. On this day, people of the United States satiate their sweet teeth and enjoy different kinds of desserts as per their choices.
| | | | |
| --- | --- | --- | --- |
| Year | Date | Day | Where |
| 2023 | 14th October | Saturday | United States |
| 2024 | 14th October | Monday | United States |
| 2025 | 14th October | Tuesday | United States |
Twitter Hashtags:
#NationalDessertDay
#DessertDay
Related: Other National Days Celebrated on October 14th:
National Be Bald And Be Free Day
Why National Dessert Day?
Do you love desserts? Then save some space inside your tummy for that during your lunch or dinner time because the 14th of October happens to be the best day for desserts in the United States of America with lots of new dishes and other dessert options. Chocolate chip cookies, Boston cream pie, and brownies (which are like chocolate cakes that leveled up in the oven) deserve their day, so we celebrate National Dessert Day.
Have you ever lit your dessert on fire? Maybe you have if you've ever made s'mores. Try baked Alaska if you want to add to your repertoire of toasted post-dinner sweets.
We're pretty creative when it comes to desserts. Just look at vanilla pudding: its bananas and pudding mixed with cookies—yes, cookies create something altogether new. Consider the maple bacon doughnut and the deep-fried Snickers. Who comes up with these ideas? Here's a better question: who cares?
National Dessert Day revels in the human ingenuity that forms sugar and flour into cake and cookies. So get out there and make some sweets!
The available ingredients affect the range of desserts made in each region. The first desserts required minimal effort or preparation since ancient culture focused more on nutrition in foods to survive. Over the years, desserts have changed from natural candies and nuts to complex soufflés and multi-layered cakes. In modern culture, there are many more options available in desserts.
Throughout the year, we see seasonal delights. As we near the holiday season, the flavors change. For some, the taste of gingerbread or fruitcake may come to mind. Others will pull out recipes handed down for generations. Pecan, pumpkin, and apple pies come to mind. Other decadent desserts round out the dessert table, too, like Flan, tarts, and everything with maple glaze.
Chocolate, vanilla, strawberry, and cream cheese frosting! No matter what you like, there's a particular type of dessert dedicated to your taste buds!
Sugar is scientifically proven to aid you through breakups, heartaches, and any case of the blues. When your mouth is happy, you're so glad too!
During summertime, you can cool off with delicious ice cream or frozen yogurt. In the winter, pour that hot fudge on your crepe to make the ultimate warm and filling dessert!
Are you a starter or a dessert person? If you fall into the latter category, you are going to love Dessert Day. This day provides us with the perfect excuse to let our sweet tooth take over. You can indulge in as many desserts as you wish, and no one can tell you to do otherwise! What could be better? From pastries and cakes to chocolates and mousses, there is a dessert for everyone. What's your favorite?
If you do a little bit of digging online, you will see some interesting facts and statistics about desserts and the most popular choices. Of course, you have probably heard of tiramisu, which is the world's most famous Italian dessert. What about Sacher cake, from Austria, or Baklava, from Greece and the Middle East? Research different cultures and try new desserts on this day!
This is an excellent day to order dessert first! Whether you go out to your favorite bakery or whip up something delicious at home, share your celebrations with others. Shout out to your favorite baker or share your go-to recipe. What's your favorite dessert? Pie, cake, or something in between? Post photos on social media using #NationalDessertDay.
How can we observe National Dessert Day:
You can observe #NationalDessertday in different ways. The most crucial part is that you need to enjoy the deliciousness of beautiful desserts. No matter the method you choose, that thing is the primary goal of celebrating this day. Never forget to share using the hashtag #NationalDessertDay.
National Dessert Day encourages us to celebrate by selecting our favorite delicacies and indulging in them, of course, while also exploring the ever-growing number of options we have to experience in the world of sweets. There are so many to choose from cakes, pies, fried dough, chocolate, tarts, candy, jellied desserts, and pastries; it's all about choosing how you make them and what to make, and maybe even where to make it?
Dessert can happen at home with family, or you can pick them up from your local store, and there's always grandma's house? The only important question on Dessert Day is, "What is your favorite dessert, and how would you like it?" Maybe there's an old family recipe or something that the bakery down the street made fresh that morning. Whatever you decide, Dessert Day is your opportunity to indulge in your favorite treats and maybe relive some old memories while doing so.
From decadent chocolate to sweet strawberries, there are many desserts you can make on this day. How about Sticky Toffee Pudding? That is a British classic. Sticky Toffee Pudding is a deliciously moist sponge cake with finely chopped dates for those unaware. Of course, the star of the show is the toffee sauce that is poured over the top.
If you fancy something a bit more modern, how about Green Tea-Coated Chocolate Mousse? Green tea is a massive hit in desserts at the moment. The Strawberry Cobbler is another dessert worth a mention. For something spectacular, serve it with cream cheese and warm vanilla seed custard. It is warm, comforting, and will melt in your mouth.
Or, what about Sicilian Lemon Tart? The balance between the sweetness and tartness in this dessert is spot on. We could go on and on after all. There are so many delicious and mouth-watering desserts out there! All you need to do is a quick search on the Internet, and you are going to find plenty of exciting recipes to try on this day.
Another fun way to celebrate Dessert Day is by watching Charlie and the Chocolate Factory. When you think of sweet treats and chocolate, this is often the first thing to mind. It is a great film, and it is something that all of the family can watch. So, prepare your dessert, whether it be an ice cream sundae or a comforting apple pie, and get yourself comfortable in front of the television so that you and the family can enjoy a good movie night together. What could be better?
If you are feeling adventurous, you may want to try making your dessert invention on Dessert Day. After all, the best recipes out there usually started as a bit of trial and error. Get plenty of different baking ingredients in and have fun experimenting with different flavors.
You could even turn this into a bit of a bake-off competition with your family or friends. You can all have your workstation,' and then you can try everyone's desserts to see who is crowned the winner. It's always fun to do something a little bit different with your loved ones, isn't it? 
Interesting facts on National Dessert Day:
Usually, when we go to a restaurant, we restrain ourselves from picking up the dessert menu. But today is a national holiday! Don't be afraid to conquer that chocolate lava cake a la mode style!
Whether from scratch or a box, cakes always taste better when they rise in your oven. That is if you don't accidentally eat all the cake batter beforehand. Save us the spoon!
Warm, flaky baked goods are best enjoyed with friejnds. Have everyone bring their favorite pastry, sit around the table, and strike a harmonious "yum!" 
The best way to observe National Dessert Day is to try one of the many traditional American desserts. To some people, this can mean apple pie or ice cream. It can include one of the other desserts that were popular in the United States at one time or another to other people. This can consist of brownies, checkerboard cake, chocolate chip cookies, apple crisps, brown betty, or chocolate cake. You decide!
The creator of chocolate chip cookies, Ruth Wakefield, accidentally produced a batch of these treats when she ran out of cocoa powder and substituted chopped chocolate (because "chocolate chips" weren't even invented yet).
Sugar melts at 320° F and then caramelizes around 340° F. That's why your snickerdoodle recipes call for an oven set to 350° F.
Boston cream pie is a cake.
German chocolate cake is named after Samuel German, who was American. 
History of National Dessert Day: 
While no one knows for sure when National Dessert Day was started in the United States, one thing is known for sure, and that's how the word "dessert" was invented. It comes from the French word "desservir," which means to remove that which had been served. It would be a meal served after all of the dishes had been removed from the table. However, at this time, which was around the 15th century, many chefs added a lot of sugar to their savory dishes as desserts. That is why desservir, or dessert as it would eventually be called, is now associated with sweet treats.
From the 19th century on, various desserts would become popular in the United States. For instance, in Boston during the 19th century, a vanilla sponge cake filled with vanilla cream and topped with chocolate glaze became popular – otherwise known as Boston Creme Pie. About the same time, Key Lime Pie was introduced in Florida – probably because lime trees were abundant that the Spanish planted during the 18th century. However, due to hurricanes destroying these lime trees all over the state, the popularity of this dessert didn't take off until after right after World War II.
There were quite a few desserts that would become popular over the years in the United States, including Baked Alaska and the Banana Split. During the World's Fair in St.Louis in 1904, the Ice Cream Cone was invented, and by 1912, the creation of Cheesecake was in New York City. Other desserts that rose and fell in popularity include Blum's Coffee Crunch Cake, Marionberry Pie, and Bananas Foster – although this dessert has made somewhat of a comeback over the last few years.
The word desert origin comes from the French "desservir," a word that means "to clear the table." That, of course, referenced the dish that came after clearing the main dishes served as part of the meal. The earliest references to the term dessert being used are in the 1600s and arrived simultaneously as the concept of serving dinner in courses, letting each part of the meal be its own experience.
While it may seem like a no-brainer now, the idea of serving a sweet repast following the main meal wasn't always doable. Those masters of decadence, the French, were known to serve a sweet wine as an aperitif, and it didn't take long before the concept of sweet followings to the main dish became commonplace.
The sugar and honey trade's birth helped bolster the idea of dessert as it became easier to obtain sweeteners, though it was still known as a lush decadence reserved for the wealthy for a long time.
The historical timeline of this day is:
In 776 BCE, The Ancient Greeks invented cheesecake as a sort of energy booster served to athletes during the Olympic games. Brides of the time would also cook and serve the sweet treat to their wedding guests.
In the year 1381, Though the common metaphor is used to describe American culture's highlights, the first written recipe for apple pie came from England.
In 1645, French pastry apprentice Claudius Gele accidentally invented puff pastries after adding too much butter to his bread dough.
During the early 1700s, Protestant settlers in Pennsylvania created the sugar cookies we know and love today.
That's it! Suppose you want to promote this holiday and let the world know you are celebrating it. In that case, you can use the hashtag #nationaldessertday to promote it on social media sites like Facebook or Twitter. Be sure to post a picture of your dessert when you use this hashtag, so the world can see what delicious treat you are eating.