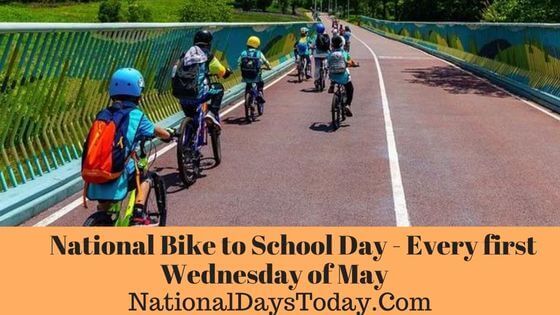 National Bike to School Day:
Every year on the first Wednesday of May, various people celebrate National Bike to School Day. This day is especially for the children where they ride a bike to their schools. They are inspired to learn more about the safety rules that need to be followed on the road and have fun with their friends.
First Wednesday:
| | | | |
| --- | --- | --- | --- |
| Year | Date | Day | Where |
| 2023 | 3rd May | Wednesday | United States |
| 2024 | 1st May | Wednesday | United States |
| 2025 | 7th May | Wednesday | United States |
Twitter Hashtags:
#NationalBikeToSchoolDay
#BikeToSchoolDay
Related: Other National Days Celebrated on May:
National Teacher Appreciation Day
Why National Bike to School Day?
National Bike to School Day is celebrated every year in May. The month of May is also witnessed as National Bike Month. So, in regards to National Bike Month, thousands of schools across the country celebrate this day.
Most of the time, kids take a ride to their school in their cars. Most of the schools are nearby in the surrounding neighborhoods. But on the first Wednesday of May, instead of cars, they ride their bike and go to their schools. This way, they realize the importance of biking rather than traveling in cars, even short distances. In this way, they are contributing their services in saving the planet earth.
The kids need to learn about the safety rules that they need to stick to while riding. It teaches them the benefits of cycling and the secrets to living a healthy life.
There are numerous good effects of biking on our health. Biking can for up to 3 hours reduces the chances of any cardiovascular disease by 50%. Cycling helps in burning calories, and it helps in reducing life-threatening diseases. There are numerous benefits of cycling on one's health. This education is essential for budding children to keep all the diseases at bay and live a healthy and long life. 
How can we celebrate National Bike to School day:
Following are the steps that you can follow for fun and exciting celebrations on this day and make it special.
Decorations – Decoration brings happiness and excitement to our lives. Decoration also enhances creativity. So, decorate your bikes beautifully. You can add star-shaped reflectors to your bike's tire stokes. Or maybe you can cover your bike with blinking lights or LED lights. You can add various colorful stickers to make your bike look vibrant and gorgeous.
Gathering of your friends – Celebrations would be kind of sad and gloomy if there was no one to celebrate with. So, team up with a group of your friends and be ready to celebrate the ride to school.
Celebration – All that is left to do is enjoy and have exciting fun with your friends. It is a day to have fun and learn important yet simple lessons while celebrating the day.
The organizers can come up with some new and thrilling activities that teach the children the importance of road safety, which should be kept in mind while riding.
Also, don't forget to click those lovely and cute moments and share them with the trending hashtag #NationalBikeToSchoolDay, so everyone can know about this popular day, and you all can celebrate it together. Don't miss any fun. 
Interesting facts About National Bike to School Day:
Here are some interesting facts about this day that you cannot miss to read –
In a year, around 1 billion cycles are manufactured from all across the entire world.
The longest bike ever made in history had 35 seats and was 20 meters long.
The most expensive bike that was ever sold was for a whopping $500,000!
The Australian biker Andrew Hellinga rode backward for about 209.77 miles!
There are twice the amount of bicycles as the number of cars in the world.
Tour de France is the most famous bicycle race in the world, where thousands of cyclists compete in the most enduring sport races of all time.
The world record for traveling around the whole world is in 91 days and 18 hours. Mike hall set this world record.
Cycling is three times faster than walking. Cycling is better than walking and helps to maintain a healthier lifestyle.
History of National Bike to School Day:
In October 1997, the USA celebrated its first Walk to School Day. Many years went by, and the day became popular. Then, on May 9, 2012, the First National Bike to School day was celebrated. This arrangement was made with the help of the League of American Bicyclists association. The day is still celebrated with so much fun and joy.