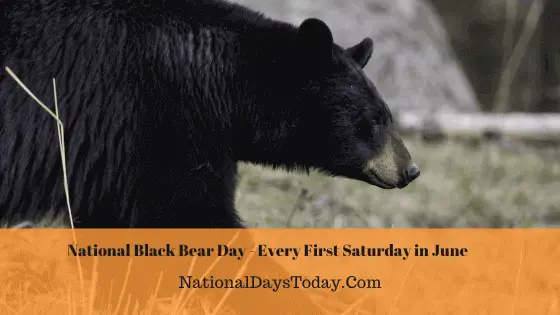 National Black Bear Day:
Celebrated on First Saturday in June, every year. The day is observed to recognize the impressive species, American Black Bear that has its origin from North America and still prominently lives in its homeland.
| | | | |
| --- | --- | --- | --- |
| Year | Date | Day | Where |
| 2023 | 3rd June | Saturday | United States |
| 2024 | 1st June | Saturday | United States |
| 2025 | 7th June | Saturday | United States |
Twitter Hashtags:
#NationalBlackBearDay
#BlackBearDay
Related: Other National Days Celebrated on June 2nd:
National Rotisserie Chicken Day
Why Black Bear Day?
The National Black Bear day is observed to recognize the impressive species, American Black Bear that has its origin from North America and still prominently lives in its homeland. American Black bears are Omnivores and typically found in North America. They normally live in the forest. It has some apparent characters like vocalization, recognition of colors, excellent sense of smell, Magnificent capability of swimming, highly intelligent, good eyesight, and quick grasping power in comparison with chimpanzees. Thus, this day is observed to recognize the existence of the American black bear in our country.
How we can Celebrate or Observe National Black Bear Day:
Let us observe this day by visiting the NC Black bear Festival. Use this hashtag #BlackBearDay to share your spectacular experiences. You can have a black bear tour after formal online registration with the official Website. Several events are hosted on behalf of this day. Just enjoy this day at NC Black bear Festival with your families and Friends.
Interesting Facts About Black Bear Day:
In the United States, the Population of Black bear is estimated to be between 339000 and 465500 excluding the population from some minor states where the exact population could not be estimated. California ranks top in the list with almost 35000 black bears approximately. American Black bears are listed as least-concern species by International Union for Conservation of Nature due to its large Population. They are also typically found in Canada in large numbers compared to Mexico, where it is listed as an Endangered Species.
The ancestors of American Black bear are Asian black bear, Sun bear, and Polar bear. However, it is claimed to be separated from the lineage of Sun bear and Polar bear about 5.05 million ago. As of now, American Black bear and Asian Black Bear are close relatives.
The biggest American Black bear was reported to be a male, weighed 409 kg. It is claimed to be caught on camera during the year 1972 in the forested region of New Brunswick. An American black bear survived for nearly 44 years in captivity. However, the average lifespan of a wild bear is suspected to be only 18 years.
American black bears are of various colors not coinciding with the name. They are of cinnamon, jet black, light brown, chocolate brown, dark brown and even bluish black bears are evident in westernmost parts of Canada especially in British Columbia, which is near to the Pacific ocean.
Black bears are termed as "Super Hibernators". Hibernation lasts up to 8 months in the spring season. During that time, hibernated black bears used to live in caves personally dug by them. After Hibernation, they restore activeness by wandering for up to 2 weeks to recover their muscles since inactive for long period.
Black bears are of similar threats from human like other mammals that include hunting for fur, meat etc., for Captivation too. They are hunted by both American and Europeans. Their skin equally is in high demand and exported to other countries.18000 black bears were estimated to be hunted during the year 1992. The U.S federal government has enforced several laws and licensed hunting. A person who holds a license can only hunt as per the law, which has led to a considerable drop in recent decades. Even at Present, there are 89000 licensed hunters in Canada, a study has roughly estimated.
History of Black Bear Day:
The National Black Bear Day was founded by North Carolina Black Bear Festival, An event celebrated in Plymouth on an annual basis being sponsored by Washington country Travel and Tourism, purely for emphasizing the American Black bear. The NC Black Festival has won several awards from the North Carolina Festivals association as well as Southeast Festivals & Events Association. The NC Black bear festival is a great platform to learn more unknown facts about our country's magnificent Animal where the black bears are even exhibited.