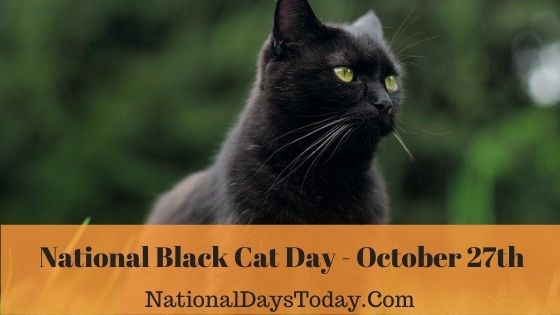 National Black Cat Day:
Leading to the festivities of Halloween, on the 27th of October every year, we celebrate the National Black Cat Day.
| | | | |
| --- | --- | --- | --- |
| Year | Date | Day | Where |
| 2023 | 27th October | Friday | United States |
| 2024 | 27th October | Sunday | United States |
| 2025 | 27th October | Monday | United States |
Twitter Hashtags:
#NationalBlackCatDay
#BlackCatDay
Related: Other National Days Celebrated on October 27th:
Why National Black Cat Day?
Black cats have always been associated with ill omen and bad luck and yet they are among the most adorable cats. The National Black Cat Day is a celebration of the black cats all over the world, spreading positivity about them, and is also a day for those who love the cats to show their love. The statistics show that the black cats and cats with a combination of black found it harder to find a home than other cats. The day was established as a way to remind ourselves that the Black cats are equally a fantastic feline as their other colored counterparts and deserve the same attention as them.
If you are already a feline enthusiast and love Black cats, then National Black Cat day is just another reason for you to celebrate your favorite friend. As you would know black cats have always represented fortune or misfortune, depending on the country you are from. With a strong representation in different cultures, it is only reasonable to expect a day that honors these majestic cats as they should be.
How Can We Celebrate National Black Cat Day?
National Black Day commemorates and honors the stately and beautiful black cats, which are considered to be ominous by many. It is a day to bring about positivity about the black cats and you can also bring in your enthusiasm to make it an amazing day for your feline friends.
If you have a feline, black or not, you can celebrate the National Black Cat day with a few simple gestures. And if you do not have a cat, then you probably can now look at adopting a new black cat as your companion.
If you are already a proud owner of a black cat, then you can make use of this day as an opportunity to show them off. Take a picture of your black cat and post it on your social media account with the hashtag #NationalBlackCatDay.
Use this day to spread awareness about black cats and how they are as good as any other felines to the entire world online.
You can also have children in your house, school or your family draw pictures of black cats, as they perceive it which can then be shared or the best picture awarded a prize. This will encourage the kids not to fear the black cats as they are sometimes taught to.
You would be surprised to know that there are many movies and TV series which feature black cats. On the occasion of the National Black Cat Day, you can watch some of these movies like "Sabrina the Teenage witch" featuring a talking black cat or "The Simpsons" featuring the Snowball, and many more.
And if you don't have a cat you can then probably look at adopting a black cat to keep you company. There are many you would find at your local shelter for animals and with the low adoption rate, you are sure to find your pet among the different black cats.
You can volunteer to do some work at the animal shelter in your locality especially the ones that have cats or mostly black cats.
If you are an owner of a black cat, you can take your cat out on an outing and buy him/her a new toy to play with. Be proud to hold him/her in the public and show off your love for the black cat.
It is time to ensure the safety of your black cats on the National Black Cat Day. You can buy a GPS tracker that can be affixed to their collar. This is more of assistance when you are the owner of multiple cats and you want to keep track of all of them from a simple app on your phone.
As with your special days, the National Black Cat day is special for your cats and you can use this chance to spoil them with their favorite food like tuna cookies or something.
You can make the day even more fun for your beloved black cats by arranging fun games. If you have other feline parents in your friends group, you can invite them over and let the cats have a party of their own.
You can make the day more memorable by organizing a photo shoot for your cat and catching them in their best outlook. This would be a fun day both for yourself and you, as you make different poses with your cat. And of course, you can share these snaps with your friends and family and to the world with the tag of #NationalBlackCatDay.
Interesting Facts About National Black Cat Day:
On the National Black Cat Day, let us learn a few interesting facts about Black cats and how they are perceived across countries and different cultures.
Black cats are not considered unlucky everywhere. In fact, you will find that in Japan, owning a black cat is said to bring forth a lot of fortune. In Germany, a black cat crossing your path is considered to be extremely lucky.
There are 22 different feline breeds that can have black cats among them. But when you speak of black cats, we immediately think of the one with all black copper-eyed cats with short hair. This breed is known as the Bombay Breed.
It is genetics why a cat is black in color. The black fur gene has three different variants, including solid black, cinnamon, and brown.
The hair coat of the black cat can also rust when exposed to too much sun or when they have a nutritional deficiency.
While some might look upon the black fur as ominous, it is a blessing to the feline actually. The genetic reason why black fur results in these cats are also the reason why they have a higher immunity even to diseases like HIV.
There is a café in Japan which is dedicated to black cats, in Himeji's Nekobiyaka. The black cats are featured here as the stars and the customers can pet them. You will find that these black cats are wearing bandanas in different colors for easy recognition.
The one biggest problem black cat owners face is photographing them. The trick is to brighten up the hue on your camera and angle them slightly towards the natural light to get a good picture.
History of National Black Cat Day:
It was in the year 2011 when the first National Black cat day was celebrated, established by Cats Protection in an effort to celebrate the beauty of these monochromatic felines. We do not know why the black cats are associated with misfortune in the western world and yet they are considered to be harbingers of goodwill and fortune in countries like Japan. Despite the reasons, the association of these cats with witchcraft and misfortune has made it difficult for them to find a home. The National Black Cat Day was established in an effort to bring attention to these black cats who are quite majestic in their appearance and are equally cute.