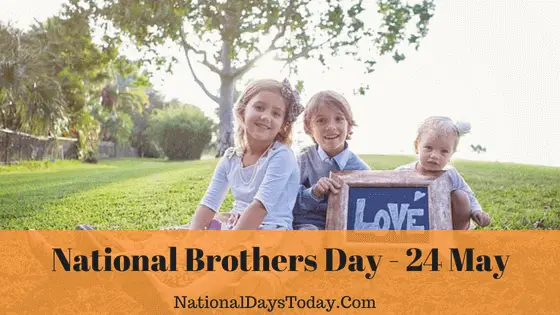 National Brothers Day:
Celebrated on May 24th every year. The day is celebrated to honor the beautiful relationship, brotherhood.
| | | | |
| --- | --- | --- | --- |
| Year | Date | Day | Where |
| 2023 | 24th May | Wednesday | United States |
| 2024 | 24th May | Friday | United States |
| 2025 | 24th May | Saturday | United States |
Twitter Hashtags:
#NationalBrothersDay
#BrothersDay
#Selfiewithbrother
#Childhoodmoments
Related: Other National Days Celebrated on May 24th:
Aviation Maintenance Technician Day
Why Brothers Day?
Finally, the day has come that we longed for. The National Brothers day is celebrated to honor the beautiful relationship, brotherhood. Those who have brothers knows the value of brotherhood. We traveled a journey called life with him. An elder brother himself is another father and a younger brother is our first child.
How we can Celebrate or Observe National Brothers Day:
Express your feelings for your brother through quotes. Use this hashtag #brothersdayquotes to express yourself. Try to post your own quotes if possible. If not, there are a number of quotes available in Google regarding brotherhood. Search for the quotes and pick any which matches with what you what to express.
Watch a movie that portrays the adorable brotherhood. Watch with your brother or stepbrother. Take a selfie and post it on social media using this hashtag #selfiewithbrother. Post any such movies name and the protagonists details irrespective of languages, language name, subtitle availability to understand the story using this hashtag #brotherhoodmoviedetails. When I started writing this article, I searched for a nice movie across several languages that portrays the loveliness of brotherhood. Perhaps, There are some award-winning movies in some regional languages! Don't forget to check it out.
Keep your brothers photo, no matter how many brothers and stepbrothers you have, as the display picture in all your social accounts. Share some naughty moments with them during your childhood days. Use this hashtag #childhoodmoments to share those memorable moments. post any pictures if you have related to those moments which would be further interesting.
Plan for a tour with you brothers and his family, if he does have, to some wonderful destinations. Various tourist spots are available in the country like Venice Beach in Los Angeles. Los Angeles also comprises various tourist destination spots and ranks top of the list of tourist destinations.
Surprise him with wonderful gifts. Hope this is what most of the brothers love. Present him a watch if he adores branded watches. Prefer some costly watches like Seiko, Omega, Tissot, etc. or else give him a platinum bracelet or a ring.
Present him an album which has a collection of your childhood photos which will definitely make him overwhelming. Read a book on brotherhood. Several collections of books are available online. In addition, websites are hosted which, are particularly meant for brotherhood books. Therefore, searching a book will not be a tedious job. You can even find bookshops for brotherhood books. post your preferred book details using this hashtag #BrotherhoodBooks.
Say no to racism. About one in three black skinned people were affected by racism to the maximum extent whereas almost 100 percent of the black-skinned people were affected, inclusive of children, a study reveals. Spread brotherhood to eradicate racism. Racism is firmly attached to American History. Therefore, it is our responsibility to completely remove it. Use this hashtag #saynotoracism to extend your support.
Some Brothers Day Quotes:
1. Sometimes we need someone to simply be there. not to fix anything, or to do anything in particular, but just to let us feel that we are cared for and supported..
See how true the above is. A brother is a person who always comes first whenever we need him. Whenever we fall, he picks. When no one supports, he does. That is the loveliness of having an adorable brother. He fights with us but never let us under any circumstances no matter how old we are.
An elder brother is like a father. He sacrifices a lot on behalf of the family. If he has a younger sister, then he becomes a protector throughout her life, even after her marriage. He becomes a pacified brother after getting a little sister. He waits until his sister gets married. He loves to enjoy with his sister's children. After all, he decides to go for his life. I would say the greatest out of all is an elder brother-younger sister relationship.
2. Brothers and sisters are as close as hands and feet.
Of course! That's right! They may get isolated by distance due to their marriages but always remains adhered by their heart. At least they would think of each other a few times a day. No one can object to the fact that being isolated by distance always let them think of each other more and remains connected by heart.
If a boy has a little brother, then their parents would become a referee. They involve in arguments, fights, make others cry. But still does all the naughty crimes and get caught together. They become friends as they pass through their childhood especially during their college days. Thus, finally becomes supportive of each other.
3. "With brothers you become friends. Some you hang out with more than others. you talk to one about the other a little more. You get mad at them. Then, you love them. Then you Apologize. You have to apologize whether you want to or not. You have to. That's your brother" says Tito Jackson, an American singer, songwriter and the brother of Michael Joseph Jackson, King of Pop.
The bond between an elder sister and younger brother could never be replaced. They always have a rivalry that includes who is mom's favorite child, and normally for a T.V remote. As they pass through the childhood the little brother starts relying on his elder sister for guidance and thereby, their bonding blossoms.
4. A sister is someone who loves you from the heart, No matter how much you argue you cannot be drawn apart.ahe is a joy that cannot be taken away, Once she enters your life, she is there to stay.
Since she is the bigger sister, she always has her own rules during the childhood. However, things will be normal when we grew. She is for sharing our Laughter and wiping out our tears. A sister is an angel, a best friend.
It does not mean that brothers day is meant for only biological or stepbrothers. It is also celebrated to spread peace by means of brotherhood. Those who don't have any brothers treat everyone like your brother and spread brotherhood. Our country is very much affected by racism. Therefore, spread brotherhood to eradicate racism.
5. I refuse to accept the view that mankind is so tragically bound to the starless midnight of racism and war that the bright daybreak of peace and brotherhood can never become a reality… I believe that unarmed truth and unconditional love will have the final word. – says  Martin Luther King, Jr.

History of Brothers Day:
Our research could not find more about the origin of the National Brothers Day. It is reported to be founded by Daniel C.Rhodes who belongs to Alabama. However, there is a different history stated by some researchers coinciding with the National Siblings day with the National Brothers Day. Several reports unanimously claim that the day has its origin from the United States.
Interesting Facts About Brothers Day:
International Brothers and Sisters Day is commonly celebrated by most of the countries like France, Portugal, Spain to honor the obsessed love of brother and sister.
In India, An occasion called "Raksha Bandhan" is celebrated on during Last day of Lunar Eclipse which normally falls on any day in August. The name "Raksha Bandhan" means the bond of protection. It is a traditional festival almost in all parts of Northern India. This festival involves a custom of tying a thread called "Rakhi" on brother's wrist by the sisters since the brothers are meant to be offers protection to the sisters. In addition, the brothers present a gift to his sisters.
Notable brothers marked their presence in American History. James brothers are the notable American authors. They once ruled the art of Literature, Philosophy, and Psychology together. Henry James was a writer whereas William James was a noted Philosopher and Psychologist.
Who can forget the Wright Brothers! They are the pioneer in the invention of airplanes. Wilbur Wright and Orville Wright arouse fame because of their achievements in aeronautics.
Marx Brothers left their marks by their onstage performances and movies. Chico Marx, Harpo Marx, Groucho Marx, Zeppo Marx started their carrier by organizing a troupe and stage performances. Later, they expanded their achievements in film industry making some fantastic movies in 1933 -1937.
At last, well-known brothers who had garnered negative acclaim because of the younger one. The famous stage actors Edwin Booth and John Wilkes Booth. Edwin Booth was a famous notable actor while the younger brother John Wilkes Booth made headlines for his connection with the death of Abraham Lincoln, the former president of the United States. He assassinated Lincoln during the year 1865 and convicted. To escape the imprisonment, he absconded. Later claimed to be shot by himself. Some reports claimed that he had been shot by the soldiers after his denial for surrender.