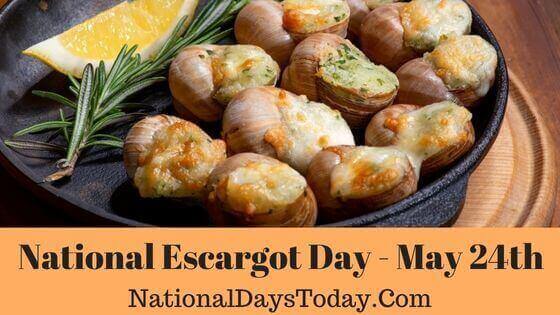 National Escargot Day:
Honoring the famous French dish, National Escargot Day is celebrated every year on the 24th of May.
| | | | |
| --- | --- | --- | --- |
| Year | Date | Day | Where |
| 2023 | 24th May | Wednesday | United States |
| 2024 | 24th May | Friday | United States |
| 2025 | 24th May | Saturday | United States |
Twitter Hashtags:
#NationalEscargotDay
#EscargotDay
Related: Other National Days Celebrated on May 24th:
Aviation Maintenance Technician Day
Why National Escargot Day?
Escargot is the French word for snails and this dish is one of the tastiest appetizers in French cuisine. Made with butter and garlic and served in their shell, these snails are tastiest and expensive as well. It is no secret that the French love their snails based on their consumption. The fact that these are not favored all over the world makes them unique and utterly delicious. Eating escargot requires you to have an acquired taste for these snails. This day gives you the reason to explore this dish and expand your palate.
Not only are these escargots delicious, but these snails are also amazingly healthy as well. The dish has loads of vitamins, nutrients, minerals, and protein. Most importantly, it is a day celebrating a food dish and it is a holiday to enjoy good food. You do not need any other reason to enjoy this day other than the fact that it is a fantastic dish to dine on.
How can we celebrate National Escargot Day?
Celebrating the day requires you to be a foodie or someone ready to enjoy amazing food. If you love to eat or love exploring different cuisines, then here are some ways to make this an enjoyable day.
As mentioned earlier, it is an acquired taste and you can now use this day as a chance to taste this dish. You can explore this dish and other similar French dishes on this day in a fine-dining French restaurant.
If you love to cook, then you can explore making your escargot. You can find the recipe for making this dish online. You can use it to make the escargot at home and enjoy it with pleasure in the confines of your comfortable space. Furthermore, you can invite others in your family and friends circle to enjoy this amazing food as well.
Eating escargots is an art and it requires someone experienced to teach you how to proceed. You can have someone who knows their way around French cuisine to eat escargots and help you out on your first time. Once you know how to eat the dish, you would be able to enjoy the French appetizer deliciously.
Share your experience cooking or eating escargots on this day and remember to tag #NationalEscargotDay on your posts to draw attention to this fine French dish and the day.
Interesting facts about National Escargot Day:
As we celebrate the day about escargots, let us get to know more about the highlight of this dish, the snails.
The art of growing snails, for the sole purpose of eating, is called Heliculture.
The diet of a snail grown in farms, to use as a food item, involves grounded cereal. This ensures that you have a healthy diet as you consume them later.
Escargot is a French dish and as you would know French do love their snails. The facts also point in the same direction. According to studies, nearly 40000 metric tons of snails are consumed every year by the French alone.
Nearly 1 billion snails are served across the restaurants every year in the US alone.
There are studies indicating that the slime from snails can be used for medicinal purposes like treating stomach ulcers. The mucus from the garden snails is used for treating skin problems like scars, spots, and wrinkles.
Snails do not have a backbone and they generally retreat into the shells whenever they are threatened.
Escargot is not just the name of a dish but it is also the French word for edible snails. The white caviar is nothing but snail eggs and is consumed by people in different regions.
The belief that mucus from the snail can ruin the food growing in the garden is not true.
While the snails have eyes to see, they do not have ears to hear. They are also nocturnal by nature.
Surprisingly snails can easily die if you put salt on them as their bodies are incapable of processing it.
History of National Escargot Day:
We currently do not have information regarding the origins of this holiday glorifying the French dish. Nevertheless, the day is to celebrate one of the finest cuisines, made with snails, and it gives a reason to enjoy this amazing dish.