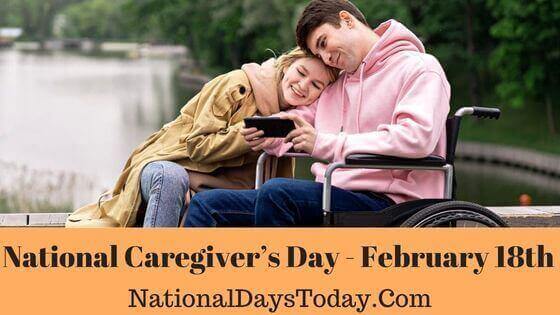 National Caregiver's Day:
The third Friday in February — this year, on February 18 — is designated as National Caregivers Day. Individuals who selflessly give personal care, physical and emotional assistance to those in need are honored on this day.
| | | | |
| --- | --- | --- | --- |
| Year | Date | Day | Where |
| 2023 | 18th February | Saturday | United States |
| 2024 | 18th February | Sunday | United States |
| 2025 | 18th February | Tuesday | United States |
Twitter Hashtags:
#NationalCaregiversDay
#CaregiversDay
Related: Other National Days Celebrated on February 18th:
National Crab Stuffed Flounder Day
Why National Caregiver's Day?
National Caregivers Day is a day set aside to celebrate and remember all of the diligent work and effort that caregivers put in during the year. It's an annual event on the third Friday of February to celebrate the millions of caregivers who serve around the world. Since there are so many caregivers out there, someone reading this pretty much likely knows at least one.
There are many categories of caregivers that are not confined to the medical field. Family caregivers, specialist caregivers, single caregivers, private duty caregivers, and casual caregivers are different. Since some are not often compensated, it is important to recognize and thank them for their long-term contribution.
Caregivers go beyond and beyond in delivering essentials and needs, such as medical assistance and personal hygiene. Despite this, they remain undervalued and often underpaid, if at all. As a result, the Providers Association for Home Health and Hospice Agencies, or PAHHHA, declared February 3rd as National Caregivers Day in 2015.
They wanted to set aside a day each year to honor and thank caregivers all around the world. PAHHHA also offers services to help others express thanks to caregivers throughout their lives. In 2016, the holiday was celebrated for the first time. Caregivers spend six days a month grooming, eating, dressing, bathing, and walking their patients, and thirteen days a month biking, sweeping, doing laundry, checking medicine, shopping, and preparing special meals for them. In addition, 13 hours a month are spent scheduling appointments with doctors, studying symptoms and ailments, and handling budgets.
According to the National Alliance for Caregiving and the American Association of Retired Persons, an unprecedented 53 million caregivers in the United States unpaid care for an adult or infant in 2020. While most caregivers are responsible for one adult, 15% are responsible for two adults, and 3% are responsible for three or more adults.
However, who will look after the caregivers? Surprisingly, many caregivers are senior citizens, and the number of hours they expend caring for others grows over time. The average age of caregivers caring for people aged 65 and up is 63 years old! All of them admit to being in ill health. We believe caregivers' unique compassion and empathy should be recognized all year. On National Caregivers Day, we should respect their significance by being there for them just as they are for our loved ones.
How can we Observe National Caregiver's Day:
1.Make a donation to the cause of a caregiver's choice.
Giving presents to a licensed caregiver is often frowned upon. Instead, a gift to a charity of the caregiver's choosing should be made on their behalf.
2.Write it down in a letter
Acknowledgment and affirmation go a long way toward bringing pleasure and raising a caregiver's confidence. In a note, share your heartfelt thanks and let the caregiver in your life know how much their service means to you and your family.
3.Share your work on social media
Create a buzz for caregivers on social media to express your gratitude and let people know what a fantastic job they're doing. Remember to use the hashtag #NationalCaregiversDay #CelebrateCaregivers #LoveNationalCaregiversDay in your posts.
Interesting Facts about national Caregiver's Day:
Caregiving is sometimes uncompensated.
In the United States, there are more than 53 million unpaid caregivers. Regrettably, not everyone who serves as a caregiver is compensated for their efforts. These people are estimated to give unpaid treatment to someone over 18 who is afflicted with a chronic disease or is injured.
Family caregivers put in a lot of effort.
Per year, family members who provide help from a distance spend more than $8,000 on their services. It's also reported that more than 15 million caregivers have left their jobs to care for a loved one who is chronically sick or injured.
Caregivers are most likely to be women.
While both men and women may be caregivers, women make up a large portion of caregivers today. According to estimates, 65 percent of the millions of caregivers in the United States are women, while 35 percent are males.
Caregivers spend more than $5000 of their own money on their care.
Finally, it's calculated that up to 42% of parents are required to spend $5,000 or more on treating an ill or infirm loved one.
History of National Caregiver's Day:
The Provider's Association for Home Health & Hospice Agencies—also recognized as the PAHHHA—created this holiday in 2015. They created the holiday to honor caregivers, and the first official day of celebration was in February of that year. People should honor National Caregivers Day by taking time out of their day to thank a caregiver they meet or the person who is caring for them.