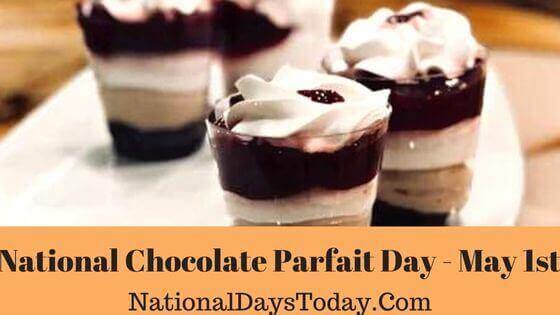 National Chocolate Parfait Day:
National Chocolate Parfait Day is celebrated to observe the sweetness that a piece of chocolate mixes in our lives. It's celebrated on 1st May, each year. It is celebrated along with National Loyalty Day.
| | | | |
| --- | --- | --- | --- |
| Year | Date | Day | Where |
| 2023 | 1st May | Monday | United States |
| 2024 | 1st May | Wednesday | United States |
| 2025 | 1st May | Thursday | United States |
Twitter Hashtags:
#NationalChocolateParfaitDay
#ChocolateParfaitDay
Related: Other National Days Celebrated on May 1st:
Silver Star Service Banner Day
Why National Chocolate Parfait Day?
The word "Parfait" is taken from the French vocabulary, and it means "Perfect." There is no factual reason to celebrate the day, as it is associated with one of the world-famous desserts, Parfait. Also, as the day collides with a national holiday due to National Loyalty Day, you have plenty of reasons to try delicacies of different Parfait Chocolate desserts.
How Can We Celebrate National Chocolate Parfait Day:
There are lots of ways to celebrate National Chocolate Parfait Day, as chocolates can be celebrated in whatever way you prefer. Some exciting ways to celebrate the day are mentioned below:
Eat your favorite Parfait dessert.
Make yourself a Parfait dessert.
Try new and different varieties of Parfait dessert.
Host a get-together of friends and family where everyone has to bring their favorite Parfait dessert.
Collect and gather information about the history, the origin, and the very first recipe of the Parfait dessert.
Celebrate your day by binge-watching on the day and either order your favorite Parfait dessert from your favorite place or make yourself one at home.
Try something new as the topping on your regular Parfait desserts, such as try it with some fruit, or nuts, or anything of your choice.
Gift your sweet tooth friend a treat of their favorite Parfait dessert.
Do not forget to post your style of celebration on social media platforms such as Snapchat, Twitter, Instagram, and Facebook.
Also, use hashtags for your post on the social media platforms, such as #NationalChocolateParfaitDay, #ChocolateParfaitDay, #FavoriteParfaitDessert.
If you have never eaten a cheesecake flavored with Parfait Chocolate, then you must give it a try as it is worth tasting the Parfait Chocolate Cheesecake.
Send a hamper of a Chocolate Parfait dessert at an old age home.
Interesting Facts About National Chocolate Parfait Day:
In the article, we will discuss some interesting facts about chocolates and the day, and definitely, these facts will leave you in surprise. Let's delve into knowing some amazing facts about chocolates and the day without wasting any further time. The facts are as follows:
Chocolates were used as a mode of currency in the Aztec region and were used as drinks. The drink was similar to the present-day Hot chocolate.
In Spain, the trend of chocolates was brought from the Aztec, as the gifted emperor chocolate to one of the travelers of Spain.
There is a plant known as Theobroma cacao which means, "Food of The Gods," and from which cocoa powder is extracted to make chocolates.
The serving of the Parfait dessert is in a glass that is tall, narrow and is stand-like, and the glass is termed specifically as "Parfait Glasses," both in America and France.
In some parts of France, the Parfait dessert is served on plates rather than those Parfait Glasses.
After eating or smelling Chocolate, people feel relaxed because the smell of chocolate releases some theta brain waves that trigger relaxation.
Factories of chocolates claim that around 400 cocoa beans are required to make only one pound of chocolate.
There are reportedly 600 flavor components of chocolate.
History of National Chocolate Parfait Day:
Let's discuss some interesting History about chocolates and Chocolate Parfait as there isn't one in particular:
The cookbook of French eateries has a recipe for the Chocolate Parfait in the year 1869. The recipe is of a tall, molded ice cream that is flavored with coffee. The recipe was a frozen dessert.
During the times of the earliest Latin American Civilization, the Olmence, in 2000 B.C., it is stated that chocolate was first made from cacao plants.
The Aztecs in the 1400s are said to use cocoa as their currency; they used to use cocoa in the exchange of items. They use cocoa as a drink later.
In the year 1528, a Spanish traveler Hernánan Cortés brought chocolate to Spain, which he received from the King of The Aztecs.
The Spanish princess Anne of Austria brought chocolate to France to celebrate her marriage to the French King Louis XIII in the year 1615.
In the year 1828, a Western German chemist, and manufacturer of chocolates, Coenraad Johannes Van Houten, discovered The Chocolate Press.