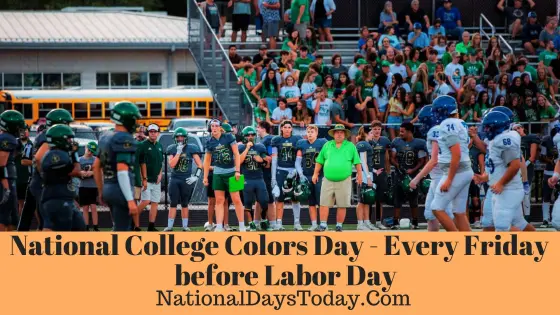 National College Colors Day:
This colorful national day is celebrated by students, parents, and friends on the Friday before Labor Day. It's a celebration to honor the school spirit.
| | | | |
| --- | --- | --- | --- |
| Year | Date | Day | Where |
| 2023 | 1st September | Friday | United States |
| 2024 | 30th August | Friday | United States |
| 2025 | 29th August | Friday | United States |
Twitter Hashtags:
#NationalCollegeColorsDay
#CollegeColorsDay
Related: Other National Days Celebrated on September:
National Newspaper Carrier Day
Why College Colors Day?
We can find almost all students are very enthusiastic about this special national day. However, there are some questions as well. Simply put, it's a day of celebration and everyone loves to honor their school's pride colors.
In that case, most colleges' sports teams are completely involved. That's why you can find some matches as well. Besides matches, some students also arrange various events to celebrate this remarkable national holiday.
If you are in a university, you have the perfect chance to celebrate this day by doing different activities. On the other hand, you can learn some awesome facts about your college and share them with your friends.
How We Can Observe National College Colors Day
You see, there are numerous ways to observe this national event. After doing some research, we found some awesome ways to observe this unique day. Let's find out how:
As we noted before, it's a day to show off your college spirit by doing various activities. It can be supporting your college's team or sharing an appreciation post on social sites. The choice is yours. Or, take a selfie with your squad and share it by using the #CollegeColors hashtag. 
Attend Your Favorite College Match
What's better than supporting your college team? And if there's a match on that day, it will be more exciting. If you are at your college, attend the match and cheer for your team. Don't forget to bring your friends as well. Besides a football game, you can cheer for other players to celebrate this special event.
Observing this day doesn't mean you have to watch a match only. There are so many ways too. In that case, you can throw a party for the college and have the best moment together. If you want to add more excitement, invite students from other colleges with the permission of the authority.
You see, it's an event for the school's true spirit. So, many colleges organize various events for students, parents, friends, and fans. If your college is organizing such an event, you shouldn't miss that. Attend to have the best experience in your life. Plus, you can meet new people who will help you understand the value of college life. 
Don't want to throw a party? Well, you can go with a sports event. You see, this day is specially celebrated for college sports teams and individuals. So, what's better than organizing an event for them? In fact, you can ask your college's authority to arrange this event to appreciate individuals and find new talents.
Share Your College Stories
This special day isn't only for sports matches and events. You can celebrate this national day by sharing the best college stories with everyone. Even though you have finished your university days, you can still share the best stories with everyone by doing a social media post. 
You don't have to be in college to observe this special national day. It's time to rewind and meet your old friends. You can either throw a party and invite your old college friends or plan a trip together. Recreate those glory days with your buddies and do some old activities to make the day more special.
A day like this will be incomplete without a social media post. Share your best #NationalCollegeColorsDay experience with your social media friends.
Interesting Facts About College Colors Day:
Are you ready to observe this colorful celebration? Here, you can unlock some outstanding facts that will increase the excitement of this event. Let's find out these interesting facts about college colors in the following list:
The University of Florida adopted two colors; orange & black for East Florida Seminary and blue for the University of Florida at Lake City.
The University of Miami has a special place for the colors; green represents leaves, orange represents fruits, and white represents the blossom.
Charles Moore, the president of the Athletics Association, found a cluster of white daisies and oranges growing in 1989. He adopted the colors for UT's colors.
There was a vote in 1895 where the students of the University of Arkansas chose their school colors.
Vanderbilt's family chose the color that represents his success with gold and black colors.
History of College Colors Day:
It's not unknown to how school colors play a significant role for students. And it can be more exciting when it comes to universities. Yes, most colleges in America have various sports teams that showcase the identity of the college.
The College Licensing Company found the idea of establishing this unique national day. So, the event was first celebrated in 2004 when thousands of fans, students, and parents participated to support their favorite university.
CLC also got popular for being associated with famous universities and colleges. Overall, it's an amazing day to showcase your love for your college and beloved team. Plus, it gives you an amazing chance to meet your friends and have the best moments with them.