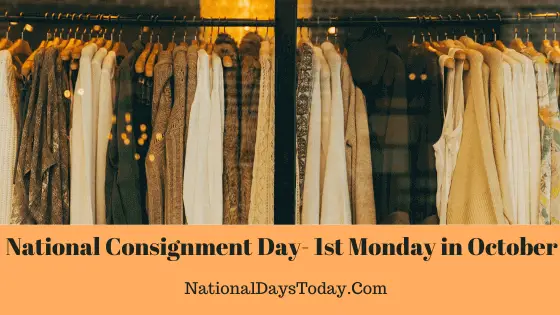 National Consignment Day:
Celebrated on 1st Monday in October, the Day is to encourage Never Throw Policy.
| | | | |
| --- | --- | --- | --- |
| Year | Date | Day | Where |
| 2023 | 2rd October | Monday | United States |
| 2024 | 7th October | Monday | United States |
| 2025 | 6th October | Monday | United States |
Twitter Hashtags:
#NationalConsignmentDay
#ConsignmentDay
Related: Other National Days Celebrated on October 3rd:
Why Consignment Day?
The day is to encourage us to sell the items that we no longer wanted . we are sometimes fickle minded. We like it today, but not tomorrow. At times we order a piece of jewellery that looks awesome, but may be, not suits us. We might have order a foundation without a trial,be it online shopping, and that is not a right shade for our skin tone. that will be of no use and it overstuffs wardrobe. this day is to make money with the items that no longer we need. 
How we can Celebrate National Consignment Day:
Check out any unworn dresses that you don't need any more and make some money by consigning. The RealReal, a pioneer in authenticated luxury consignment has introduced a movement named #NeverthrowBack and further suggests its customer to either donate or consign. The RealReal has introduced a process that adheres to the movement. You can fix an appointment with them for consignment. The RealReal Team will evaluate your items and fix a price and they will drop your items in one of their consignment store with a price tag so that someone else could acquire it at affordable rates. In addition, you can also donate the items that you no longer want to some communities that in turn distribute it to the people who are trapped by poverty. Never forget to share your consign, donations since it would motivate others. Use this hashtag #ConsignmentDay to share. 
Interesting Facts About National Consignment Day:
Consignment shop is also known as "Second hand shops" in the United States. the person who owns the item is called as "Consignor" and the person who got the items from the consignor for selling is termed as "Consignee". Alter inspecting the product with their experts and price negotiation, the consignee drops the items in their consignment store for selling, they both have a deal and after resale, amount will he partitioned according to the deal.
A timeline will be set for selling every item and it if it is not sold, the consignor has to reclaim the item within the defined time.
The items,which Merchandise often sell through second hand shops are antiques, automobiles, books, never worn clothing, furniture, musical  instruments, athletic equipment, tools, paragliders, firearms and toys.
second hand shops are differ tell. to that of charities that took legal control over the product from the consignors. In consignment shop, the consignors remains the legal owner and the consignee is authorised to resale the product on behalf of the consignors.
In some countries, like U.K, the word "Consignment" is not used. They is no specific term to denote but shops that sells women clothing lines are termed as "dress agencies". In some other Asian countries, the consignors can advertise in websites that acts as a consignment shop however, the process is different. The evaluation will not be done by the websites rather it just acts as an advertisement platform. 
History of  National Consignment Day:
The RealReal, an organization that excels in authenticated luxury consignment, introduces the National Consignment Day. The organization focusses on consignment since it believe that it is one of the best way to shop. It has certified teams that evaluate every item and reinvent it for resale business at affordable cost. It prominently concentrates on consigning costumes, watches, fashion items and watches. This company benefits consignors since they could retrieve up to 75 percent of the money that they spent while purchasing depending upon the condition and expiry of the product. To promote consignment, the RealReal founds this day. The RealReal offers consignment service right from the year 2001 and it established the consignment offices in seven major cities of the United States. With almost 6 million customers, around 5 million items were sold across the country so far making a progressive economy.