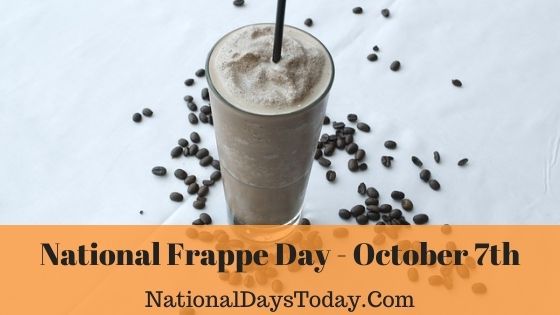 National Frappe Day:
National Frappe Day is being celebrated on 7th October every year to honor the versatile drinks with different combinations.
| | | | |
| --- | --- | --- | --- |
| Year | Date | Day | Where |
| 2023 | 7th October | Saturday | United States |
| 2024 | 7th October | Sunday | United States |
| 2025 | 7th October | Monday | United States |
Twitter Hashtags:
#NationalFrappeDay
#FrappeDay
Related: Other National Days Celebrated on October 7th:
Why National Frappe Day?
Frappes are blended drinks made with coffee or espresso, and on top of that, there is whipped cream with other gestures, styles, and tastes.
There are different reasons for celebrating this day that is popular in various communities in the United States of America. Some people say that National Frappe Day is celebrated to honor such beautiful beverages that make your body feel refreshed and energetic.
On the other side, some people explain that this day is being celebrated for commercial purposes. The beverage shops offer different discounts on that particular day to increase their sale. People of the United States rush to those shops to grab those discounts and celebrate the day with some tasty and refreshing frappe. Due to commercial reasons, National Frappe Day is not limited to the frappes only, it can be the fruit-flavored frozen desserts with shaved ice, milkshakes, and other different types of soft drinks.
Mostly this day is celebrated for commercial reasons. People of the country celebrate this day with lots of joy because due to this occasion they get the chance to relax for some time during their busy schedules. Frappes with different tastes and flavors.
The beverage shops on this day launch lots of deals to seek customers' attention. So that, they can come and enjoy the beautiful evening with their dearest ones. Frappe is not a recent thing. If you find the pages of history you will see coffee papers were there in the late 1890s. That's why being one of the traditional drinks of the world, the United States celebrates 7th October of every year as national frappe day.
Thousands of beverage shops are there throughout the country. And they different kinds of frappe based on their local culture and taste. So you can test one or two of those to make your body feel refreshed on this wonderful historical day. The month of October is usually a little bit warmer than the wintertime. That's why having a wonderful and tasty frappe during a hot sunny day makes you happy and more energetic for the rest of the day. People usually love to have beverages during break time or after they complete their work in the evening. On this particular day, you will find that all these coffee shops are being decorated beautifully to celebrate National Frappe day with you by offering delicious frappes and other tasty soft drinks at a discounted rate.
How to observe Frappe Day?
This day can be celebrated as a makeup day for National Coffee Day. If you missed the day, then you can have a coffee frappe on this day to enjoy with your friend.
You can enjoy this day by planning a coffee with your dearest ones in the evening. Depending on the mood and the situation, you can choose the drink type earlier.
In the next step, you can find the best beverage shop in the market. You can search on the internet to find the best shop. They will be lots of options for you in the search results, and you need to choose the best one according to your needs and budget. If there is a booking option, you must book a table for a time slot because there will be a rush of customers in the shop on that particular day. It will be better to book it in advance to secure your seats and your evening plans.
Once you reach there with your partner, choose the frappe you like most and enjoy the beautiful evening with refreshing soft drinks.
The next and one of the most important things you can do on this day is to share beautiful moments with your friends. Click photos and post them on social media. This will encourage others to enjoy that day in their ways.
You can also book your favorite frappe online and get it delivered to your doorstep. For that, you do not need to go outside but to enjoy the beautiful evening on your balcony with your partner.
History of National Frappe Day:
The mentions and recipes of coffee frappe have been found in history since the late 1890s. But, some people say that the first frappe was made in the year 1957 in Greece. Therefore the national day calendar is continuing its research on the origins of this beautiful beverage holiday as there are conflicts of views and information. But people generally take into consideration that the frappe is being introduced first in the year 1957. The internet also says that the first national frappe day was celebrated in the year 1957. The origin of the date 7th October is still in confusion.