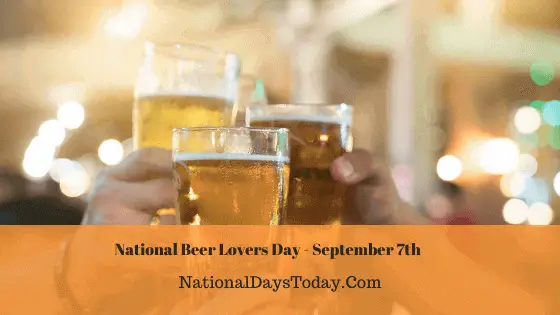 National Beer Lovers Day:
Celebrated on September 7th, every year. This day is to enjoy with American's favorite beverage, Beer.
| | | | |
| --- | --- | --- | --- |
| Year | Date | Day | Where |
| 2023 | 7th September | Thursday | United States |
| 2024 | 7th September | Saturday | United States |
| 2025 | 7th September | Sunday | United States |
Twitter Hashtags:
#NationalBeerLoversDay
#BeerLoversDay
#UniqueCraftbeers
Related: Other National Days Celebrated on September 7th:
Why Beer Lovers Day?
This day is to enjoy with American's favorite beverage,Beer. This day is especially meant for the beer lovers who loves to drink. The United states has its rich brewing mechanism through with the method and richness of beer evolves over time.because of such beer lovers,the richness of the brewery is yet grooming. Brewing a different variety of  beer requires more time and the process of flavoring determines the effectiveness of its quality.
How we can Celebrate National Beer Lovers Day:
Enjoy this day with a bottle, enjoy a different variety of beer that you have not tasted. Who knows,that could become your favorite one in future. Grand parties are organised on this day across all the pubs in the united states. Mark your presence with your friends and enjoy this day. Post using this hashtag #beerloversday on the social media.
Share any unique craft beer using this hashtag #UniqueCraftbeers on the social media.
Interesting Facts About Beer Lovers Day:
Guinness, Mil's Best Ice, Corona Light, Icehouse, Steel Reserve, Coors Banquet, Dos Equis, Blue Moon, Yuengling Lager, Natural Ice, Pabst Blue Ribbon, Bud Ice, Stella Artois, Miller High Life, Keystone Light, Heineken, Busch, Natural Light, Modelo Especial, Michelob Ultra, Corona Extra, Miller Lite, Budweiser, Coors Light and bud light are the few of the famous beer brands of the United States.
The below are the best cities of the United States for beer lovers,
Asheville, North Carolina: It consists of more than 20 brewing companies and famous for innovations in brewing.
Billings, Montana: Like Asheville, it too consists of renowned brewing companies.Angry Hank's company, Thirsty Street Brewing Company, Montana Brewing Company are the notable ones.
Boston, Massachusetts: Unlike the above,it does not consist of more breweries but it has some famous bars and pubs whether you can find some delicate varieties of beer.
Bend, Oregon: It too has more brewing companies similar to the count of Asheville.
Denver, Colorado:Denver is well popular for beers and it ranks top in the Colorado City followed by Boulders which is too famous for breweries.Besides all,Denver has a reputable factor ,American beer festival is hosted on an annual basis and competitions are organised to pick up the favorite beer.
Brooklyn, New York: Brooklyn is famous for brewing.Along with Manhattan city,it tops the list on terms of breweries and some innovative beer products like Finback, Bridge and tunnel and so on.
Chicago, Illinois: Not only for breweries,it is also famous for beer-centric pubs and restaurants.
Cincinnati, Ohio: Cincinnati is famous for craft beers.Considered as one of the best beer hubs,it has local breweries too which is famous for unique flavours.
Cleveland, Ohio: Cincinnati is followed by Cleveland.it is famous for pub and restaurants.
Grand Rapids, Michigan: This city is famous for the insane Founders brewing company.beer lovers love this city to the core.
Long Island, New York: New York is not only noted for wineries but also for breweries.Long Island attracts more visitors due to its rich breweries.
Milwaukee, Wisconsin: Milwaukee is embedded in american beer history. It has many number of breweries which makes this city a highly preferred holiday destination.
As of 2016, the Americans brewers association stated that,nearly more than 5000 craft beers are in the United States.
History of Beer Lovers Day:
The origin and creator of this day is not found yet within our research.