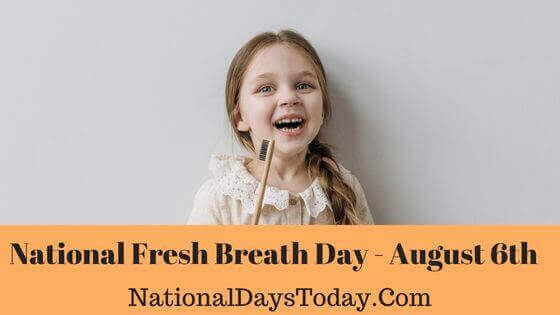 National Fresh Breath Day: 
Celebrated on every August 6, National Fresh Breath Day is to create awareness about the importance of Fresh Breath.
| | | | |
| --- | --- | --- | --- |
| Year | Date | Day | Where |
| 2023 | 6th August | Sunday | United States |
| 2024 | 6th August | Tuesday | United States |
| 2025 | 6th August | Wednesday | United States |
Twitter Hashtags:
#NationalFreshBreathDay
#FreshBreathDay
Related: Other National Days Celebrated on August 6th
Why National Fresh Breath Day?
There is nothing worse than talking in close quarters with someone who just had garlic and onions to eat lunch! At a dinner event, at work or even out in public, it is an unwelcome social faux pas that is often unnoticed. The day was established to celebrate the love that can be derived from a greater awareness of the importance of having fresh breath!
It helps improve oral health.
Like your physical well-being, it's vital to consider your oral health. A regular dental hygiene regimen can also prevent serious illnesses such as mouth ulcers and low-risk cancers.
It's a great day to try out new products for oral hygiene.
It's a great time to experiment with new oral hygiene products or replace your current products. Try different brands and products when your dentist gives you the go-ahead.
An opportunity to express your gratitude to your dentist
With personalized care and years of experience, dentists ensure that we do not just get a fresh breath but that our teeth and gums remain healthy. It's a great day to express your gratitude to your dentist and acknowledge their contribution to good dental hygiene.
How to observe National Fresh Breath Day?
Everyone wants fresh breath, and now we have a day to mark it. National Fresh Breath Day is on the 6th of August, and we're happy to share five ways to commemorate it. These suggestions will help in freshening your breath, but they'll also help improve your dental health!
Check the Breath
It's sometimes difficult for someone to recognize your bad breath! A foul smell in the mouth can suggest that bad breath may cause concern; however, it's not always the case. Work. Many people believe that breathing into cupped hands so that the breath is directed back towards the face can be a method to gain a better understanding of bad breath.
Brush Up on Your Brushing Technique
Did we get that right? Most people don't think about the method they employ when they brush their teeth. Are they simply clean and go to go, isn't it? However, using the wrong technique could cause dental plaque to be left on your teeth.
Plaque is made up of bacteria, creating odorous gas as a by-product. The more plaque you have, the more sour your breath will be. However, the lesser plaque you have and the cleaner it will smell!
To efficiently get rid of plaque from your teeth, place your brush (with soft bristles, only!) at a 45-degree angle to the gumline where they meet the teeth. Then, remove the toothbrush from your gums with gentle circular movements.
Floss!
A simple brushing session will not eliminate all plaque that builds up on your teeth. If you do not floss, you're messing around three-quarters of your dental surfaces, creating dental plaque. This is a lot of plaque that can cause bad breath smells!
For great oral hygiene, You should floss at least every day, and preferably in the evening before going to bed. We suggest a method known as C-shaped flossing, which provides the most effective results in removing plaque. If you aren't sure about flossing regularly to prevent bad breath, will be convinced by the smell of their floss .
Clean Your Tongue
The tongue may also be home to plaque, particularly in the crevices and grooves towards the rear of your tongue. The anatomy of the tongue is altered when you get closer to the mouth, and the papillae (the tiny bumps on the tongue) grow larger and form deep pits in between them.
These pits make great locations for bacteria to hide in. Plaque on the tongue is often a significant source of foul odors that can be found in the mouth.
It is crucial to utilize the appropriate tools and proper technique to remove plaque off the tongue and not damage the delicate tissue of the language. We suggest using a flexible tongue cleaner that can gently pull plaque off without causing damage to the papillae.
Chew Some Xylitol Gum
Chewing gum is a quick and easy method to freshen your breath. The taste and chewing action that gum produces stimulate an efficient saliva stream. Saliva fights the presence of bacteria in your mouth.
If your chew gum is sugar-free and contains an ingredient called Xylitol, it adds more energy to your chew. The natural sweetener xylitol is made from plants. Research has shown that bacteria that cause dental plaque "eat" Xylitol like normal sugars but cannot digest it.
Xylitol assists in fighting off plaque and bacteria. This will keep your breath fresher than other varieties of chewing gum.
The most popular brand of chewing gum containing Xylitol to locate is Ice Cubes, which Hershey manufactures. Each chewing gum contains 2g of Xylitol which is much higher than that found in other chewing gum brands.
Schedule a Professional Teeth Cleaning
Specific causes of bad breath aren't accessible by anyone on their own. When dental plaque stays on your teeth for a prolonged period for an extended period, it begins to mineralize and hardens to form tartar.
It is soft and straightforward to clean and floss away, and Tartar isn't. The only method to eliminate Tartar is by undergoing the professional cleaning of your teeth with your dental hygiene professional.
Massive tartar buildups can build up under the gums, making it difficult to see the Tartar. These pockets in the gums are an abode of bacteria that is a perpetual cause of bad breath! However well you floss and brush, it is impossible to remove Tartar from your bottomless pockets. It is essential to have expert teeth cleaning service to accomplish this.
Share Mints at Work
If you're experiencing problems at the workplace, why not provide mints to the employees (do not pick the one person who is a fan of those unusual lunches, or else it could turn out badly)? Spread the joy in fresh, clean breath this National Fresh Breath Day!
How to Keep Your Breath Fresh
Cleanse twice a day, and floss regularly to rid yourself of plaque bacteria. Refresh your dental floss every 3 to 4 months.
Change your toothpaste to fight the oral bacteria that can build up on your cheeks, tongue and gums.
Maintain regular dental checkups and cleanings to eliminate the buildup of bacteria beneath the gum line, as well as Tartar that cannot be removed by a toothbrush and dental floss on its own.
Clean your dental appliance every day. This includes cleaning retainers, dentures and mouth guards regularly to eliminate plaque.
Rinse the mouth with an antibacterial mouthwash that kills harmful bacteria.
Because sugar can cause bad breath, it is recommended to only chew gum made of sugar and limit your consumption of sweetened drinks such as soda.
Put some mints in your purse or pocket while you're in the middle of your journey.
Keep your mouth dry and clean out your mouth with plenty of water throughout the day.
Enjoy a snack of raw, crunchy fruits and veggies like celery, apples, or carrots that scrub away bad breath causing bacteria.
Quit smoking!
Get a vitamin C supplement as the deficiency can cause bad breath.
Share your suggestions using hashtags #NationalFreshBreathDay and #FreshBreathDay on social media.
Interesting facts about National Fresh Breath Day:
If you're suffering from bad breath, you can add an instrument for your tongue to your regular brushing and flossing routines to get rid of bacteria-laden plaque. If you awake in the morning and notice an odor on your language when you look in the mirror, scraping it off could help your breath.
A steady water intake during the day isn't only good for your waistline and body. Being hydrated boosts saliva production! Saliva is your mouth's primary defence against oral bacteria, which can lead to Halitosis. In contrast, alcohol can dry out your mouth, so restricting your drinking is intelligent.
A fun fact: consuming fresh parsley alongside your meals has antifungal and antibacterial properties that make your breath smell fresher. Basil or mint help neutralize odors due to their chlorophyll. Drink plainer yogurt since it fights off oral bacteria, or chew sugar-free chewing gum using Xylitol to maintain your mouth's saliva flow.
History of National Fresh Breath Day:
Origin of this day is unknown.
Quick facts about Fresh Breath:
The majority of people are unaware of the fact that more than 50 per cent of the bacteria that are found in our mouths can cause bad breath. Cleaning your mouth twice per day and using mouthwash is the first step to combat this.
However, people who suffer from Halitosis (a vague medical term used to describe bad breath) might have difficulty getting by without embarrassing people with their sour smells.
What many don't realize is that chewing gum with sugar could actually (in the long run) result in a different result than people would like to see. Therefore, if you're thinking of using gum or mints to help in the battle against bad breath, ensure to pick products free of sugar and, therefore, more likely, they won't take your breath worse than before.
National Fresh Breath Day was designed to educate and educate people about these and other issues connected to the benefits of having a Fresh Breath!