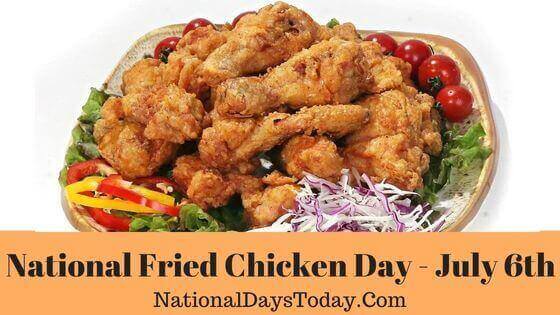 National Fried Chicken Day:
National Fried Chicken Day is observed on every July 6 in the United States.
su_quote]
[/su_quote]
| | | | |
| --- | --- | --- | --- |
| Year | Date | Day | Where |
| 2023 | 6th July | Thursday | United States |
| 2024 | 6th July | Saturday | United States |
| 2025 | 6th July | Sunday | United States |
Twitter Hashtags:
#NationalFriedChickenDay
 #FriedChickenDay 
Related: Other National Days Celebrated on July:
National Chocolate with Almonds Day
Collector Car Appreciation Day
Why National Fried Chicken Day?
Fried chicken, is another delicacy in American cuisine. Though claimed to from wheresoever, it has become a part of our daily food.
The day is an unofficial celebration to be enjoy the best recipe of Chicken. As "Fry", the term itself is considered "unhealthy", we need a day to excuse ourselves to taste deep fried chickens. That's why this day is created by some unknown person or a community.
Thanks to the one who introduced it to us. And slurp the beer with ever favorite Fried chicken to enjoy this day.
How can we observe National Fried Chicken Day?
Eat Fried Chicken:
As usual this is another day to celebrate with a drink and today's dish is Fried chicken. Share your enjoyments using the hashtags #NationalFriedChickenDay and #FriedChickenDay on twitter.
Name the restaurants that you have tried with,
We have listed out only the famous restaurants in the United States that almost every American would have tasted. But the ever-delicious fried chicken could be from any corner of the small town. This day is to explore and let the world to know about it.
Share your recommendations in the comments section. We will update when it crosses the designated number of recommendations.
Try Fried Chicken:
Try Fried Chicken! The possible known ways to make Fried chicken is through Pan frying, Deep Frying, Air Frying and by through pressure Frying. Share any alternative methods if you know.
Try this recipe, this is one of the famous recipes in Asian Countries. Though the authentic way of frying is through deep-fry method. you can choose any method of frying.
Ingredients:
Chicken – 250 Grams (You can cut into pieces of your choice; it would be better if cut into small pieces that resembles a popcorn)
Gram Flour – 6 Tablespoons
Corn Flour – 2 table Spoons
Ginger garlic paste
Black pepper powder – 1 teaspoon
Chili powder – 1 teaspoon
Onion powder – 1 teaspoon
Bread Crumbs – 5 tablespoons
Eggs – 2
Curd – 2 tea spoons
Peanut Oil – For frying, Take 250 ml. You can choose any oil except the one which has strong flavors like olive oil.
Lemon water– 3 teaspoons
Turmeric – 1 Teaspoon
Salt – required amount, 1.5 teaspoons, adjust the salt amount by trying only one piece fried first.
Note: Use the same size teaspoon and tablespoon for measurement.
Step 1: Wash the 250 grams of chicken with water and turmeric. Cut it into pieces.
Step 2:  Take separate bowl and Add Gram flour, chili powder and onion powder. mix well. You can adjust the amount of chili powder. If you want it spicy, you can add two more extra tablespoons. See that it has no clots as the Gram flour clots easily. Don't add any water and make sure that the bowl is clean and not wet. You can also use onion paste instead of onion powder and if you gonna use the paste don't add it in step 2.
Step 3: Add the Black Pepper Powder and mix well. Black pepper powder will be spicier so watch if you have already added extra chili powder. Make it half.
Step 4:  Now blend the chicken and the mixture well. Don't need water.
Step 5: if you are going to use onion paste, mix it now and blend it well.
Step 6: Mix the ginger garlic paste and curd mix it well.
Step 7:  Add 1 teaspoon of lemon water and mix well. Marinate it for at least half an hour.1 hour marination gives better results though. Don't need to refrigerate.
Step 8: After marination, Now Add corn flour and mix well.
Step 9: Take Breadcrumbs and eggs (break it) in separate bowls. You can use egg yellow as well. beat the eggs well so that the white and yellow would blend well.
Step 10: Take a bowl-shaped pan so that it can hold 250 ml of oil. Switch on the stove, place the pan. When it's hot, pour oil. Don't pour oil immediately without allowing to heat.  Be careful and use gloves.
Step 11: when the oil is hot, put the chicken one by one. Fry it until it becomes golden brown color.
Step 12: Garnish with onion slices and sprinkle Lemon water. Serve hot.
Share your outcomes using the hashtags! And, again, be careful with oil. Enjoy the day with your Fried chickens.
Interesting facts about National Fried Chicken Day:
Some of the facts about Fried Chicken and its history,
Fried chicken is believed to a dish from Scottish or west African Cuisine.
Initially it was a popular and rare dish in African-American Community and was served only in special occasions.
Barberton chicken, also known as Serbian Fried Chicken, is a popular version of Fried chicken created by Serbian immigrants in Ohio, that has been popularized throughout that state.
As the African slaves introduced this recipe, this dish is strongly associated with racial stereotypes. It is used as a subject of remark by targeting people of African Ethnicity. initially Some believed that fried Chicken in the menu as an offensive insult.
Even our ex-president is not an exception. In China and New York, a brand named "Obama Fried Chicken" was opened and sparked controversy eventually facing a legal action. Even on other incidents, celebrities like Tiger woods from African-American ethnicity were intentionally or unintentionally been targeted with Fried chicken centric remarks. Even after decades, racism is something which could not be demolished to the very present date.
The American based world-famous KFC (Kentucky Fried Chicken) is the second largest restaurant after McDonald's, an American fast-food company.
History of National Fried Chicken Day:
The origin of this day is unclear, meanwhile the first record about Fried chicken recipe is in 1870. It is believed to be basically from Scottish or west African cuisine where the African Slaves introduced this in America. The African enslavement in colonial era has introduced this dish as the only animal to be reared by slaves are chicken. They made fried chicken and served it. it has a become strong derogative dish  then during the civil war time and considered as "Slave Dish" though it is now positively called as "Soul Food".