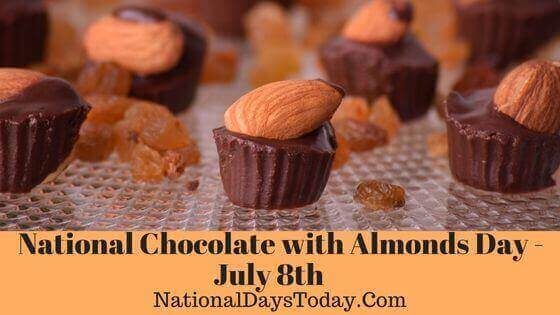 National Chocolate with Almonds Day:
The National Chocolate with Almonds Day is celebrated on 8th July ,every year to mark the fantastic and delicious combination of chocolates and almonds. 
| | | | |
| --- | --- | --- | --- |
| Year | Date | Day | Where |
| 2023 | 8th July | Saturday | United States |
| 2024 | 8th July | Monday | United States |
| 2025 | 8th July | Tuesday | United States |
Twitter Hashtags:
#NationalChocolateWithAlmondsDay
#ChocolateWithAlmondsDay
Related: Other National Days Celebrated on July:
Collector Car Appreciation Day
Why National Chocolate with Almonds Day? 
How often have we wished to get our chocolates glazed with almonds or have a chocolate-coated almond? Everybody loves the combo of having chocolates with almonds. It gives us the perfect nutty and smooth texture that is practically a threat to our mouth. 
The day is celebrated every year to give another tasteful excuse to all the chocolate lovers to celebrate and enjoy their decadent chocolates with the goodness of roasted almonds. Usually, stores pack a unique and delicious combo of desserts around these two main ingredients, perfect for taking home or gifting someone you love. 
How can we observe National Chocolate with Almonds Day?
While there are several ways to celebrate National Chocolate with Almonds Day, most people follow the below-mentioned traditions. Therefore, they like to go ahead with the same on an annual basis: 
The easiest way of celebrating and appreciating the goodness of chocolate and almonds is by baking yourself a chocolate almond cake. 

Post pictures of your celebration on social media platforms with hashtags like #nationalchocolatewithalmondsday or #chocolatealmonds, and share your happiness with the people you love. 

If you do not have a sweet tooth, you can also make yourself a coffee that is flavored with both the ingredients and gently sip it while watching your favorite show. 

You can also host a party and invite your friends and family members to make their favorite recipes with the combination of chocolate and almonds. You can also host a competition to see who cooks the best meal out of these two main ingredients to spice things up.
Interesting facts about National Chocolate with Almonds Day:
Here are some interesting facts that you were unaware of on this day, chocolates and almonds altogether. 
In the earliest days, cocoa plants consumed chocolate to enhance mood and lift energy levels. They were only available to the ancient civilizations of Aztec and Mayan. 

Mayans became so impressed with the taste and benefits of cacao that they started worshipping it and labelled chocolate as the food for and of the gods. 

Research has piled up to explain the benefits that we can acquire by eating chocolate and almonds together. One of the essential benefits is linked to improving heart health. 
History of National Chocolate with Almonds Day:
We don't know whom to credit with the heavenly combination of chocolate with almonds, but if we do know something, these gifts of nature have the individual histories that have allowed them to exist for us to make something so delicious out of them. The history of chocolates goes back to about 4500 years ago, when a small port in North America first received its shipment from the coast on the island of Florida. 
Chocolate plants were first cultivated in the lands of Central America and Mexico, where it was available as cocoa. This was roughly in the year 1641. 
As far as the almonds are concerned, these nuts were always produced by nature in the form of tree nuts, but they soon started having a traditional, social, and ethnic relevance and significance. They were considered of a very high value in the Mediterranean region and areas of Southeast Asia. In fact, in the Bible, almonds are given the status of being approved by the divine. 
Two centuries later, when the first chocolate bars using almonds were made and produced on a large scale by J.S Fry & Sons, which was a British chocolate manufacturing company. While the company experimented with this combo, they kept it limited only to the general public. The word was spread on a large scale when Hershey's, in 1908, produced the first almond and chocolate bar and introduced it into the market. 
Not more than seven years ago, The Almond Board of California formally recognized the benefits, apart from the fantastic taste, that comes from consuming almonds and chocolates together, one of them being a good heart condition, unless, of course, we don't overdo it. 
Celebrate  by making your chocolate-coated almonds! You can also add different spices of flavor to make it yummy. Pack them and share them with your loved ones and see how sweet this chocolate can be! Here are some of the benefits of almonds: Provide healthy fats that helps in weight loss, Nourish nervous system and Lowers "bad" cholesterol.