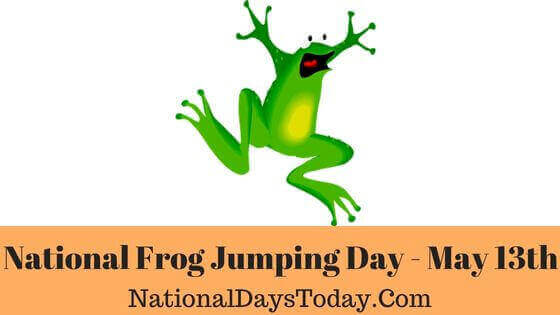 National Frog Jumping Day:
With origins tracing back to the short story by Mark Twain, National Frog Jumping Day was celebrated every year on the 13th of May.
| | | | |
| --- | --- | --- | --- |
| Year | Date | Day | Where |
| 2023 | 13th May | Saturday | United States |
| 2024 | 13th May | Monday | United States |
| 2025 | 13th May | Tuesday | United States |
Twitter Hashtags:
#NationalFrogJumpingDay
#FrogJumpingDay
Related: Other National Days Celebrated on May 13th:
Why National Frog Jumping Day?
You would be surprised to know that there are more than 7000 species of frogs in the world. While the origins of this holiday might be vague and inspired by the story by Mark Twain, the celebration is still afoot and it is a great day to have fun.
Frog jumping is a childish act and it is the best day to indulge in a little childishness. It is the time to relive the memories from your childhood and spend time thinking about the memories where you jumped freely around. This day provides you with the best opportunity to engage with your inner child.
It is a scientifically proven fact that frogs have a crucial role to play in our ecosystem. They are part of our food chain and contribute to the environment. Their primary diet comprises snakes, insects, birds, and other small animals. This is another reason to enjoy jumping like a frog.
As you would know the day was initiated as an honor to the short story by Mark Twain. This day gives you the perfect excuse to indulge in some literary reading by yourself. You can learn more about Mark Twain on this day and also read the short story which started this celebration in the first place.
How can we celebrate National Frog Jumping Day?
To start with, you can indulge in some frog jumping yourself. Whether you are looking to have a fun time jumping around by yourself or you want to have a competition with your friends, you are guaranteed to have amazing fun. You can have a contest to see who can jump farther and it will be all the more interesting.
The short story of Mark Twain is worth a read and this is a day you might want to brush up on the story. You can also find out the history behind the celebration of this day and how this story inspired the same.
It is also the day dedicated to the amphibians, the frogs, and you can use this day to learn more about them. You can visit the nearest aquarium or if lucky a pond near you and learn about their behavior. You can even observe them jumping to commemorate the day itself.
Remember to tag your experience and photos of this day and share them with others using #NationalFrogJumpingDay.
Interesting facts about National Frog Jumping Day:
As the day is about jumping frogs, it is probably time to brush up and know more about the frogs themselves.
As you know, frogs live both in water and land. They don't have to however drink water as their skin can absorb water.
All frogs can leap or jump and it can be quite higher than you would imagine. Some frogs can even reach a height as much as 20 times more than the length of their body.
The largest frog is the goliath frog and it is found in the West African region. These frogs are as long as a foot.
Some frogs can be poisonous to humans as well. The golden dart frog has poisonous skin. One frog of this kind has the skin to kill as many as a thousand.
The amphibians generally have pupils in different shapes. However, they can only see in two colors, black and white.
The nose and eyes of a frog are found at the very top of their head and they have very good eyesight at night.
Frogs grow a new bone every time they go into hibernation.
History of National Frog Jumping Day:
The history of this day is quite interesting. Mark Twain wrote a story about a jumping frog titled "The Celebrated Jumping Frog of Calaveras County". The story is about Jim Smiley, who trained a pet frog to jump higher and bet with everyone on the same. However, he is tricked by a better and loses. The story inspired the Northern Californian County, Calaveras County to host an event, the jumping frog jubilee in the third week of May every year. The event was held for the first time in the year 1893 and has been a celebration since then.