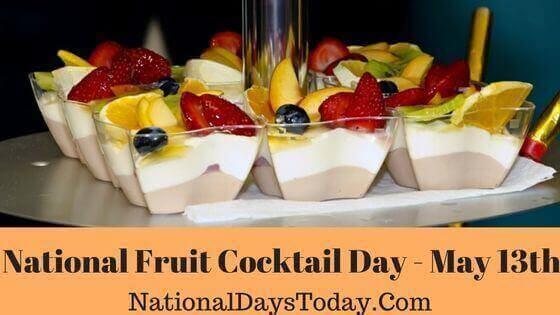 National Fruit Cocktail Day:
Enjoy your favorite fruit cocktails and get your necessary nutrients while you celebrate National Fruit Cocktail Day on the 13th of May every year.
| | | | |
| --- | --- | --- | --- |
| Year | Date | Day | Where |
| 2023 | 13th May | Saturday | United States |
| 2024 | 13th May | Monday | United States |
| 2025 | 13th May | Tuesday | United States |
Twitter Hashtags:
#NationalFruitCocktailDay
#FruitCocktailDay
Related: Other National Days Celebrated on May 13th:
Why National Fruit Cocktail Day?
Fruit cocktails form an integral part of every meal and almost all of us will have fond memories associated with this delicious concoction. The fruit cocktail typically consists of a variety of fruits in the form of syrup, or juices and is generally in liquid form. These can be purchased from your nearby store in cans or serving cups, but you can also make your fruit cocktails with fresh berries and fruits of your choice. Fruit cocktails can add a delicious touch to your meal while also adding a sweet natural touch to your palate. These cocktails are often served in cafeterias of offices, schools, and party buffets, for those who are looking for healthy options. Celebrating such a versatile yet delicious dish is a given and that is why we have the National Fruit Cocktail Day every year on the 13th of May.
How can we celebrate National Fruit Cocktail Day:
There are many ways to enjoy this day, with your friends and family or even alone. Here are a few ways you can do that.
Arrange for a party with your friends and family where you can serve them with your choice of fruit cocktails.
You can enjoy fruit cocktails as part of your meal on this day to add to the delight of the meal.
You can create your cocktail recipe which you can share with your friends and family. You can take their recommendations, reviews, suggestions, etc.
You can conduct a competition between your friends on who comes with the most exotic fruit cocktail of all.
You can make your recipes and share them on your social media. You can also indulge in food photography of your favorite cocktails on this day.
You can use the canned fruit cocktail for making a sauce for your main dish, make a cake, making sweet and sour chicken or sweet and sour pork, and multiple other dishes.
Share your thoughts about the day and how you would want to celebrate the day or celebrating it on your social media with the hashtag #NationalFruitCocktailDay.
Interesting facts about National Fruit Cocktail Day:
On this day, let us give you some interesting fun facts about fruit cocktails and fruit salads.
Though the cocktail is part of the name, the fruit cocktail doesn't have a single drop of alcohol in it. It is called the cocktail because the word cocktail itself means combining different pieces of food. And of course, it sounds interesting.
There is a stipulation given by USDA on how the cocktail of fruits has to be made, which dictates the percentage of fruits and the kind of fruits to be used to make the right fruit cocktail.
Initially, during the 1920s, when the food first came into existence, it was looked upon as a bizarre way to eat fruits. However, the food gained popularity over time thanks to its delicious taste.
It was in World War II when fruit salads became a part of the American diet to add the necessary nutrients, vitamins, most importantly Vitamin C.
The European Fruit salads are very different from the American versions and they contain a certain amount of mayonnaise. You are probably aware of the Waldorf salad, which is the fruit salad slathered with mayonnaise.
Fruit salads are a delicious way to get the necessary fiber and other nutrients to your diet without having to compromise on your palate.
Fruits are an important part of the human diet from time immemorial. There have been many ways of consuming them of which the fruit cocktails are by far the tastiest.
History of National Fruit Cocktail Day:
There is no information on who, where, and how the National Fruit Cocktail Day came into existence. However, we do have information regarding the invention of fruit cocktails in general. The credit for the fruit cocktail goes to San Jose's Herbert Gray and Berkeley from Barron-Gray Packing Company along with William Vere Cruess, University of California. But that is not the first time the fruit cocktail was first served though in 1930. There has been evidence of fruit salad served even before the invention of the cocktail, sometimes in 1893 by Ainsley Cannery.