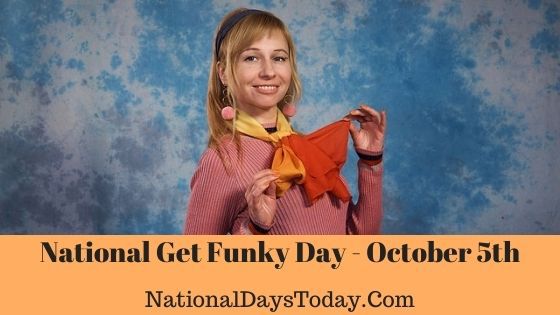 National Get Funky Day:
Celebrated annually on 5th October, the National Get Funky Day is acknowledged for paying homage to the funk as in getting happy way but not in a depressing way. It is basically a tribute to the funks' strength and majesty by establishing the idea of enjoying life at that very moment.
| | | | |
| --- | --- | --- | --- |
| Year | Date | Day | Where |
| 2023 | 5th October | Thursday | United States |
| 2024 | 5th October | Saturday | United States |
| 2025 | 5th October | Sunday | United States |
Twitter Hashtags:
#NationalGetFunkyDay
#GetFunkyDay
Related: Other National Days Celebrated on October 5th:
National Do Something Nice Day
Why National Get Funky Day?
A fitness center in St. Augustine, Florida, named Funkytown fitness, gave the idea of National Get Funky Day. After the smashing of a powerful storm "Hurricane Mathew" in Florida, a unit of Funky town Fitness introduced the idea of celebrating National Get Funky Day on October 5th every year by aiming to help people by making them free of their comfort zones and standardizing the idea of coming out of fear or moment of panic (Funk) and making them happy.
National Get Funky Day is acknowledged as a day to celebrate the occasion called "Life" by adding a few amusements in our day-to-day life so that life becomes more interesting and vulnerable.
This day adds more to the beauty of life by adding love, spreading joy, and sharing light and laughter.
The three reasons why people love National Get Funky Day are:
Life has its own mysterious ways for each and everyone, whether it comes to happiness and sadness. So, why do we not just make ourselves happy by doing plenty of activities, say roller skates, dancing, singing, or exercise by flowing all the worries away and exaggerating the happiness inside us. It's just that through all these funky activities and workouts, we should feel great.
The Notion of this day is to convert all your panic into all the activities that make you feel alive. The National Get Funky Day scatter all the funks throughout the body and burst through the cells by putting up the steps onto the dance floor. Thus, frustrations can drive away from the path through these activities by paving the way for liveliness and soulfulness.
There is nothing in between when it comes to being funky, its either you are funky, or you are not. Funk is a liberal format that inculcates freedom. If an individual fakes a funk, it is noticeable. Folks can address when you are faking a funk, so it is better not to fake it if you do not feel it.
The aim of the National Get Funky Day is clear and transparent; it inculcates the idea of all three aspects, i.e., happiness, soulfulness, and liberalization, by introducing a few exciting activities and exercises into the lives of people and adding a bit of spice in that by converting their frustrations and panics into happiness and liveliness.
 How can we celebrate National Get Funky Day?
Dance
For being a Funky, you must go to the dance by illuminating the 70s era platforms, customizing the outfit with all the glittery stars, and setting a dance floor to some parliament, a musician, or a band, says Bootsy Collins or Con Funk Shun. This activity aims to not drain your funk into the dance floor without any beats and bass.
Dying the hair in different colors
For capturing the true and free-spirited funk, you must do something out of the box, something far crazier. It is the mandatory part of this activity; a blonde can color its hair into numerous shades, and yeah, you are ready for being a funky freak.
Getting out of the elite
In this activity, you can embrace the idea of merging yourself into a totally different group. The dare of this day is to do something different apart from your regular group, say sharing a cup of coffee. You will discover that panic or funk can bind people together through having different groups or different environments.
Posting photos and videos can help people to join and stay connected on the social media platform.
#Nationalgetfunkyday and #Funkydayfunks
Interesting Facts about National Get Funky Day
Grace Jones told people to pull up the Bumper, and it was done by them exactly.
A Blondie wrote the first tune for the rap song in the modern era with "Rapture" for celebration on MTV.
In a funky minute, the funky ducks and the funky chicks dominated the dance floor with craziness.
Trying hoghead, cheese is used for tasting the funk, and it is a kind of meat jelly manufactured by the head of a pig or a calf.
For emphasizing accurate spellings and phonetics, Funk and Wagnalls designed a dictionary in 1893.
History of National Get Funky Day
It was celebrated as the day to pay tribute to the funks. The History of this day lies with Funky town fitness, the founder of this day aiming to serve strangers' happiness by building a well accomplished, happy, and lively group. The slamming of Hurricane Mathew devastated many lives; the community helped them by bringing them all together and initiated the idea of happiness and soulfulness in all those panic or funk moments. The history is quite interesting as it can bring the people of funk attacks together by certain activities and realize how they can indulge their boring life a bit more interesting.