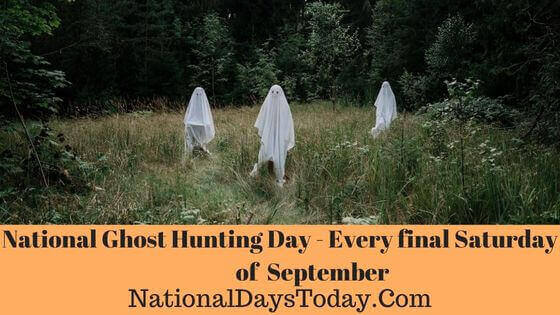 National Ghost Hunting Day:
On the final Saturday of September, during The World's Largest Ghost Hunt, National Ghost Hunting Day kicks off an annual global investigation of the paranormal.
| | | | |
| --- | --- | --- | --- |
| Year | Date | Day | Where |
| 2023 | 30th September | Saturday | United States |
| 2024 | 28th September | Saturday | United States |
| 2025 | 27th September | Saturday | United States |
Twitter Hashtags:
#NationalGhostHuntingDay
#GhostHuntingDay
Related: Other National Days Celebrated on September:
National Another Look Unlimited Day
Why National Ghost Hunting Day?
Its fun
There's no way to tell whether you'll get to meet a ghost this day; however, it's fun. It's delightful to have a great group of ghost hunters participating in the excitement.
It challenges long-held assumptions.
Ghost hunting is also about opening the person to new experiences and challenging old convictions. It introduces us to new worlds and motivates us to take on something we might not have otherwise.
It safeguards the history of the past.
Many ghost hunters are committed to preserving the history of architecture. The annual ghost hunting excursions ensure that our heritage is kept.
How Can We Celebrate National Ghost Hunting Day?
Engaging in  can be fun, or it could be slightly creepy. Perhaps it's both! Explore these suggestions for engaging with the paranormal as part of the celebration:
Participate in the World's Largest Ghost Hunt
One of the activities that many are keen to take part in is the Palace Theater in Canton, Ohio. The events are arranged by experience, from beginner to professional. Ghost Hunting events are organized and open to anyone who wants to participate. Events and tours require reservations, and fees are charged. Participants are welcome to bring their gear, such as flashlights, recorders for audio cameras, smartphones, and any other equipment for ghost hunting they want!
Get Some Ghost Hunting Equipment
If you are serious about the realm of ghost hunting may be interested in acquiring the right equipment to aid them in their paranormal pursuits. You can purchase an initial Ghost Hunting Kit with audio and video recording equipment to assist in identifying unusual activity.
EMF readers are a different piece of equipment that enables ghost hunters to find out whether high frequencies (EMF) cause false readings even though there's no actual ghost activity. So, get your ghost hunting gear and determine! Dont' forget to share it using hashtags #NationalGhostHuntingDay and #GhostHuntingDay on social media.
Interesting Facts About Ghost Hunting Day:
As a part of enjoying this day, lets see some Fun Facts about Ghosts-
As we're talking about National Ghost Hunting Day, we thought it would be beneficial to provide all of our readers with some facts about ghosts to make their acquaintances and families smile. We've collected various frightening points and put them in the following table for all to read and enjoy on this day of celebration.
The countries with the highest proportion that believe ghosts exist are Malaysia (57 per cent) and the U.S (47 per cent), and Canada (44 per cent).).
The countries with the lowest proportion of belief in ghosts are Germany (25 per cent) and the Netherlands (23%)) and Brazil (21 per cent).
Around 30 per cent of Americans have reported being awakened by ghosts in their room at some time in their lives.
Parapsychology is the study of the paranormal, or what is generally known as the supernatural.
Ghosts usually haunt locations, as do poltergeists, whereas ghosts typically haunt people.
The first written account of poltergeist activities was published on Germany's agricultural site in the ninth century.
The Classic Ghost Story is an original creation that was created during the Victorian Period.
Some believe that the blue-colored flame of a candle can be a sign that ghosts are in activity.
Legend has it that the ghost of Al Capone appears to those who visit his gravesite at Mount Carmel Catholic Cemetery in Illinois.
The "Faceless Man supposedly haunts Fort Mifflin, an American Revolutionary War fort, Fort Mifflin."
Lemp Mansion, located in St. Louis, Missouri, is said to be highly haunted and very dark.
History of National Ghost Hunting Day:
Haunted Travels established National Ghost Hunting Day to start a season of haunted attractions and fall celebrations. The organization encourages ghost hunters to explore their passions—the mysteries of the interest of the supernatural and ancient customs of several people. The funds generated through ticket sales will go to shelters that are non-profit in every participating community. What a great idea!
It's not just about crumbling ruins or obscure areas of the globe. It's also commonplace to find public locations boasting haunted stories and eerie voices. Famous places like The Tower of London and the White House have reported paranormal events. It's difficult to determine whether ghosts indeed do occur, yet the stories are entertaining regardless.
Ghost hunters are known for their attention to historic properties and are passionate about preserving them. In their adventure, ghost hunters may visit towns or areas with particular violent histories. In reality, each ghost hunting event is a group of walks, and historical facts and rumors choose the locations. If you're a beginner looking for a thrill, it's in the excitement! This National Ghost Hunting Day, you are likely to experience something terrifying in the very first place. The day is perfect for you if you've always loved the eerie ghost stories you read with lightbulbs under your bed or the unanswered blur in the photo. The actual glimpses of ghosts are rare and only a few minutes, but the excitement is well worth the effort.