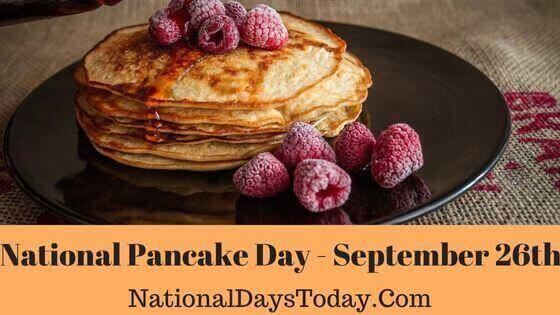 National Pancake Day:
On every September 26th, a huge stack of sugary delight is piled up to celebrate National Pancake Day. 
| | | | |
| --- | --- | --- | --- |
| Year | Date | Day | Where |
| 2023 | 26th September | Tuesday | United States |
| 2024 | 26th September | Thursday | United States |
| 2025 | 26th September | Friday | United States |
Twitter Hashtags:
#NationalPancakeDay
#PancakeDay
Related: Other National Days Celebrated on September 26th:
National Compliance Officer Day
National Situational Awareness Day
Why National Pancake Day?
Pancakes are one of the simplest, tastiest, and most popular morning foods, and a day dedicated to them is sure to bring everyone delight. The day is not just a celebration of pancakes, America's most renowned and cherished meal, but also a fundraising event for organizations. In fact, Since the debut commemoration of this extraordinary event in 2006, IHOP has contributed about USD 30 million to non-profits. This holiday also qualifies you to free pancakes at IHOP locations, as well as the chance to donate money while eating your favorite meal. 
This is a wonderful day for pancake fans all over the country, as it allows them to honor their favorite dish in their own unique way. 
How Can We Observe National Pancake Day:
Try to encourage your family and friends over for breakfast. This pastry festival is much more than just spending time with your loved ones. 
On this day, you may also do some research on the different varieties of pancakes available and try some new tastes that you haven't tasted before. 
Use the hashtag #NationalPancakeDay to spread the news about the free pancakes and the organizations that people may donate to.  
HOW TO MAKE PANCAKE 
Ingredients 
100g Maida 

 

2 large eggs

 

300ml milk

 

1 tbsp refine vegetable oil, plus a little extra for frying

 

2  teaspoons baking powder

 

Nuts for toppings 

 
Method: 
Sift together the flour, baking powder, salt, and sugar in a large mixing container. Make a well in the centre of the mixture and pour in the milk, egg, and melted butter; stir until creamy.

 

Place a medium frying pan or crêpe pan over medium heat and wipe it clean with oiled kitchen paper.

 

Over medium-high heat, gently oil a spatula or frying pan. With about 1/4 cup of batter each pancake, pour or scoop the batter onto the griddle. Brown both sides and serve immediately.

 
Interesting Facts of National Pancake Day:
Since that day is also known as Shrove Tuesday or Pancake Tuesday.

 

Because the event falls on the eve of Lent, it provides an excellent chance to use up any remaining stockpiles of food that is banned during this period, the most prominent of which are jam and syrup.

 

The National Pancake Day is set since people will be fasting for the following 40 days of Lent, beginning on Ash Wednesday, and will be unable to eat a variety of meals during that time. As a result, they prepare meals like pancakes using eggs, milk, sugar, and wheat, among other ingredients.

 

To honour International Pancake Day, a pancake race has been held in England's Olney town since 1445.

 
 The largest global pancake, weighs three tons and measuring 49 feet in circumference, was created in 1994.

 

The world's largest pancake was flipped in Rochdale, United Kingdom. It was 16.4 yards in diameter and weighed 3 tons.
Some Facts of Pancakes:  
Residents of the South consume 32.5 percent of all pancakes produced in the United States.

 

This batter-based breakfast snack been around for over 30,000 years and is also known as Johnnycakes, griddle cakes, or hotcakes.

 

When turning a pancake in France, it is customary to make a wish while holding the handle of the frying pan. While making the wish, they also have a penny in their other hand.

 

Pancakes are frequently referenced in William Shakespeare's plays, most likely because he enjoyed eating them.
History Of National Pancake Day:
The inaugural National Pancake Day was held in 2006, and it was organized by IHOP, a popular pancake restaurant business. Pancakes have been around since the ancient Romans and Greeks, according to historical sources. IHOP provides complimentary pancakes to customers who visit their restaurants on this day, as well as the opportunity to make a voluntary donation to one of the organizations they support. 
History of Pancake: 
This batter-made breakfast food has been around for almost 30,000 years and is also known as Johnnycakes, griddle cakes, or hotcakes. It's possible that it's the world's oldest morning meal, dating back to the Stone Age and even been discovered in the stomach of Otzi the Iceman, whose human remains are thought to be 5,300 years old. 
Shrove Tuesday has been observed in the United Kingdom from 1100 A.D. It is the day before Ash Wednesday, also known as Fat Tuesday in certain locations. This widely honored Feast Day is marked by confession, the completion of a Lenten sacrifice, and the consumption of pancakes and other sweets.