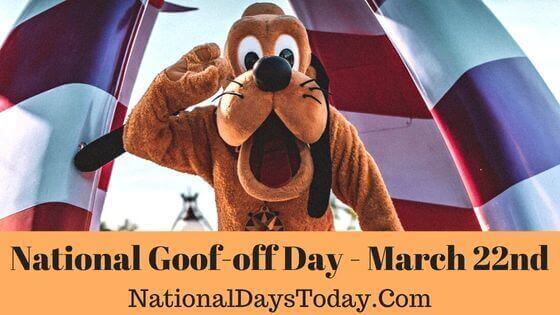 National Goof-off Day:
Continuous work and pressure have got you exhausted and tired? Stop what you are doing, breathe, and take a fun break with your family and friends on National Goof-off Day celebrated on 22nd March.
| | | | |
| --- | --- | --- | --- |
| Year | Date | Day | Where |
| 2022 | 22nd March | Wednesday | United States |
| 2023 | 22nd March | Friday | United States |
| 2024 | 22nd March | Saturday | United States |
Twitter Hashtags:
#NationalGoof-offDay
#Goof-offDay
Related: Other National Days Celebrated on March 1st:
Why National Goof-off Day?
Of course, we teach our kids to hustle, be hard working and punctual, work every day diligently and that success will be coming running to their door steps. But did we teach our kids the importance of relaxing their mind, body, and soul?
With the advancement of technology and the coming of industrialization, we have completely forgotten to invest time in ourselves. In the current world, we are so busy getting the work done faster and better than we compromise on our health, both mental and physical, and forget about our body's needs.
A nine to five job, sitting and straining the eyes in front of the laptop for eight hours, deadlines, assignments, etc., can cause a lot of mental stress and body aches too. So many diseases find their way to our body due to the pressure created by workplaces and educational centers. But we, without realizing the effects of extreme exertion continue to run in the rat race! Apart from the office, other responsibilities and housework to add to the tiredness.
The National Goof-off day gives us a chance to erase the memory of hectic work and deadlines and relax for a day. Breakthrough the commitments and let the crazy out! It also lets us be ourselves for a day without worrying about what people would think because everyone would probably be acting crazy on this day.
It is also very likely for us to see the silly side of other people, no matter how serious they are on other days. Prepare yourselves to watch your boss running around their garden like kids and your teachers painting on their faces. All in all, it's a day to have fun, laugh, and stress down.
How Can We Observe National Goof-off Day:
Unwrap your old crayons and start pouring your imagination on paper. Painting is an extremely relaxing and satisfying process, so don't worry about the skills at art or the result just enjoy the jolly ride.
Play games with your family and friends, get old school and draw those hopscotch boxes or hide inside your attic, scratch tombola tickets or toss the dice on the snake and ladder board.
Stuff up the popcorn bucket, freeze the ice cream and get set to watch your favorite movies.
Be silly and crack jokes that hit your mind, laugh with your family and friends, and encourage them to crack silly jokes too. Don't worry about being creative.
Go on a mobile detox. Switch off your computers and mobile phones and do nothing productive.
Make some DIY stuff for your home, study the table out of the waste generated at home. Get your hands dirty and make your favorite place look more creative.
Read your favorite books and listen to soothing music, relish the moment.
Conduct a musical chairs game, play the music loud, and let happiness sink through.
Write poems about beautiful things that make you happy, don't let the poem be about the office!
Have a long, warm, relaxing shower with music. Practice some skincare and listen to your skin whisper a 'thank you.'
Click pictures and share them on social media, and add hashtags like #nationalgoofoffday and #goofingallday for your friends to see.
Interesting facts on National Goof-off Day:
Here are some facts that will encourage you to goof around the day!
Some offices have started to encourage catnaps, as a 15 minutes' nap id proven to be extremely nourishing for the mind.
Google permits employees to use a fifth of their time working on projects of their interests, this has yielded some of the best results. Including successful projects like AdSense and Gmail.
Microsoft recognizes the importance of wellness and apart from offering education on several health issues, it also provides employees to play at their volleyball, basketball, and other courts.
History of National Goof-off Day:
Ten years old Monica (Moeller) Dufour, a Davidson, MI resident was the founder of National Goof-off Day. This little girl's vision helped Good-off Day become such a success. It was first celebrated in 1976, and in just seven years it was announced as an International holiday. And since that day it's been our favorite holiday, giving us a wider perspective to do nothing and enjoy life like a ten-year-old!