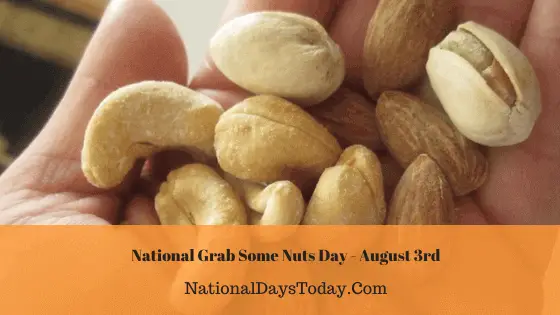 National Grab Some Nuts Day:
celebrated on every August 3rd, the day is to encourage all of us to take some nuts on a daily basis.
| | | | |
| --- | --- | --- | --- |
| Year | Date | Day | Where |
| 2023 | 3rd August | Thursday | United States |
| 2024 | 3rd August | Saturday | United States |
| 2025 | 3rd August | Sunday | United States |
Twitter Hashtags:
#NationalGrabSomeNutsDay
#GrabSomeNutsDay
Related: Other National Days Celebrated on August 3rd
Why Grab Some Nuts Day?
National grab some nuts day is observed to create awareness regarding the importance of intake of nuts and its health benefits. Whatever it maybe, either botanical or non botanical nuts, have enormous amount of protein, vitamins,minerals, potassium, Iron and so on. Not only apple, even nuts are capable of keeping us away from the doctor. So never forget to take some nuts daily.
Happy grab some nuts day. Also, we have several other national days being celebrated for every nut like national almond day, national pecan day, etc.
How we can Celebrate National Grab Some Nuts Day:
If you have a habit of eating nuts daily, then go ahead. If you don't like, follow taking nuts daily ,then for sure, it will become a habit. Grab some nuts daily and stay healthy. Use this hashtag #GrabSomeNutsDay to discuss about the important factors, calories, health benefits,etc of all botanical and non botanical nuts.
Interesting Facts About National Grab Some Nuts Day:
Nut is a fruit which composed of an inedible shell and an edible seed. Now we are using the term "nuts" for all forms of dry fruits. Nevertheless, the term indicates only the fruit with a combination of shell and seed. Hence, what we call as nuts at times are not really nuts. Walnuts, almonds, cashew nuts, pecans are not nuts, conversly, they are just seeds. Despite the fact, due to the usage of the term, all the seeds become non – botanical nuts.
It is better to take raw nuts rather than roasted nuts since the the process of roasting may deplete the significant amount of fat. Grab some raw nuts on this day. The process of soaking seeds like almonds is also not necessary. However,removing the skin of almonds is inevitable, otherwise, could lead to digestion problems.
Nuts were consumed native people of America. Hence, nuts are embedded in american history for more than 1000 years.
Culinary nuts are categorized into four types,namely true nuts,drupe nuts, angiosperm nuts, gymnosperm nuts. The first category,True Nuts are of basically hard shell with no compartments and without outer fleshy layer arrangements.Drupe nuts are seeds of a fruit covered by inedible shell. Gymnosperm nuts are seeds without any hard shell or outer layer. Angiosperm nuts are seeds enclosed by fruit.
Almonds are enriched with enormous amount of antioxidants, nutrient and vitamin E . Daily consumption of almonds facilitate regulation of blood pressure.
Hazelnut is a great source of all nutrient that includes vitamin E ,protein,fiber,iron, potassium, magnesium,etc.Hazelnut is a nutrient-packed nut gifted by nature.
Nuts may cause choking in children,so make sure that all the shells are removed and it is highly recommended to give nuts to children only under adult supervision.
People who can get allergies must be careful while eating cashew nuts since it could lead to severe life threatening complications.It is also reported that around 5 percent of causacians suffer from cashew nut allergy.This occurs potentially because of the protein present in the cashew nuts.
History of  National Grab Some Nuts Day:
The origin and the creator of national grab some nuts day is obscure within the research.