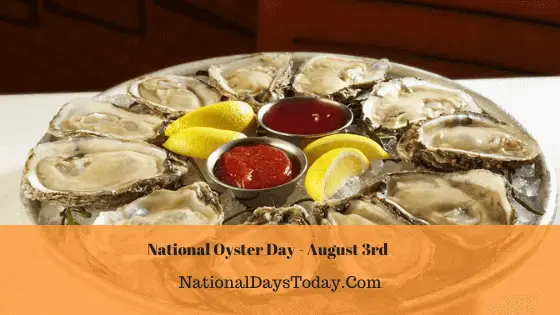 National Oyster Day:
Celebrated on August 3rd every year. The day is dedicated to Oysters, any edible mollusc of the genus Ostrea, irregularly shaped shell that occurs on the seabed, and coastal waters.
| | | | |
| --- | --- | --- | --- |
| Year | Date | Day | Where |
| 2023 | 3rd August | Thursday | United States |
| 2024 | 3rd August | Saturday | United States |
| 2025 | 3rd August | Sunday | United States |
Twitter Hashtags:
#NationalOysterDay
#OysterDay
Related: Other National Days Celebrated on August 3rd
Why Oyster Day?
The day is dedicated to Oysters, any edible mollusc of the genus Ostrea, irregularly shaped shell that occurs on the seabed, and coastal waters. Oyster is the general name for all the salt water bivalve molluscs species.
Humans consume some species of oysters whereas some species like pearl oysters are gathered for the commercial pearl production and species like Windowpane oysters are harvested for their colourless and transparent shells that are used for manufacturing decorative objects.
Oysters are rich in iron, calcium, zinc, selenium, vitamin A, protein and vitamin B12. Perhaps, low in food energy; twelve raw oysters contain 110 kilocalorie. Thus, oyster is a power packed nutritional food.
How we can Celebrate National Oyster Day:
Enjoy this day with oyster. Use this hashtag #oysterday to post about oyster and its recipes.
Here is a simple recipe,
Oyster deep fry-preparation method
Step 1: Take a bowl, mix half-cup flour, required salt and black pepper, use little water and blend like a paste
Step 2: Separate both the yolks and egg white. Take a separate bowl and pour the egg white. Keep it aside.
Step 3: Take 250 grams of oyster, shuck it, and clean it in water and drain. Keep it aside.
Step 4: Dip the oysters one by one gently in the flour mixture, dredge in egg and finally in the breadcrumbs and fry it until it turns golden brown.
Step 5: Garnish with finely chopped onions and serve with tomato sauce.
Interesting Facts About Oyster Day:
The features and characteristics of an oyster depends the water that it live in. A group of oysters is called as oyster reef or a bed.
All species of oyster, which have shells, produces pearl. However, are not commercially valuable like the pearl secreted by pearl oyster. Artificial pearls are being produced by placing a polished shell while culturing the oyster. Over the years, layers of nacre will cover the object and thus the pearl forms. Though it is not valuable like the natural one, it looks like a replica of natural pearl. Surprisingly, in both the gender, the reproductive organs of the oysters contain both sperms and eggs. Due to this, it could fertilize its own eggs. After fertilization, it discharges eggs into the water that matures to adulthood 

within one year

.
Oysters are great water filter. A study pointed that ,a single oyster can filter to the maximum of 50 gallons of water per day. It consumes all the dissolved organic matter, plankton, detritus, bacteria, phosphates, and other nitrogen compounds present in the water which eventually makes the water clean. Oyster filters water only if its valves are in open state it does not filter water if it shut their values for rest prominently during the neap tide occurrence.
Until the 19th century, New York Harbor was the largest oyster-producing water body. However, in order to cope with the rising demand, foreign species were introduced but the results were abortive due to the spread of disease that had led to the destruction of many oyster beds during the 20th century .As of 2018, in the United States, the largest oyster-producing water body is Chesapeake Bay, however, it is depleted due to pollution and over fishing in the recent decades. Other notable water bodies in the United States are, Willapa Bay in Washington, the bays and estuaries alongside the Gulf of Mexico coast, Texas in the west, Florida in the east to Galveston.
In Global terms, Edible oysters are largely found in Japan, Australia and France with China producing almost 80% of the global harvest. The humans on an annual basis are consuming approximately 2 billion pounds of oysters.
The 'Oyster Opening Competition' is held in Galway, Ireland on an annual basis. Special knifes are used to open live oysters.
History of Oyster Day:
 The Origin of this day is unrevealed within our research.