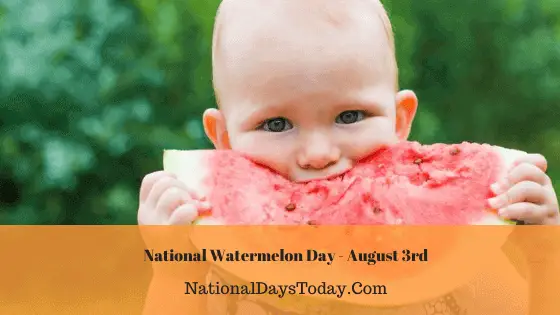 National

Watermelon Day:
Celebrated on August 3rd, every year. The day is to relish with Watermelon.
| | | | |
| --- | --- | --- | --- |
| Year | Date | Day | Where |
| 2023 | 3rd August | Thursday | United States |
| 2024 | 3rd August | Saturday | United States |
| 2025 | 3rd August | Sunday | United States |
Twitter Hashtags:
#NationalWatermelonDay
#WatermelonDay
Related: Other National Days Celebrated on August 3rd
Why Watermelon Day?
National Watermelon Day is to relish with Watermelon. Since it consist of more than 90 percent of water, consumption nourishes our body. It is usually used in preparing salads, juice and watermelon ice creams are quite famous. Normally, we prefer seedless watermelons and 85 percent of the watermelon consumed across the United States are claimed to be seedless. Several competitions are being organized across the country on this day exhibiting the different and largest melon produced. Watermelon has become the daily routine fruit during summer days. This day is to thank the nature for giving us a great water fruit despite rarely it is termed as a vegetable in some of the states.
How we can Celebrate National Maple Syrup Day:
Simple! Have a slice of Watermelon on this summer day. Promote the benefits of Watermelon using this hashtag #WatermelonDay. Watermelon Carving is popular among kids Just have a try in carving, test your skills and post your carvings using this hashtag #NationalWatermelonDay. Watermelon display contests are being more idea about the varieties and history of origin.
Try some creative watermelon recipes and dont forget to share.
Happy National Watermelon Day.
Interesting Facts About National Watermelon Day:
As of 2016,The Major Producers of Watermelon are China,Turkey,Iran and Brazil with China ranking first by producing 79.2 millions of tonnes per year covering almost 70 percent of the World's production.United States,Russia,Mexico,Uzbekistan are other minor pioducers.Within the United States,Florida,Texas,Georgia,California and Arizona are the major producers of Watermelon.For Plantation,it needs a high temperature of 25 degree celcius for thrive cultivation since it might prone to virus in high humidity.
The World's largest Watermelon are reported to be of 262 pounds and has ben listed in the Guinness Record.
The senator of the Oklahoma proclaimed Warermelon as state-vegetable that eventually resulting in a controversy debating it as a fruit.
Each 100 grams of Watermelon consists of 30 calories with 91 percent of water, 6 percent of sugar, 0.4 gram of Dietary fiber, 0.6 gram of protein and the rest is of fat. Furthermore, it encompasses minerals Tike Calcium, Iron, Magnesium, Manganese, Phosphorus, Potassium, Sodium and Zinc.
Watermelon are sweet since it comprises of sugar and water. Despite commonly consumed as raw, it is used to prepare salad, Juice and an optional ingredient in preparing wine. It is great fruit for Summer.
There are around 1200 varieties of Watermelon ranging from less than 1 kilogram to 90 kilograms in weight which was categorized into three main group namely Citroides group, Lanatus group, Vulgaris group. The flesh Colors are red, orange, yellow or white and pink. The famous varieties are Carolina Cross, Moon and Stars, Orangeglo, Golden Midget, Cream of Saskatchewan, Melitopoiski, Densuke, which has different features in appearance and harvest period. The "Densuke" Variety of Water melon is cultivated only in Japan's Hokkaido Island and is claimed to be more expensive out of all the varieties. The varieties of Watermelon that belongs to the Citroides, are otherwise c ailed as Citron Melons and are not sweeter in taste. It is widely used in making citron peel and pectin. A Ianatus's variety called karkoer or bitterboela is unpalatable and not widely consumed by humans. Humans consume the Vulgaris group's watermelon varieties for hundreds of thousands of year. The growing period is to the maximum of 3 months depending upon the varieties planted.
Seedless varieties are also produced; however, Pollinizers and at least three beehives per acre are essential for pollination as recommended by the US Department of Agriculture. Japan scientist made a seedless variety successfully in the year 1939 after a series of failure due to the lack of disease resistant. As of 2014, People of the United States prefers seedless watermelon highly than the seeded one.85 percent of the total watermelon sold in the country are seedless varieties.
Cubic, Pyramid-shaped, polyhedral Watermelons are produced in some regions of Japan by planting in a desired shaped netal boxes. However, the prices are heavy when compared to the normal ones.
History of National Watermelon Day:
The Origin of National Watermelon Day is obscure.However,Watermelon itself has a long history.Claimed to be originated in North-West Africa,it extended upto West India.It spreaded to India and China in seventh and tenth Century Respectively.It had spread to Spain through farmers of different countries.Through Spain,it reached Northern Europe in the 17th century.It had spread further with the help of European Colonies to other countries duuring the 18th century.