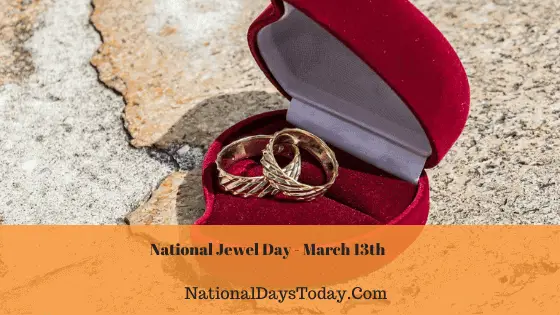 National Jewel Day:
Celebrated on March 13th every year. The day is to celebrate by wearing/buying jewel.
| | | | |
| --- | --- | --- | --- |
| Year | Date | Day | Where |
| 2023 | 13th March | Monday | United States |
| 2024 | 13th March | Wednesday | United States |
| 2025 | 13th March | Thursday | United States |
Twitter Hashtags:
#NationalJewelDay
#JewelDay
Related: Other National Days Celebrated on March 13th:
National Open An Umbrella Indoors Day
Why Jewel Day?
Another day in March for Women. The day is to celebrate by wearing/buying jewel. Wearing Jewel is one of our oldest traditions that we are following with all smiles today. In spite of men wear jewels, women of all ages obsess it, our expectations differ, but our admiration remains the same. Women have a profound love for jewelry. Enjoy the day by purchasing your favorite one.
How we can Celebrate or Observe National Jewel Day:
every woman would know how to simply celebrate this day. Just go to a jewellery shop, get a jewel, wear it and take a photograph, post it on social media and celebrate. If you are not married, you will get easily since we are always our dad's princess. If you are, then it is a very tedious thing to achieve. However, always hope for the best and give a try. Your husband may tell you how he is suffering with expenses; ask him to cut off his drinks for a year. Anyways, never forget to post your jewel using this hashtag #JewelDay on social media.
Interesting Facts About Jewel Day:
Normally Jewelry is made of the below metals:
GOLD: Gold is one of the most precious metals in the earth; no other metals can compete with its unique color and shining. The combination of Diamond with Gold gives you an elegant look. The standard way of measuring the gold is KARATS (K) or CARATS (ct).The maximum purity is 24k, which is of 100 percent gold. However, making a jewel out of 100 percent gold is very much difficult since it tends to be malleable and smooth. Therefore, Jewels are prominently made of 22ct (Highest purity) with 91.6 percent pure gold combined with other metals like copper, bronze, silver, etc. Predominantly, jewels range from 4ct to 22ct of gold.
The other variants of Gold jewellery are Yellow Gold Jewelry, White Gold Jewelry, Green Gold Jewelry and Rose Gold Jewelry.
Yellow Gold Jewelry —High proportion of gold along with silver and copper/bronze/Zinc.
White Gold Jewelry Gold with Silver and Palladium/Rhodium.
Green Gold Jewelry – High proportion of gold along with silver and Zinc.
Rose Gold Jewelry – High proportion of copper and gold.
The United States holds more Gold followed by Germany. The highest producer of Gold is Russia followed by the United States.
DIAMOND: Diamond Jewels are the most used ones. An alloy of gold/ silver with diamond stone is used to make jewels.
With respect to this, I must tell you a point that, in India (an Asian country), diamonds are used only after performing certain rituals since they highly believe that diamond (unsuited) could destroy one's possession. Despite Indians considered this as superstition now days, it is rarely followed in some of the states of India.
The United States holds more diamond followed by China and India. The highest producer of Diamond is Russia followed by Botswana.
SILVER JEWELLERY: Silver is one of the most sought after metals after gold. It is quite cheap incomparable to that of Gold.
Besides, jewel made of silk threads is the current famous jewellery. It is more fashionable and could be customized in accordance with what we wear. Moreover, expensive gems like Emerald, Opal, Turquoise, Ruby, Topaz, pearl, Sapphire,
etc. are also incorporated and engraved in Jewelry for their unique color and features.
WEIRD JEWELS: 
By seeing some of the jewels, we feel weird despite the fact that it is quite normal in some other countries.
WAIST BELT: Huge alloy of gold and silver/copper is used to make waist belt. Normally it is quite a usual jewel in Asian countries like India. It ranges from 150 grams to even 500 or 1000 grams.
UNEVEN BANGLES: Lot of bangles are worn usually on both the hands in Asian countries (now the practice is fading away I guess).The number of bangles in one hand should not be equal as of another.
TOE RINGS and Mangalsutra: The bridegroom will tie a yellow rope/black beaded chain with a piece of gold (the shape varies from caste to caste) on bride's neck on the Wedding day and hence, all the married women in India wear these. After husband's demise, she ought to remove the both. You may have a question like what will happen if they opt for divorce and the answer is yes, it is her own choice.
History of  Jewel Day:
The origin and creator of National Jewel Day could not be revealed within our research.