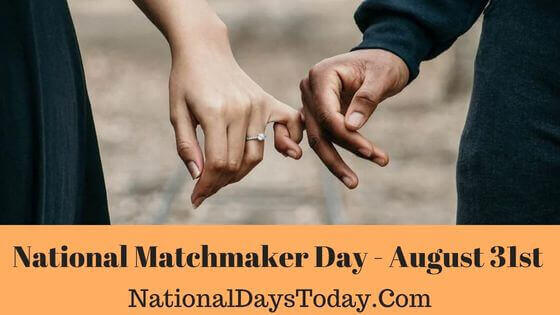 National Matchmaker Day:
On August 31, National Matchmaker Day celebrates romantics whose constant search for the ideal target for Cupid's arrow leads to lasting love tales.
| | | | |
| --- | --- | --- | --- |
| Year | Date | Day | Where |
| 2023 | 31st August | Thursday | United States |
| 2024 | 31st August | Saturday | United States |
| 2025 | 31st August | Sunday | United States |
Twitter Hashtags:
#NationalMatchmakerDay
#MatchmakerDay
Related: Other National Days Celebrated on August 31st
National Diatomaceous Earth Day
Why National Matchmaker Day?
Playing matchmaker necessitates some social awareness. It also calls for coordination and listening skills. They are aware of each other's interests, bad habits, and interests. Even when the potential pair is painfully oblivious, the matchmaker can sense when there is a connection.
Even while matchmakers aren't always efficient, their intentions are unquestionably good. After all, love is the central theme. Even achievement tales might be interesting to hear. National Matchmaker Day honors each of them. unpleasant blind dates. Miscommunications. Even the full mismatches are acceptable. A toast is made during the celebration to those who unite lovers.
How Can We Observe National Matchmaker Day?
Pay tribute to the extraordinary matchmakers who facilitate marriages. The following are some of the ideal methods to observe the day:
●      Write a thank-you note to your matchmaker.
●      Share a shout-out about them on social media.
●      Cherish the memories by pulling out the photo album.
One of most important things is to tell your matchmaker tale!
To post on social media, use the hashtags #NationalMatchmakerDay #ArtCarvedBridal #ShareYourStory.
The Best Way To Celebrate National Matchmaker Day:
Did you use a matchmaking site to find your spouse? Or did someone special introduce the two of you? Show them your affection on this day by doing a thoughtful gesture you know they will appreciate. Send them a handwritten note of gratitude, a customized gift basket, or treat them to a special meal. Make sure they understand how their actions have improved your life.
Investigate the world of expert matchmaking agencies, or just connect two people you believe would be ideal partners. Please try to share some love.
After telling your matchmaker how their services helped you, tell others about your experience. They could be inspired to give love and romance a try by your narrative.
Interesting Facts of National Matchmaker Day:
5 Funfacts about Matchmaking:
Operation Match was started in 1965 by Harvard and Cornell university students. Jeffrey C. Tarr, David L. Crump, Vaughan Morrill, and Douglas H. Ginsburg created it.
In Britain, the first matchmaking services opened for business.
These matchmakers put in a lot of effort in the background to pair up individuals and families. They need to feel that their efforts are valued because they themselves could use some love.
According to a survey by the dating service eHarmony, by 2031, half of married couples in the United States would have met online, and by 2040, this percentage would increase.
In many societies around the world, traditional matchmaking is still practiced; in fact, 60 percent of marriages today are still arranged.
History of National Matchmaker Day:
Although the origin of this holiday is currently unknown, we do think that it was invented sometime between 2015 and 2016. We'll keep looking for this holiday's beginnings, and if we do, we'll update this section as necessary.
There have certainly been matchmakers since the beginning of time. Early on, parents and other adults—often women—stepped in to help young people find the "appropriate" life partner. It was decided that young people couldn't make this decision on their own since it was too hard for them to grasp. Most societies, including the Aztecs, the ancient Greeks, and the Chinese, upheld this custom.
The matchmaking business was flourishing by the Victorian era. At this period, matchmaking laws and wooing practices both gained momentum and intensified. Around Easter, all married ladies were required to attend a lavish socialite ceremony in court known as the "coming out" ritual. They were all dressed in white and carrying small bouquets. They took part in a "season" in which their moms, and occasionally fathers, tried to place them with a suitable household.
The concept of matchmaking changed as the globe did throughout and after the 20th century. Now, in certain societies, arranged weddings were not the norm, and the idea of picking one's own spouse spread. When searching for a spouse, more and more people are broadening their horizons. Then the internet appeared. Believe it or not, matchmaking and science have been combined before there was Tinder and Bumble. Ever since 1920s, attempts have been made to automate this procedure, and research has even been done on the subject.
This day was established by the jewelry business ArtCarved Bridal to recognize and give thanks to all matchmakers who helped people find and get married.