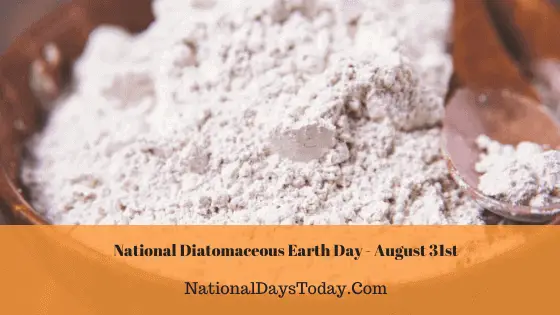 National Diatomaceous Earth Day:
Every year August 31st is observed as "National Diatomaceous Earth Day" in the United States to commemorate the wide usage of Diatomaceous earth material.
| | | | |
| --- | --- | --- | --- |
| Year | Date | Day | Where |
| 2023 | 31st August | Thursday | United States |
| 2024 | 31st August | Saturday | United States |
| 2025 | 31st August | Sunday | United States |
Twitter Hashtags:
#NationalDiatomaceousEarthDay
#DiatomaceousEarthDay
Related: Other National Days Celebrated on August 31st
Why National Diatomaceous Earth Day: 
This day is dedicated to commemorate the wide usage of Diatomaceous earth material as abrasive, filters, polishers, cosmetics, pest control, and many more. This national day is rejoiced worldwide to salute this awe-inspiring discovery and discoverers of this abundant material which has various remarkable chemical properties.
How can we Observe National Diatomaceous Earth Day:
Observe this day by making diatomaceous earth deodorant yourself.
Ingredients:
1) Diatomaceous Earth powder- 1 tbsp.
2) Arrowroot powder-6 tbsp.
3) Coconut Oil- 3 tbsp.
4) Bentonite clay- 1 tbsp.
5) Shea butter-2 tbsp.
Preparation:
In a boiler, melt Shea butter and coconut oil for a minute. Once it is softened turn off the flame and let it cool. Add all the ingredients left out into the boiler and mix until it gets merged. Get it stocked in a glass jar to settle. The prepared deodorant gets firm when it reaches room temperature.
Given below are the different ways to observe the uses of Diatomaceous Earth
DE- An insulator: 
When we started realizing asbestos sheets were harmful to mankind, Diatomaceous Earth was replaced with asbestos. Nowadays, DE insulates ships, cars, buildings, and many other things. Being a poor conductor of electricity and heat, DE has been used in blast furnaces as an insulator. DE doesn't generate any harmful emissions and in many industries, it has been used as sound- absorbents.
DE-A supplement for cement
Recent research revealed that DE, when mixed with concrete, eases in self-repair under breakage conditions. The principle behind this biomineralization concept is under greater PH environment, DE can safeguard naturally occurring bacteria which further helps in allowing the bacteria to generate calcium carbonate to repair the cracks when they appear.
DE- An animal feed
Studies revealed that animals gradually showed a greater positive impact on their health when they are fed with food quality DE added with their eatables. DE also yielded better reproduction in chickens. It also promoted the better bone formation of chickens.
DE- A stain remover
DE can be used to clean up hard stains present in bathtubs and sinks. Note that DE when mixed with water turns yellow. So don't get surprised that DE generates more dirt while cleaning.
DE – A pest control
DE is one of the main ingredients used for pest control products to destroy spiders, cockroaches, and many insects. Few products made from diatomite can be directly used on dogs and cats for treating ticks and fleas.
Methods of use:
Powder duster device – It is a hand-held device with a chamber connected to a narrow spout. Fill DE into the chamber of this device and squeeze it into the areas of application. Use this device to apply DE over your beds and cots to kill bed bugs.
Wet Use: Mix DE and water in a 1:4 ratio and spray it on affected areas using a spray bottle.
Use #DiatomaceousEarthDay to post other uses of Diatomaceous Earth on social media.
Interesting facts about National Diatomaceous Earth Day: 
Lets see the interesting facts about Diatomaceous Earth,
Diatomaceous Earth is a chemical compound that is formed when the single-celled algae called "diatom" dies and deposits under the large bodies of water. As time goes by, organic particles of these dead substance erode and the residue opal frustules turn out to a siliceous rock which can easily break down to a white powder.
Alfred Nobel, a Chemist, and Engineer discovered a mixture named "dynamite" and he patented it in the year 1867, this is generally a chemical called nitroglycerine mixed with Diatomite. This mixture yields in easier and safe transportation of raw nitroglycerine over long distances. This chemical compound is also called as guar dynamite.
Wilhelm Berkefeld, an engineer from Celle, found that diatomaceous earth can filter particles. Later he developed an equipage made from diatomaceous earth known as filter candles which are used for filtering turbidity from drinking water.
Diatomite for its moderate abrasive property has been used in toothpaste, facial scrubs, and metal polishes.
Owing to its chemical structure, diatomaceous earth is not demoted by sunlight or microbes. It neither dissolves in water nor emits vapors at any time. Many sea creatures use this compound to develop their skeletons because oceans contain larger amounts of diatomaceous earth.
Chemicals used for pharmaceuticals are refined by DE. It also helps to prevent plastic films from blockage.
History of National Diatomaceous Earth Day:
The U.S Silica Company named "Ep Minerals" founded this day to signify the world about the naturally alluring non-degradable material.