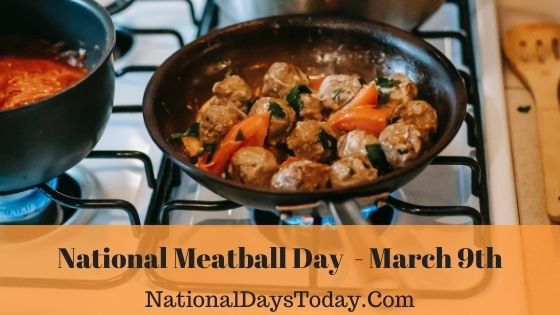 National Meatball Day:
Celebrated on 9th March every year. Meatballs are a gift to mankind. This is an American dish and on National Meatball day American families get together and have a meal together where Meatballs are the special dish.
| | | | |
| --- | --- | --- | --- |
| Year | Date | Day | Where |
| 2023 | 9th March | Thursday | United States |
| 2024 | 9th March | Saturday | United States |
| 2025 | 9th March | Sunday | United States |
Twitter Hashtags:
#NationalMeatballDay
#MeatballDay
Related: Other National Days Celebrated on March 9th:
Why Meatball Day?
Meatballs are not only made of pig's flesh but they can be made from any flesh you like. Such as beef, veal, or pork. In case you are a vegan you can also make Meatballs using different vegetables which will also taste great. Meatballs are a part of every culture though some people prefer pork over beef while some prefer beef over veal as everyone has their taste. But one thing is for sure that Meatballs are delicious and preferred globally.
Historians believe that people enjoyed Meatballs for centuries in different cultures with different recipes. In turkey, there was a dish recorded back in time known as kofte which looked exactly like Meatballs but with a slight variation. In China, people have been enjoying Meatballs from 221 B.C. or before and the recipe of different Meatballs was passed through generations.
Historians today have tried to trace the origin and development of the Meatballs and have found that there were many changes made to the Meatballs that we eat today. It is not the origin of the Meatballs recipe. Furthermore, they found out that the earliest record of Meatballs was found in china so Meatballs are originally from China and the chinese are the ones that gave us this amazing dish.
Historians also found out that the Meatballs are mentioned several times in the recipe collection of Rome known as "Apicius" with different ways of cooking, baking and also including different spices and herbs in the 1st century A.D. in the 20 century a new invention was made of the Meatball sandwiches which was an Italian-American combination, however people globally loved the fusion.
Today Meatballs are made and liked globally with its different methods that exist. Meatballs are easy to make and bake also it requires very few ingredients and it is not a costly dish too.
How to Observe National Meatball Day?
National Meatball day can be observed and celebrated in many ways. Here are some of them that I hope will help you celebrate this day with loads of enjoyment.
Cook Meatballs for you and your family
To celebrate this day you can choose to make Meatballs of your favorite flesh for yourself and your family. You can have a meal together and have loads of fun by playing different games and talking.
Not feel like cooking? Order some for you
In case you do not feel like cooking Meatballs you can also order some for yourself and your family and can sit together and enjoy them.
Do not forget to spread awareness about the day while you enjoy having Meatballs with your family. Share a picture of Meatballs on your social media handles, also mention #NationalMeatballday #Meatballsday in the caption for letting people about the day.
Interesting Facts about the National Meatball Day:
Here are some interesting and curious facts about National Meatball day and its benefits hope you will like them:-
Meatballs are usually enjoyed with noodles known as spaghetti and a little bit of gravy in America
Non-vegan restaurants usually have over 50 varieties of Meatballs as it is a very famous dish in all parts of America
People have different methods to cook Meatballs, some fry them while some bake and some cook them.
The Italian people were the ones who introduced Meatballs and spaghetti to the American people
Meatballs were a famous dish in ancient Rome and it is believed that they made Meatballs more delicious by adding some special herbs and spices to them.
People also enjoy Meatballs in the form of cutlets that aren't in the shape of actual balls.
History of Meatball Day: 
The person who introduced Meatball day to the world remains known along with the one who actually made an experiment with and discovered this glory of taste long back. However, the new era of Meatballs was marked when they reached the ancient Rome kingdom and the people there decided to make some changes with its species and herbs which resulted in the taste of Meatballs that we enjoy today.