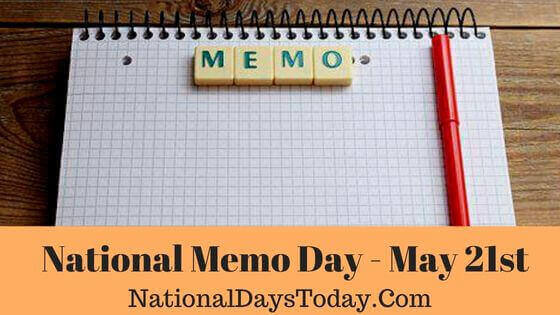 National Memo Day:
National Memo Day is celebrated every year on the 21st of May, emphasizing the importance of memos, short for memorandum, in our lives.
| | | | |
| --- | --- | --- | --- |
| Year | Date | Day | Where |
| 2023 | 21st May | Sunday | United States |
| 2024 | 21st May | Tuesday | United States |
| 2025 | 21st May | Wednesday | United States |
Twitter Hashtags:
#NationalMemoDay
#MemoDay
Related: Other National Days Celebrated on May 21st:
National American Red Cross Founder's Day
National Strawberries and Cream Day
Why National Memo Day?
Memos, or memorandum, have been in use for many years now. Many changes in history were recorded through the issuance of memos. Memos have a history of their own as well. This is a day to remind and read about the history associated with the memorandums over time, their evolution in terms of composition, execution, and delivery as well.
Memos are available in multiple formats to suit every occasion and they have been constantly evolving reminding us of the fact that nothing is permanent. Their constant evolution and adaptability to the current era is a cause for celebration in itself. It is also a constant reminder of how the creativity of humans has evolved over years.
If you explore the origins of the memos, you will find that they were deduced from the genre of writing letters. With businesses constantly evolving, there is an increasing need to maintain uniformity and discipline and these memos can help in bringing the same. As we celebrate this day, we do not just celebrate the presence of memos, but we also celebrate the rich history, adaptability, and discipline they bring into our lives.
How can we celebrate National Memo Day?
Memos have a rich history and this is how you can honor them on this day. This is the day to learn to write concise and brief memos without losing the message to be communicated.
Not many of us remember how to write memos. This day could be the chance for you to relearn and practice your skills in writing memos. You can practice with the different formats available and research the right way to make your memo best. You would need to research the target group and write your memo accordingly.
Today is the day to start sending a memo if you have not done it before. Memos need not always be for official purposes. You can also send memos to plan a get-together between family and friends as well. It will be a way to meet your near and dear while also practicing the art of writing memos.
As mentioned earlier, the memos have a rich history and you can enjoy reading about the same on this day. Memos have evolved over the years and across different regions and this day is the perfect time to learn about their evolution over years too.
Remember to share your experience on online forums with #NationalMemoDay on your post.
Interesting facts about National Memo Day:
As they have a rich history, there are also many interesting facts to know about memos, papers, and such.
Paper was very expensive in the past due to which people often folded letters, sealing them with wax to save money.
Envelopes were invented by the Babylonians. They used clay, molding it in the shape of an envelope.
Studies indicate that writing letters can be good for health, reducing levels of stress, the strain on the eyes, improving motor skills, and more.
The postal system was in existence from the Roman era. Trajan, a Roman emperor, had many men posted at regular intervals all through this kingdom to ensure faster delivery of messages.
Among the many modes of transport used by people in different countries over time for sending messages, pigeons are probably the most interesting. South Asians trained and used pigeons for sending messages to both long and short distances.
Memos are used for multiple purposes like providing information, giving instructions, reporting incidents, communicating new rules or ideas, etc.
The invention of paper dates back to 105 AD by the Chinese who kept it a secret for many years. Initially, silk was used for making paper scrolls. Since it was expensive, it was not economical for everyone. Later, old fishing nets, rags, etc., were used for making paper making it affordable to everyone.
History of National Memo Day:
It was in the year 1989 when National Memo Day was first celebrated. The Denver-based FM, KMJI Majic Radio initiated the celebration of this day. The radio is set at the frequency of 100.3 FM and this day was initiated to bring awareness about the various memos used in various facets of our lives.