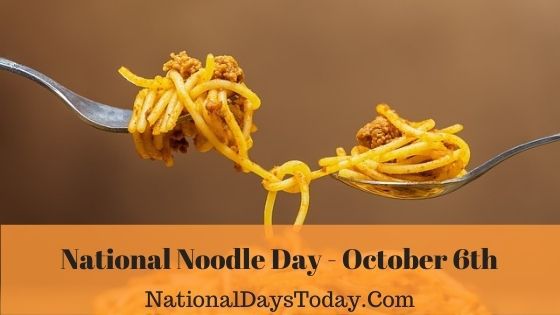 National Noodle Day:
People of the United States celebrate National Noodle Day on the 6th of October every year to enjoy one of the Most Famous Foods, Noodle.
| | | | |
| --- | --- | --- | --- |
| Year | Date | Day | Where |
| 2023 | 6th October | Friday | United States |
| 2024 | 6th October | Sunday | United States |
| 2025 | 6th October | Monday | United States |
Twitter Hashtags:
#NationalNoodleDay
#NoodleDay
Related: Other National Days Celebrated on October 6th:
National Plus Size Appreciation Day
Why National Noodle Day?
On this day, they prepare themselves to enjoy the evening with their partners or family having noodles on the menu. Noodles are one of the most famous foods all over the world. That is why people love to enjoy that day with delicious noodles.
Noodles are one of the oldest foods in the world. People have been eating noodles in different formats for more than 4000 years. You will find noodles in various shapes like rounded, twisted, sheets, flats, tubes, etc., made with varying ingredients like buckwheat, rice, zucchini, wheat, and many more. Now let's pay attention to why people celebrate #NationalNoodleDay. Mainly there are the popular reasons behind that.
As noodles have become a worldwide food, people of different areas celebrate this according to their own culture and tradition. They have their histories based on noodles. For example, the technique and ingredients of making noodles in the United States are completely different from China, Italy, or Vietnam. Every country prepares it according to its traditions and cooking style. The unique way of celebrating this food in the USA is by observing a particular dedicated day for that.
Noodles have become a healthy food to some extent. Previously the main ingredient of noodles was mostly wheat. But nowadays, you will find noodles made with various ingredients like Mung beans, black beans, Kelp, Quinoa, Shikitaki, zucchini, and many more.
The third reason is that noodles are super fun to eat. Whether you use a fork, or a spoon, or chopstick, once you put them in your mouth, they will slip through your lips and go inside your mouth in a flash. Hence, having noodles to meet with friends will always be a blast. You can also invite your partner to a dinner date with noodles in the many.
So there are plenty of reasons to celebrate this day with family, friends, or partners. People of the United States love to have noodles in any format. That is why #NationalNoodleDay allows enjoying an entire day full of noodles.
From the small food trucks to the most prominent restaurants, they all offer noodle dishes at a discounted rate on this particular day. Therefore, you will get the opportunity to enjoy some delicious noodles after your working hours are over. You can buy it and take it home. Or you can call a few of your friends to enjoy this beautiful day with delicious noodles on the menu.
How Can We Observe National Noodle Day:
You can celebrate or observe National Noodle Day in different ways. Here are some of the most popular ideas for you.
If you love cooking, then you can celebrate this day by cooking a unique noodle dish for your family. Making noodles is one of the most straightforward processes of cooking. Also, it doesn't take that much time to cook noodles. If you are an amateur cook, you can find thousands of noodles recipes on the internet. Please choose one of them and prepare it for your partner, family, or friends.
If you are so busy with your office work during the daytime, then you smoothly go on a noodle dinner to celebrate this specific day. Just call your friends or your partner to one of the finest restaurants in the city. And you reach there directly from your office. Spend some quality time together with your partner and enjoy the deliciousness of noodles. You can also try the noodle dishes from other countries like Korean, Italian, Japanese or Chinese. There are endless choices for you in the noodles sections.
If you do not know anything about cooking but still wish to celebrate the day by preparing some noodles on your own, you can join online noodles-making classes to learn the cooking procedures. Once you have learned the basics, you can try doing some experiments on your own and make a delicious noodles dish for your lunch or dinner. Pasta and spaghetti are also a form of noodles.
If you are on a gluten diet or a low-carb diet, you can still join the #NationalNoodleDay by having these healthy ones.
You can learn how to make them and try them at your home. There are lots of ways to enjoy National Noodle Day. It is up to you how you like to celebrate this.
History of National Noodle Day:
If you turn the history book pages, you will mention the word 'noodles' in a dictionary of 3rd century A.D. So that means, uses of noodles were so popular during that time also. Researchers say that noodles are more than 4000 years old. So it's a fortune for everyone to get the opportunity to enjoy such food that has a vast historical background. In the United States, National Noodles Day is in the first week of October, also known as National Pasta Month.