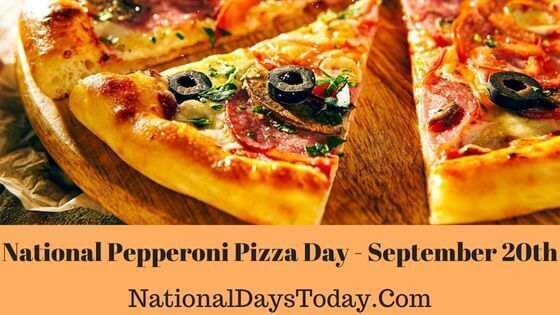 National Pepperoni Pizza Day:
On 20th September, Americans celebrate National Pepperoni Pizza Day. Well, this day is dedicated to all pizza lovers.
| | | | |
| --- | --- | --- | --- |
| Year | Date | Day | Where |
| 2023 | 20th September | Wednesday | United States |
| 2024 | 20th September | Friday | United States |
| 2025 | 20th September | Saturday | United States |
Twitter Hashtags:
#NationalPepperoniPizzaDay
#PepperoniPizzaDay
Related: Other National Days Celebrated on September 20th:
Why National Pepperoni Pizza Day?
It's not unknown that Pepperoni is the most loved pizza topping for Americans. Originating from Italy, pizza has become one of the top food items around the world. Well, it gets special treatment in the US. According to many surveys, this food is the most popular one among Americans.
And when it's Pepperoni pizza, we have a different feeling. Sure, you can find various types of toppings. However, pepperoni is the special one. And that's the main motive behind celebrating this day.
How Can Observe National Pepperoni Pizza Day:
There are several ways to observe this special day. The best thing is Americans try unique things to celebrate this day. If it's your first time, you can do several things. It will add more fun. In the following list, we will share the top ways to observe this day. Let's find out:
Obviously, you can't observe this event without eating a pepperoni pizza. Most pizza lovers spend this day eating a slice of pepperoni pizza. Well, you have to try something new here. Either you can make one at your home or visit the best pizzeria in your town. 
Give a Shout Out to Your Favorite Pizzeria
It's hard to find an American who doesn't have a favorite pizzeria. Sure, you have one as well. If you want to do something unique, this day is ideal to give your favorite pizzeria a shoutout. The best way to give a shoutout is by posting something on social media. Make sure you tag them. 
There are some cool pizza museums in the US. If you find one nearby your area, make sure you visit that place. It does not just make your day memorable but you can learn a lot of things about this food. It's one of the most unique ways to observe this day.
 Take Photos of Your Slice
Sure, you will visit your favorite pizzeria to celebrate this special event. So, why not take some pictures? If it's your first time celebrating National Pepperoni Pizza day, this will be a great way to observe the day.
No matter if you are ordering pizza or making one, make sure you take some photos. You can also post these photos on social media. 
If you have time, making a pepperoni pizza can be the best celebration for this day. On the other hand, you can try some new recipes to make them more special. Hence, you can involve your kids while making your favorite pizza topping. 
One of the best ways to celebrate this event is by throwing a pizza party. Be it with your friends or cousins, you can enjoy this day with a bang. Get different types of pizza for your party. 
It's a fun day to celebrate. So, don't forget to share your #NationalPepperoniPizzaDay story on social media.
Interesting Facts About National Pepperoni Pizza Day:
It's hard to find someone who doesn't love pizza, especially in the US. If you want to observe this day, you are definitely a pizza fan. Well, in this case, you will love to learn some interesting facts about pepperoni pizza. That's why we will share some cool facts about this food in the following section.
Interesting Facts About Pizza
Americans love pizza. According to a survey, around 93% of Americans order pizza once a month.
Around 350 slices of pizza are consumed in the US every second.
As Pepperoni is the favorite topping for Americans, around 250 million pounds of Pepperoni are consumed by Americans every year.
There was a time when pizza was popular among low-income families in Naples. Later, it became worldwide famous.
You won't believe it but the pizza wasn't that popular in the US for long. It gained popularity after World War II.
The size of the world's largest pizza is 122' 8" in diameter.
History of National Pepperoni Pizza Day:
Even though this day is celebrated all over the country, there's no clear record of its history. So, we can't say who started this event. However, you can observe this day with full excitement. As we noted before, there are so many things to celebrate at this event.