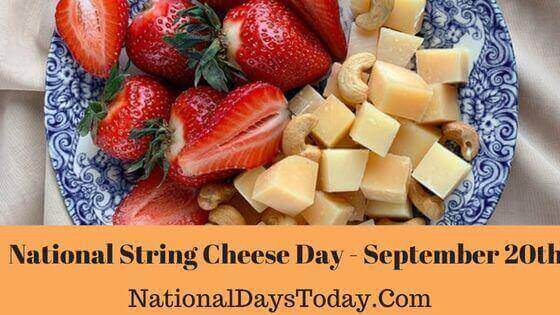 National String Cheese Day:
National String Cheese Day is celebrated on the 20th of September every year. This day is dedicated to all string cheese lovers.
| | | | |
| --- | --- | --- | --- |
| Year | Date | Day | Where |
| 2023 | 20th September | Wednesday | United States |
| 2024 | 20th September | Friday | United States |
| 2025 | 20th September | Saturday | United States |
Twitter Hashtags:
#NationalStringCheeseDay
#StringCheeseDay
Related: Other National Days Celebrated on September 20th:
Why National String Cheese Day?
In today's busy world, we forget to celebrate little things. And it can be the cause of different issues. That's why the concept of this special day came. Simply put, it's a way to share the love for string cheese. If you are a foodie or love cheese, this can be the best day for you.
Plus, you can celebrate a day with your loved ones. If you haven't observed this day before, keep reading to know more.
How Can We Observe National String Cheese Day:
It's hard to find an American who doesn't love cheese. And when it's string cheese, we have a special connection. If you are excited about celebrating this event, we will help you out. In the following list, we will share the top ways to observe this day. Let's find out:
It's a special day for cheese lovers. And you can't observe this day without buying string cheese. So, visit your nearby store and buy your favorite snack. Moreover, you can also get special discounts on this special day. 
Obviously, it's meaningless to celebrate this event without eating string cheese. As we noted above, you can visit a local store to get string cheese. Hence, you can taste different flavors to celebrate this day. It's going to be very interesting if it's your first time. 
So, you want to do something unique? What's better than trying out a new recipe? If you have time and you want to spend some quality time with your family, it's the best way to celebrate this occasion. If you have kids, make sure you involve them as well. 
Gift it to Your Best Friend
Another great way to celebrate this day is by gifting string cheese to your best friend. Plus, it's a very unique way. You are not only making your friend happy but spreading words about this special day. 
Take the 'Eat All Day' Challenge
We have already said that you can't observe this day without eating string cheese. However, you can make it more fun by taking an 'Eat All Day' challenge. You have to eat string cheese all day. Moreover, you can also ask your friends to join this challenge.
 Start a Trend on Social Media
You see, this event got popular because of social media. So, you can take this chance to start a new trend on social media platforms. Be it a challenge or regular trend, it will make this day memorable. 
Share your experience with your friends. Make sure you share your #NationalStringCheeseDay or #StringCheeseDay story on social media.
Interesting Facts About National String Cheese Day:
We love string cheese. And if you are ready to celebrate this day with us, you can learn about some cool facts. It will make everything more exciting. In the next section, we will share some top facts about string cheese.
Interesting Facts About String Cheese
If you refrigerate string cheese, it will stay fresh for months. This is one of the best reasons why people love this snack.
Some string cheese flavors have been banned for some reasons including cheddar and smoky bacon.
Bega Stringers is a popular version of string cheese in Australia. Bega Cheese sells this product.
If you eat string cheese regularly it will give around 20% of calories.
History of National String Cheese Day:
National String Cheese Day was introduced by Galbani Cheese in 2017. Later, this day got the spotlight, thanks to social media platforms. Now, everyone celebrates this event with so much enthusiasm. However, the history of string cheese is very interesting.
According to some sources, Leobarda Castellanos García, a Mexican teenager first came up with this idea. However, most people give credit to Frank Baker who invented string cheese in 1976. He wanted to try something new and the first version of string cheese used to look like a twisted rope.
Well, Baker used to deliver the first version to several bars and parties. Later, after a few years, he came up with the cylindrical form of string cheese. From then, it became a popular snack among Americans. You can see why this form of cheese has a particular day.