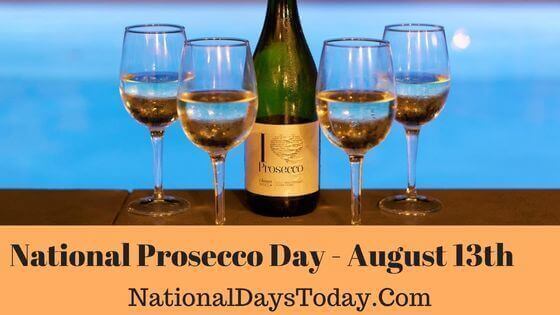 National Prosecco Day:
National Prosecco Day is observed on August 13th every year. It encourages people to celebrate sparkling wine Prosecco!
| | | | |
| --- | --- | --- | --- |
| Year | Date | Day | Where |
| 2023 | 13th August | Sunday | United States |
| 2024 | 13th August | Tuesday | United States |
| 2025 | 13th August | Wednesday | United States |
Twitter Hashtags:
#NationalProseccoDay
#ProcessoDay
Related: Other National Days Celebrated on August 13th
National Blame Someone Else Day
Why is National Prosecco Day? 
What is a Prosecco first of all?
Prosecco is a sparkling white wine made in Northern Italy's Veneto and Friuli Venezia Giulia areas. Conegliano and Valdobbiadene are the main source of it.
Predominantly made from the Prosecco grape (originally from Slovenia and renamed Glera in 2009 to make room for the protection of "Prosecco" as the name of a geographically-protected wine), but there are also other grapes such as Pinot Gris and Pinot Noir, Chardonnay which are also used. Glera should make up 85% of all the grapes.
This sparkling wine often compared with champagne, is made using different grapes and a different winemaking process. Prosecco is not produced in Champagne, France, and is made primarily in Veneto, Italy. This wine is perfect for celebrations because it has a bubbly character. 
National Prosecco Day is August 13. It's the perfect day to have fun. The season is ending at a time when summer is over. Prosecco can lighten any mood, whether you're throwing a party or attending a festival. Prosecco, a sparkling wine from Veneto, Italy, sold primarily in the United States, is known for being the best-selling sparkler. Prosecco's mousse is what makes it stand out. These bubbles add a touch of sparkle to the wine, making it perfect for parties. Prosecco's light, sweet aroma and sweet taste make it a wine known for having fun.
How Can We observe National Prosecco Day?
Prosecco is a great wine to enjoy with friends while enjoying crab cakes, scallops, goat cheese, prosciutto and fresh garden tomatoes at the summer table. This sparkling wine is excellent with aperitifs, desserts, and brunch cocktails.
It's easy to grab a few bottles of Prosecco and invite some friends to enjoy the end of summer. You can then share your feelings on social media using #NationalProseccoDay and #ProseccoDay.
If you gonna try it first time, learn about Prosecco is being produced! Though sounds unnecessary when what we want is only few pegs of Prosecco, just knowing some basic ingredients might lead you to make some good cocktails.
Interesting Facts About National Prosecco Day:
While its being fun as its another a day to enjoy with a distinctive glass of wine. Know some of the facts about Prosecco if you are new to it.
Whether you have only recently discovered Prosecco or have been drinking it for many years, there are probably still a few things you don't know. We don't think so. Here are some facts we discovered during our research about Prosecco. Some of the items on this list were also surprising us.
Prosecco was ten times more popular than champagne in 2019.
In 2020, there will be 412 million bottles of Prosecco.
Prosecco sales are expected to rise by 36% between 2021-2026.
Prosecco is only available in north eastern Italy.
Glera Grapes account for 85% of this wine's grapes.
Prosecco can only be made from 15% of particular grapes.
This wine can be made from Verdiso and Pinot Noir grapes, Chardonnay, Chardonnay Bianchetta Trevigiana Pinot Grigio, Perera Pinot Bianco and Glera Lunga.
Criminals are selling fake Prosecco wines.
Vivino can scan wine bottles for counterfeit prosecco wines.
History of National Prosecco Day:
Riondo Prosecco was the one who founded National Prosecco Day. Because of its summer timing, it was decided to be August 13. Prosecco is a sparkling drink that can be enjoyed in summer.
Riondo Prosecco was awarded the number one prosecco title for 2010 and won a Gold Medal in Minner Vinitaly 2011. Terlato Wines acquired the brand in January 2016.
Prosecco was named after the Italian Prosecco village, the prosecco grape. It is not only a sparkling wine that we all love, but it can also be made into still wine.
Fynes Moryson, an Englishman who visited northern Italy in 1593, was the first to mention prosecco's spelling. Moryson noted that Prosecco was one of the most famous wines in Italy in 1593. A higher-quality wine was made by improving production techniques.
The New York Times reported a sharp increase in prosecco sales outside of Italy during the new millennium. This was due to the relatively low price of the high-quality wine. The UK saw a surge in consumption, with 25% of the Italian production exported to the UK by 2010. This marked a significant shift in the wine industry. Prosecco is still one of the most famous wines in America today.