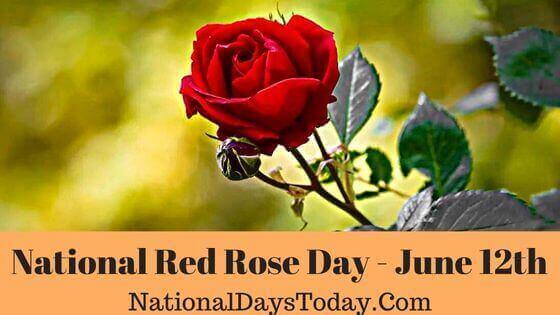 National Red Rose Day:
Rose, the icon of love, is honored on the National Red Rose Day, celebrated every year on the 12th of June.
| | | | |
| --- | --- | --- | --- |
| Year | Date | Day | Where |
| 2023 | 12th June | Monday | United States |
| 2024 | 12th June | Wednesday | United States |
| 2025 | 12th June | Thursday | United States |
Twitter Hashtags:
#NationalRedRoseDay
#RedRoseDay
Related: Other National Days Celebrated on June 12th:
National Peanut Butter Cookie Day
Why National Red Rose Day?
June is a month sought out more for weddings and when we speak of weddings, flowers pop up first in your mind. When you speak of flowers, roses rule the world, especially red roses. The Red Rose is known as a symbol for romance and love and coincidentally it is also the flower for June. Despite your cultural background or your country of origin, red roses are always an indication of passion, intrigue, love, and affection all over the world. From complementing the blushing bride's bouquet to decorating a room for a proposal, red roses are a fitting inclusion anywhere.
With a heady and yet most sought fragrance, the red roses have been ruling the world of passion for many years now. They are also used in making many different beverages and are known to possess medicinal value too. This is why it is a flower that demands a national celebration like the National Red Rose Day, fittingly in the wedding month of June.
How can we celebrate National Red Rose Day?
There are many ways to make the day of red roses your favorite day of the year. It is the time of the year when love is in the air and here are a few pointers on how you can make more memories on this day.
This is the time of the year to put your creativity to a test. You can think of what you are good at and use your creative juices to create something befitting a red rose. It is not just your creativity that requires motivation on this day. You can also help the creative juices of your friends and family flow on this day through a song, or a painting, or anything they want to express themselves in.
Red roses are quite often referenced in many places, from movies to books, from pop songs to romantic melodies. You can have a quiz in your circle of friends which involves finding the rose references in literature. You can even conduct a quiz that has a theme of red roses at its crux. You would be intrigued with the kind of information that comes into your possession when you research.
Roses are in full bloom in June and since the day falls in the same month, it gives you more reason to visit the rose garden near you. Enjoy the variety and colors of the different roses in your local garden. And if you love, you can even choose to plant a few roses in your garden ready to bloom on the same day next year.
Share your views, your rose references, and more on this day with the #NationalRedRoseDay in your social circles.
Interesting facts about National Red Rose Day:
Roses have a long history and hence there are many interesting things about them scattered across different cultural references in different countries. Here are some facts you would like to know about roses on this day.
The national flower of the US is the Rose. But it is also the national flower of other countries like Romania, the Czech Republic, Bulgaria, Iraq, Iran, England, the Republic of Maldives, Slovakia, Ecuador, Luxembourg.
The Cathedral in Hildesheim of Germany has the oldest rose (living) in the world, dating to nearly 1000 years.
It is important to pick the right rose for the right person and the right occasion. Every colored rose has a different meaning like the red rose stands for love. Understand the meaning before you choose a rose for any occasion.
Many look at the cultivation of roses as a lucrative business and rightfully so. David Austin, a breeder of roses spent about $5 million on Juliet Rose and sold it for almost $16million in the year 2006.
The term sub rosa, referring to secret originates from Rome, where keeping a red rose outside your house or on your person, means you are sworn to keep a secret.
History of National Red Rose Day:
We do not have information as to the origins of the National Red Rose Day for now. There is a story that this day branched off from the Rose Day celebrated in February. As for the roses, their known existence dates back to more than 5000 years to the Han Dynasty.