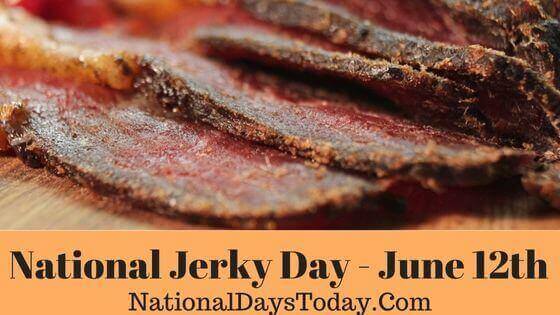 National Jerky Day:
Celebrated every year on the 12th of June, the National Jerky Day is designed just for meat lovers all over the world.
| | | | |
| --- | --- | --- | --- |
| Year | Date | Day | Where |
| 2023 | 12th June | Monday | United States |
| 2024 | 12th June | Wednesday | United States |
| 2025 | 12th June | Thursday | United States |
Twitter Hashtags:
#NationalJerkyDay
#JerkyDay
Related: Other National Days Celebrated on June 12th:
National Peanut Butter Cookie Day
Why National Jerky Day?
Consumer surveys show that jerky is second only to potato chips when it comes to their popularity as a snack and they make the best company when you are out on a road trip too. The journey of humans began as hunters, gatherers, living a nomadic life when dried meat was a major part of their diet. The dried lean meat was easy to carry and preserve which is also why there have been different methods of drying meat after curing has been in existence for a long time now.
One can attribute the invention of this innovative snack to the South Americans, to be more specific, the beef jerky did originate in the early 1800s from South America. The term "jerky" is derived from "charki", a word in Quechua, the Incan language referring to dried and salted meat. There were also Native American tribes who made the jerky from buffalo meat along with dried fruits making it the perfect meal for traveling. With the jerky gaining popularity every year and becoming the ultimate snack to have on you any day, the snack requires a day of celebration, bringing in the National Jerky Day.
How can we celebrate National Jerky Day?
There are many ways to enjoy the day, the most important being tasting the snack itself. If you are wondering about ways to make the day more delicious, then here are some tips to help you.
You would be surprised to know that jerky comes in plenty of flavors. You can choose from any of the different flavors from the aisle on this day. For instance, you can try caffeinated jerky or kangaroo, Hawaiian, alligator, etc. for a change this year. You might be surprised to find yourself enjoying any of these options.
Use your creativity to make the best dish out of your favorite flavor of jerky. While jerky was designed as a portable snack, it can also be used in multiple other dishes. For instance, you can have them in your stews and soups to enhance the taste. You can try different options to make jerky as part of your meal on this day.
You can also have your friends and family at your place, bringing their versions of jerky and the dishes they love it in. This will broaden your horizon on the plenty of options available to you.
You can make it a day for charity by buying the jerky or contributing to the meal of starving kids. This would also spread the word about the jerky while ensuring someone is well fed.
You can share your views and your options to celebrate on the online platform with #NationalJerkyDay on the post to create awareness.
Interesting facts about National Jerky Day:
The jerky is known for its adaptability, flavor, variety, and portability. There are many different versions of jerky available in different places of the world and here are five popular versions to know about on this day.
The vinegared jerky from South Africa is called Biltong and it is a dutch word referring to "rump", "tongue".
The meat strips with black pepper, Berbere (a special spice), and salt for its seasoning is a popular dish in Ethiopia and it goes by the name Quant'a.
In Niger and Nigeria, people have their beef strips or the Kilishi, dipped into a sauce made of spices, onion, and peanuts before they are dried.
The Coppiette are meat sticks with fennel, flakes of red pepper, and salt to season them. These are dried up in pairs in the fireplace and are quite a popular snack in Italy.
Mixing berries, fats, and dried meat, the conventional beef jerky is quite popular in Native America and is known as Pemmican.
History of National Jerky Day:
The history of the celebration of this day dates back to the year 2012, when two meat companies, the Wisconsin Beef Council and Jack Link's Beef Jerky initiated the day. The reason was to improve sales of course and also to celebrate the popularity of this lean meat snack which has been rising over the years. The jerky itself has thousands of years of history behind it, tracing back to the hunter-gatherers in the human evolutionary cycle.