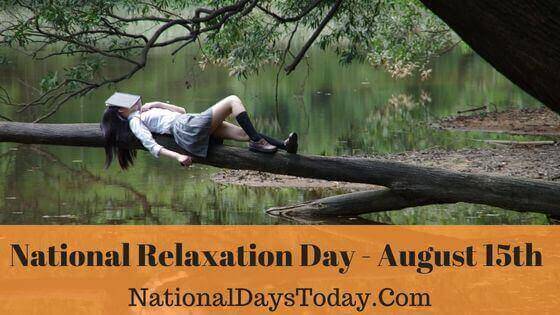 National Relaxation Day:
National Relaxation Day has been observed annually on August 15 since 2000. People are encouraged to enjoy some downtime and take a break in their busy lives!
| | | | |
| --- | --- | --- | --- |
| Year | Date | Day | Where |
| 2023 | 15th August | Tuesday | United States |
| 2024 | 15th August | Thursday | United States |
| 2025 | 15th August | Friday | United States |
Twitter Hashtags:
#NationalRelaxationDay
#RelaxationDay
Related: Other National Days Celebrated on August 15th
National Lemon Meringue Pie Day
Why National Relaxation Day? 
People are encouraged to take a break from their hectic lives and enjoy the outdoors. Stress is a leading cause of death and disease. It's therefore essential that people take a break from the stressors in their daily lives. People are encouraged to participate in activities that will re-energize their bodies and minds. People can take the day off work to go for a walk or hike or relax on the couch with the TV. It doesn't matter how you view it; you must do it in an easy to manage way that helps you relax and doesn't add stress to your daily life.
It lifts your mood
Stress can be a severe problem and can cause havoc in your mind. Relaxation can be a great way of reducing stress and improving your mood.
Enjoy a restful night.
Life can get intense. It can be challenging to fall asleep if you feel anxious, nervous, or afraid during your day. Relax before you go to bed by drinking a glass of milk, reading a book or sipping chamomile tea. It will be a blessing for your body in the morning.
It helps you stay healthy.
Stress makes it more likely to get sick. You can reduce the number of trips to the doctor by keeping your cool.
How Can We Observe National Relaxation Day?
Relax, take a deep breath, unwind while watching your favorite TV series, or find a peaceful spot in a park to enjoy the summer breeze. Use #NationalRelaxationDay to post on social media and spread the word.
Relax!
Spend some time off the screens. It can quickly make you feel overwhelmed and stressed by all the news and posts from other people. You can put your phone down and do something relaxing like reading, painting or cooking. Avoid screen time before bed. It can disrupt your sleep patterns.
Meditation is a great option, and meditation is a powerful tool to reduce stress and improve our well-being. You can meditate wherever you want! Download one of the many apps available that will help you learn meditation.
Enjoy what you love, such as reading or listening to music. They are both known to be relaxing and can provide a break from everyday stress. Studies show that classical music can lower blood pressure and slow down the heartbeat.
Spa day? Treat yourself! A massage or a sauna is a great way to relax. Book yourself for beauty treatments such as a manicure, facial, or haircut!
Interesting Facts of National Relaxation Day:
Many people, especially those in the U.S., don't want to take a day off work to do nothing. This is because it's often viewed as lazy or unambitious to take downtime. Nothing could be further from the truth. Relaxation is an integral part of our lives and can help us be more productive over the long term. We will share some of the most exciting facts while researching National Relaxation Day.
Releasing stress can lower blood pressure.
We have discovered that regular relaxation can reduce blood pressure. Recent research showed that 64% of those who meditated lowered their blood pressure sufficiently after three months.
Relaxation Can Lead To Better Mental Health
Numerous scientific studies have concluded that regular relaxation can improve mental health and reduce stress-related symptoms. These conditions include anxiety, depression, headaches, pain due to fibromyalgia and insomnia, and Post Traumatic Stress Disorder (PTSD).
Relaxation can improve memory.
A 2010 study revealed how brain relaxation neurons work together to improve memory. The study found that people's brains form more explicit, lasting memories when completely relaxed.
Relaxation can improve a person's mood.
Another study found that meditation and Tai Chi can improve movement and psychological well-being, and relaxation can improve a person's mood and emotional state.
Relaxation gives the immune system a boost.
Relaxation can also help boost the immune system. Because stress hormones can interfere with the body's ability to fight infections, it is essential to take some time to relax and help to clear those hormones.
Relaxation increases productivity
The last point is that more relaxed people are more productive. Although it might seem counterintuitive, employees who have more downtime can get more done.
History of National Relaxation Day:
Although we thought that an adult would have suggested the holiday idea, it was Michigan-based Sean Moeller, who was just nine years old when he came up with the idea. We are confident he would have done many more great things with this idea.
National Relaxation Day should not be confused with National Slacker Day, and this holiday was created in Britain to complement National Relaxation Day. Moeller also selects one person every year to set an example in relaxation from 2016 onwards.
National Relaxation Day encourages relaxation and stress relief through meditation and other relaxation methods. Relaxation is key to managing stress, and it leads to a calmer and clearer mind. Relaxation can also increase positivity and improve concentration. Most of us are on the edge of burnout from the hustle and bustle of our daily lives, and there is never enough time to relax and unwind. Even if it's to clear your head, those with busy lives look forward to Relaxation Day.
Avoid stress. This is crucial, and this is important. It's a better idea to spend the day in a hammock.
Finally, it encourages us all to unwind and slow down, and it's a day when we should focus on ourselves and take time to unwind.
National Relaxation Day is an important day because we all need to break from our hectic lives. It may be beneficial to rest and recharge our bodies and minds, which could help reduce many health risks. As the founder of this day said, too much work can lead to fatigue, sickness, and even run-down.
Stress can harm our physical and mental health. Most doctors agree that stress can be harmful to our health.