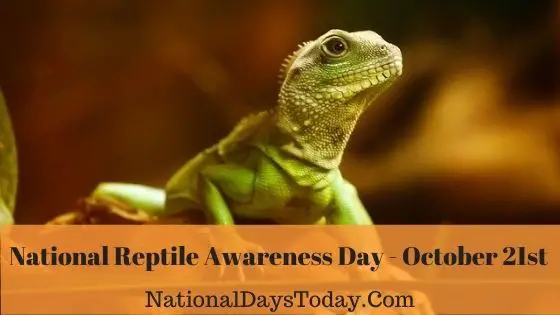 National Reptile Awareness Day:
Celebrated on 21st October, National Reptile Awareness Day is celebrated across the United States to educate and inform about their natural habitats and the fear of our reptiles losing their homes, thereby promoting appreciation and conservation of all reptiles from across the world.
| | | | |
| --- | --- | --- | --- |
| Year | Date | Day | Where |
| 2023 | 21st October | Saturday | United States |
| 2024 | 21st October | Monday | United States |
| 2025 | 21st October | Tuesday | United States |
Twitter Hashtags:
#NationalReptileAwarenessDay
#ReptileAwarenessDay
Related: Other National Days Celebrated on October 21st:
National Pumpkin Cheesecake Day
Why National Reptile Awareness Day?
Reptiles are cold-blooded, amniote animals with more than 10,000 species. With these species losing their habitat and their surrounding, a voice of concern must be raised, and that's what happened when the decision to celebrate National Reptile Awareness Day was taken. Reptiles are dry-skinned vertebrates with an entire body covered in scales. There are different types of reptiles which include snakes, lizards, crocodiles, turtles, and tortoises.
Through Reptile Awareness Day, the world draws attention to all reptile species and their importance to the ecosystem, and why they should be protected. Many people get scared by seeing snakes and other such reptiles in their surroundings or homes because of the misconception and phobias related to snakes and lizards, resulting in them mistreating and sometimes even killing these innocent animals. Therefore, outcomes this day tell us to learn and educate ourselves with the extraordinary species of reptiles and learn about them to reduce the general stigma and stereotypes around our reptilian comrades.
Reptiles as a species are very important to the ecosystem and overall maintenance of the surroundings and the food chain. In fact, releasing a reptile (or any animal for that matter) into an area where it's not supposed to be according to nature can create a big imbalance between nature and the way that it functions. A great example is the amount of Iguana found in the Southern part of Florida.
How can we observe National Reptile Awareness Day?
Donating to organizations working for reptiles' welfare: National Reptile Awareness Day can be celebrated by donating to the organizations that are working for the welfare of our reptilian friends. By participating in these donations, you make yourself a responsible adult who cares for the world's future and this earth that is disrupting because of the imbalance in nature.
Visit Zoo: Visit zoos near you to learn about different kinds of reptiles and the environment that they live in. Visit the zoos nearest you with your friends and loved ones. Try to see as many species of reptiles as there are. Increase your knowledge of them and also spread it.
Learn about their habitats: Try learning about different reptilian species and their nature, amongst other things. There are many myths and untrue facts around reptiles, which can only be erased through education.
Raise Awareness: You can also celebrate it by raising awareness about the increasing imbalance in the food chain because of reptilians being killed. You can talk about how having free thoughts can lead to progress without hamper. Use hashtags such as #reptileawarenessday or #NationalReptileawarenessday, or #reptileawareness on your social media handles to start a campaign so that more and more people can join the cause.
Interesting facts on National Reptile Awareness Day:
Although Reptiles are cold-blooded, that does not mean that they can feel cold like us. Instead, reptiles move slower than usual in cold weather.
Though green iguanas are seen in abundance in the Southern part of Florida, they were actually brought from other countries and were let out inside the country and the part of the state.
The closest evidence of reptiles in history can be found 312 million years ago.
All reptiles, just like humans, have lungs to breathe.
Nearly all reptiles, with some exceptions, lay eggs as their offsprings.
Surely most of you know this, but snakes and lizards smell from their tongues.
A fun fact! In the space race between the US and Soviet Union, it was the tortoises who won. Actually, Soviet Union sent a spaceship to circle Moon, and all tortoises returned back alive and fine and were further studied by the Soviet Union space agency.
History of National Reptile Awareness Day:
The exact history of National Reptile Awareness Day is unknown. But what is known is that this celebration dates back to the Endangered Species Act, which was passed in 1966 in the United States. It was to state the adverse effects pesticides and other chemicals have in nature. Further on with the Environmental Defense Fund's historical efforts to ban DDT in 1967 paved a great way for these enthusiasts to bring the celebration into effect. Therefore, the National Reptile Awareness Day started getting celebrated reptile enthusiasts and pet keepers who celebrate the day to increase the awareness around their pets and the things that they like the most. Therefore, as a result, not much is known about the BTS of National Reptile Awareness Day but what is known is that without this celebration and awareness, some of our reptilian friends might have become extinct by now.