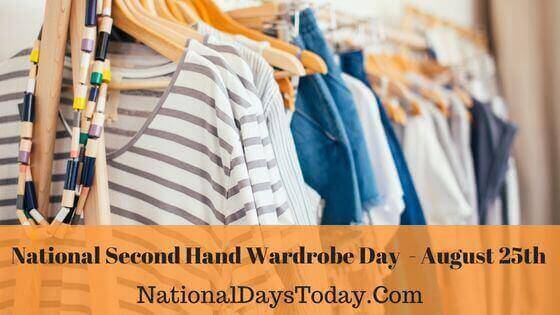 National Second Hand Wardrobe Day:
National Second Hand Wardrobe Day is celebrated on 25 August to honor and encourage the super saver deals and shop vintage above everything else. 
| | | | |
| --- | --- | --- | --- |
| Year | Date | Day | Where |
| 2023 | 25th August | Friday | United States |
| 2024 | 25th August | Sunday | United States |
| 2025 | 25th August | Monday | United States |
Twitter Hashtags:
#NationalSecondHandWardrobeDay
#SecondHandWardrobeDay
Related: Other National Days Celebrated on August 25th
National Park Service Founders Day
Why National Second Hand Wardrobe Day? 
We are guilty of buying clothes by spending hefty amounts, only to dump them in the garbage later. The trend has grown so much so that the USA celebrates a national day for it, the National Second Hand Wardrobe Day. 
The day adopts a sustainable and environment-friendly day to discard clothes we are not likely to wear anytime soon. It is celebrated in the United States annually to let people participate in the drive to swap their unwanted clothes for clothes they like. This old-school barter system tradition is becoming enormously famous in the States. 
A second-Hand Wardrobe is a significant event since it helps us fight the stigma against wearing second-hand clothes or buying clothes from thrift stores. Moreover, it is one of the most celebrated and influential movements against the yearly massive waste from dumping unwanted garments. 
People are using this day  to help donate resources to the orphanage and charitable trusts, including Brides Against Breast Cancer. Donating wedding dresses is one of the most evident examples of the same. 
How can we observe National Second Hand Wardrobe Day? 
The day can be observed in several ways. However, some of the most common ways in which you can celebrate and commemorate this day to the fullest include the following options: 
You can adopt one of the healthiest and most unconventional ways of participating in the national second-hand wardrobe day by swapping your old or new clothes with the ones you want to wear. This can be done by visiting any eco-friendly swap pop-up shop near you. Not only is it less wasteful, but it also gives you a chance to pick up something you will wear later. 
You can also host a small eco-friendly swap pop-up party at your home to make the day enjoyable by inviting your friends over and asking them to bring clothes that they're not likely to wear ever again. Let them exchange amongst themselves till they find something they love. Order some snacks and make it a wholesome and fun event. 
The simplest and the most popular way to celebrate this day is to sort clothes you have never worn or don't plan on wearing and donate them to any charitable trust near you. 
Sell your clothes online and earn bucks for clothes you do not want to wear. This way, you make sure to get some money for your unwanted clothes, and you get rid of them for good. 
One of the most exciting ways of observing the day is to rent a runway and put up the clothes for display as part of a soiree or event. 
Give a massive shout-out to your favorite swap pop-up stores on your social media story or status with #nationalsecondhandwordrobeday. 
To reach a wider audience and help your friends and family know how you are observing the day, post your celebration pictures using the hashtag #SecondhandWardrobeDay. 
Interesting facts about National Second Hand Wardrobe Day:
Here are some of the fun and exciting facts about wearing second-hand clothes, wardrobes, and the day that the US celebrates every year: 
Second-Hand Wardrobe is one of the best ways to save on money and the quality of your clothes. This is because you get the items at half the price, and they are better in quality than the fast fashion and branded clothes we get to see everywhere. 
Second-Hand Wardrobes contribute to the earth and maintain a sustainable lifestyle in many ways. It ensures that a positive cycle of reuse and recycling is supported throughout by also aiming to decrease pollution and waste. 
Statistics show that if a brand or clothing is labelled as environmentally friendly, then nearly 77% of the Millennials would be engaged in promoting the same. 
The second-hand Wardrobe was frowned upon when the Industrial revolution began. It was only after the efforts made by the Christian ministries that it was encouraged and became famous. 
History of National Second Hand Wardrobe Day:
Despite trying our best, we could not track the antique roots of the this day. However, we know that the 18th-century industrial revolution led to mass consumerism and highly discouraged the idea of wearing second-hand clothes. 
Christian ministries started collecting worn clothes for the trust, which is when thrift started becoming normal. Today, celebrities like Naomi Campbell are vast supporters of Second Hand Wardrobe.